Review : The Rest of Us Just Live Here by Patrick Ness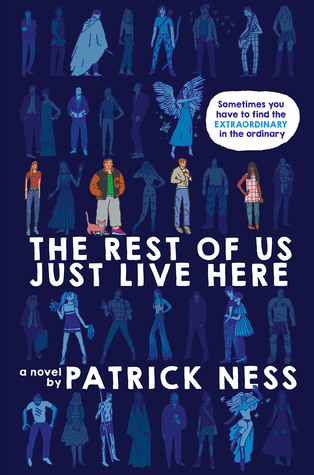 The Rest of Us Just Live Here by Patrick Ness
Pages : 336
Genre : YA, Contemporary, Fantasy
Stand alone
My Rating : 4/5
About the Book  :
What if you aren't the Chosen One? The one who's supposed to fight the zombies, or the soul-eating ghosts, or whatever the heck this new thing is, with the blue lights and the death?
What if you're like Mikey? Who just wants to graduate and go to prom and maybe finally work up the courage to ask Henna out before someone goes and blows up the high school. Again.
Because sometimes there are problems bigger than this week's end of the world, and sometimes you just have to find the extraordinary in your ordinary life.
Even if your best friend is worshipped by mountain lions.
My Thoughts 
I thought this was such a fun idea, making a book not about the Buffy-like character and her Scooby gang, but about all these other kids in school who live in the background (and, let's be honest, often are the victims). I had one worry going in : that the story would be boring, that I would miss following the action with the "special ones". I'm happy to report this didn't happen, and I found the characters of The Rest of Us Just Live Here to be more than enough to keep my interest!
One thing that's always on my mind when watching shows like Buffy or, though it's been a while, Vampire Diaries, is how oblivious everyone seems to be to what's going on in their town. So of course, I quite enjoyed that the characters of this novel were aware of at least some of what is going on. They know magical things are happening, that they come in waves every few years, and that they should stay away from what they call the Indie Kids (a.k.a., the Chosen One and Co.)
There were two more aspects of the book I really enjoyed. The first one was how diverse the cast of characters was. There are a lot of themes for such a small book (gender, anxiety, anorexia, etc.) but it's brought up very smoothly and naturally, and the characters were very easy to relate to.
I also absolutely loved how, at the beginning of each chapter, we get a little glimpse of what the Indie Kids are up to. It's written with a lot of humor inspired by some of our favorite (and least favorites, maybe?) TV tropes.
Overall, The Rest of Us Just Live Here was a nice surprise. Because it is much more about the characters than about the action the pace might feel a little slow, but the characters and their interactions were so fun and natural, it was never boring. I definitely need to read some more books by Patrick Ness!