Review : Changeless by Gail Carriger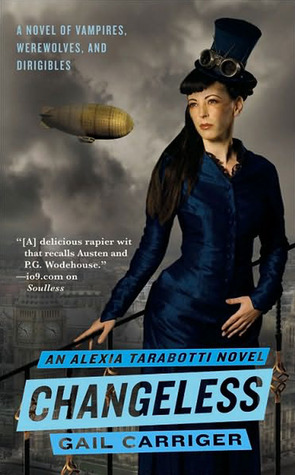 Changeless by Gail Carriger
Pages : 374
Genre : Paranormal, Steampunk, Historical Fiction, etc.
Series : The Parasol Protectorate, Book 2
My Rating : 4.5/5
About the Book  :
Alexia Maccon, the Lady Woolsey, awakens in the wee hours of the mid-afternoon to find her husband, who should be decently asleep like any normal werewolf, yelling at the top of his lungs. Then he disappears; leaving her to deal with a regiment of supernatural soldiers encamped on her doorstep, a plethora of exorcised ghosts, and an angry Queen Victoria.
But Alexia is armed with her trusty parasol, the latest fashions, and an arsenal of biting civility. So even when her investigations take her to Scotland, the backwater of ugly waistcoats, she is prepared: upending werewolf pack dynamics as only the soulless can. She might even find time to track down her wayward husband, if she feels like it. 
My Thoughts :
I know I'm clearly behind the times with this one : the Parasol Protectorate series ended a few years ago, and in that time the author published a new YA series as well as started a new series featuring the daughter of Alexia Maccon. I read Soulless years ago, then its first manga, and liked them both. And as I often do with series I love, I kept pushing off the moment I would finally read the sequels. Until now!
And oh, I am SO happy I finally read Changeless. It was everything I could dream of, and some more. I remember thinking Soulless was a little too focused on the romance. I don't know if I'd think the same today, but I do know that Changeless was about a lot more than kisses and blushing cheeks – though there certainly was a bit of that, too. The setting is captivating as well as the fashion, I loved the technology and the humor. The characters were so much fun, colorful and diverse, and I specially loved the new addition of Madame Lefoux.
I loved the story itself, too. Gail Carriger has a talent for creating intriguing lore and weaving it into the plot. I was hooked to Alexia's story, and when I wasn't reading it, I was definitely daydreaming about it. I loved the resolution, too. It wasn't expected, it answered everything that needed to be answered right this moment, and also opened the door to the sequel in a timely manner.
Also, a mummy unwrapping sounds like a brilliant way to spend a very weird evening. Ha!
I don't know what awaits me in the following books, but I'm excited to finally be reading them! I enjoyed every moment of Changeless. I would have a hard time classifying the book, and I'm surprised by how well the author mixes romance, history, steampunk elements and paranormal aspects. If Blameless is half as good, I'll be in for a treat.
P.S. with, kind of, Spoilers : My only irritation came from Alexia's husband, who just went through something that was supposed to be impossible or near impossible, yet immediately believed the worst of his wife when she, in turns, also goes through something supposed to be impossible. How the author handles that has me curious, and it will definitely impact how I feel about Blameless. We'll see, and soon since I'm already reading it! 🙂