Review : Sleeping Giants by Sylvain Neuvel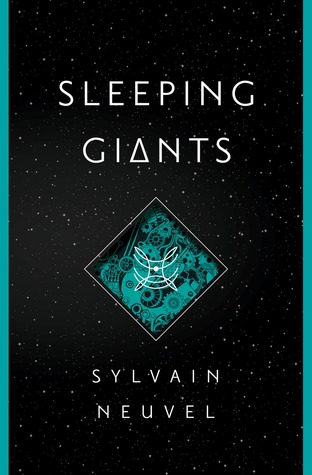 Sleeping Giants by Sylvain Neuvel
Pages : 320
Genre : Speculative Fiction
Series : Themis Files, Book 1
My Rating : 4.5/5
About the Book  :
A girl named Rose is riding her new bike near her home in Deadwood, South Dakota, when she falls through the earth. She wakes up at the bottom of a square hole, its walls glowing with intricate carvings. But the firemen who come to save her peer down upon something even stranger: a little girl in the palm of a giant metal hand.
Seventeen years later, the mystery of the bizarre artifact remains unsolved—its origins, architects, and purpose unknown. Its carbon dating defies belief; military reports are redacted; theories are floated, then rejected.
But some can never stop searching for answers.
Rose Franklin is now a highly trained physicist leading a top secret team to crack the hand's code. And along with her colleagues, she is being interviewed by a nameless interrogator whose power and purview are as enigmatic as the provenance of the relic. What's clear is that Rose and her compatriots are on the edge of unraveling history's most perplexing discovery—and figuring out what it portends for humanity. But once the pieces of the puzzle are in place, will the result prove to be an instrument of lasting peace or a weapon of mass destruction?
My Thoughts :
I read Sleeping Giants a few weeks ago on vacation, and I went in expecting nothing. I'd fallen in love with the cover (it's super pretty under the jacket, glossy and with a perfectly themed illustration) and the story sounded intriguing. Then I had discovered the book was narrated through a series of interviews, and that the author originated from here in Quebec; at that point I just knew I had to read it.
And I absolutely adored it.
From a literary point of view, there's not much to say. The writing is good, nothing too flourished and perfectly suited for the job. The tone is just right, descriptive with a touch of humor, and sounds close enough to a conversation to make the flow natural. It's nothing revolutionary, but not everything has to be, and it simply works all very well together.
The greatness of Sleeping Giants is all in the story. It's a story of worlds and wonder, fascinating and impossible to put down. I quickly got attached to the characters, who were pleasantly realistic and diverse. I was also surprised by events and revelations, and by where the story went. Much further, much bigger than I would have thought, with this "small" discovery changing our world as we know it. All of this was told through interviews and journals with a good pace, not too rushed, with just enough humor and heart.
I also loved how big the world seemed and how small I felt compared to it.
Because of its format, Sleeping Giants is very easy to get into and a really quick read. On top of that, I've heard many readers mention how good the audio version was, which only makes me want to read it again in this format. Maybe in preparation for the next book? It won't be out before April of 2017 (such a long wait!), but the proposed cover looks gorgeous :