Review : Cinder by Marissa Meyer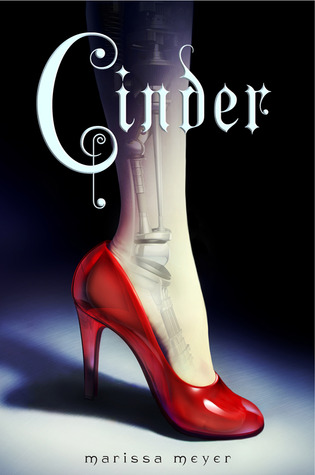 Cinder by Marissa Meyer
Pages : 390
Genre : YA, fantasy
Series : The Lunar Chronicles, book 1
My Rating : 4/5
About the Book  :
Humans and androids crowd the raucous streets of New Beijing. A deadly plague ravages the population. From space, a ruthless lunar people watch, waiting to make their move. No one knows that Earth's fate hinges on one girl.
Cinder, a gifted mechanic, is a cyborg. She's a second-class citizen with a mysterious past, reviled by her stepmother and blamed for her stepsister's illness. But when her life becomes intertwined with the handsome Prince Kai's, she suddenly finds herself at the center of an intergalactic struggle, and a forbidden attraction. Caught between duty and freedom, loyalty and betrayal, she must uncover secrets about her past in order to protect her world's future.
My Thoughts :
Two questions that came to mind when I finished Cinder last night :
1- Why did I wait so long to read this book?
2- Why don't I have the sequel(s) waiting on my shelf?
I bought Cinder not long after it came out, picked it up a few times but never really got into it. I kept hearing good and great and amazing things about it and yet, there it sat, on my shelves. Until last week.
And I had so much fun reading it! I really wasn't expecting to enjoy it this much. I used to love reading series, but for the last few years I've had a hard time getting into new ones. Or I read the first one, enjoy it, and by the time the sequel comes out, I don't care enough anymore (so I guess it's a good thing that The Lunar Chronicles is completed as of this month : no waiting!)
But I loved Cinder very, very much. I love retellings and this one is no exception; in fact, it might be one of the bests I've seen so far, because the author cleverly used what we know of Cinderella. Sometimes retellings can feel a bit forced when an author tries too hard to integrate the original tale, but Marissa Meyer put just enough into her story, not hesitating to discard some elements while adding so many new ones that the story still felt fresh and exciting. The fantasy and science-fiction aspects were on the light side, which would make it easy for any reader to immerse themselves into this world, though I do think I would have enjoyed digging a little more into the world-building.
I also loved Cinder herself, as well as her romance with Kai. I usually get really annoyed by insta-loves and such, but here it worked for me. I think there was a good enough balance of cute and charming, without Cinder becoming a completely obsessed teenager with no other passions & goals in life. I also adored Iko and their relationship, which I really really hope we'll see more of in the following books!
With constant action, humor, heartbreak and twists, all of this without ever becoming too overwhelming, Cinder managed to surprised me in ways I hadn't been surprised by a YA series in a long, long time. I loved this book. It's been a long while since I've been this enthused about a series! While I do wish the world had had a little more depth and detailing, or that the different relationships had been given more time to develop, I was completely entertained from start to finish, and I just can't wait to read the next book!