Review : Maine by J. Courtney Sullivan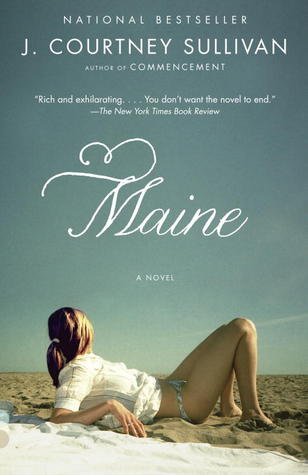 Maine by J. Courtney Sullivan
Pages : 528
Genre : Fiction
Stand alone
My Rating : 5/5
About the Book  :
For the Kellehers, Maine is a place where children run in packs, showers are taken outdoors, and old Irish songs are sung around a piano.
As three generations of women arrive at the family's beach house, each brings her own hopes and fears. Maggie is thirty-two and pregnant, waiting for the perfect moment to tell her imperfect boyfriend the news; Ann Marie, a Kelleher by marriage, is channeling her domestic frustration into a dollhouse obsession and an ill-advised crush; Kathleen, the black sheep, never wanted to set foot in the cottage again; and Alice, the matriarch at the center of it all, would trade every floorboard for a chance to undo the events of one night, long ago.
My Thoughts :
I read Maine and it was not what I expected it to be. For a few days, I shared the lives of four complex women. I was moved and amused, hated and loved them in turns. I never wanted to put the book down.
I almot didn't read Maine. I'd been eyeing it for some time when I finally got a copy of it, but I was hesitant. The average rating on Goodreads could be deterring to some (about 3.3), though that alone wouldn't make or break my mind – I usually need a lot more information, since I've hated books that were highly rated (and vice-versa). What almost did though, was to read that most of the people I follow on there – thrusty reviewers who mostly share my interests – had been disappointed with it. It was slow, they commented; the characters unlikable, nothing happened, the cover isn't very representative. And I pretty much agree with all of this, though for me, that's exactly why it worked so well!
Not much happens in Maine, it's true. Above all else, Maine is a character study. These four women are human and complex. It's not often that I meet characters who are so true to life, their strenghts and weaknesses intertwined so realistically. For instance, hearing about Alice from the three other women didn't paint a really nice portrait of the old woman; yet reading her chapters was, I think, my favourite part. I felt for her, surprisingly, as much as I hated her when I read about how she treated the people around her.
But I think the biggest feat here, for me, was how these characters explain each others. You can't really know Kathleen without knowing about her mother's life; and you can't really understand Ann Marie without reading about her relationship to her in-laws. These women wouldn't be who they are without having the other ones in their life. That's a point novels often miss, or often have an awkward time demonstrating; but this is exactly what Maine does, and with excellence.
Maine was a captivating experience for me. A character study in four voices, exploring the ties of family and the relationship between past and present. The drama built up slowly to explode quietly yet with importance, true to the characters, and I was left with so much to consider and think about. It had been so long since I had lived characters like this; I felt like I understood them, each of them, on a personal and intimate level.
Maine is a new favorite for me, which hadn't happened in a while. I'm already looking forward to reading more by this author – and luckily, I have The Engagements waiting for me on my shelves!