Review : The Queen of the Tearling by Erika Johansen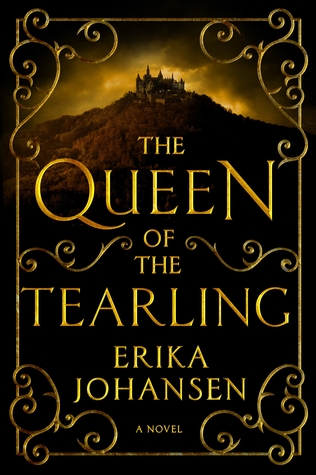 The Queen of the Tearling by Erika Johansen
Pages : 448
Genre : Fantasy
Series : The Queen of the Tearling, book 1
My Rating : 4.5/5
About the Book  :
On her nineteenth birthday, Princess Kelsea Raleigh Glynn, raised in exile, sets out on a perilous journey back to the castle of her birth to ascend her rightful throne. Plain and serious, a girl who loves books and learning, Kelsea bears little resemblance to her mother, the vain and frivolous Queen Elyssa. But though she may be inexperienced and sheltered, Kelsea is not defenseless: Around her neck hangs the Tearling sapphire, a jewel of immense magical power; and accompanying her is the Queen's Guard, a cadre of brave knights led by the enigmatic and dedicated Lazarus. Kelsea will need them all to survive a cabal of enemies who will use every weapon—from crimson-caped assassins to the darkest blood magic—to prevent her from wearing the crown.
Despite her royal blood, Kelsea feels like nothing so much as an insecure girl, a child called upon to lead a people and a kingdom about which she knows almost nothing. But what she discovers in the capital will change everything, confronting her with horrors she never imagined. An act of singular daring will throw Kelsea's kingdom into tumult, unleashing the vengeance of the tyrannical ruler of neighboring Mortmesne: the Red Queen, a sorceress possessed of the darkest magic. Now Kelsea will begin to discover whom among the servants, aristocracy, and her own guard she can trust.
But the quest to save her kingdom and meet her destiny has only just begun—a wondrous journey of self-discovery and a trial by fire that will make her a legend…if she can survive.
My Thoughts :
As I was saying earlier this weekend, The Queen of the Tearling has been a great surprise for me. It is the fantasy novel I didn't know I needed to read right now, and from the start I have been completely immersed in its world. It's a world that is both familiar and unfamiliar to us, inserting high fantasy concepts into our world's possible future.
What makes this story and its setting so captivating is that it reads almost like historical fiction and then pop! A slight drop of magic. Then it reads like some high fantasy novel with a complete world of its own and then pop! A reference to our literature, our geography, our religions. It could have been a complete mess, really, but it worked so well! We dip into it slowly, discovering the world as Kelsea does, and it is deliciously paced with lots of new information and vivid characters and some action scenes full of danger.
Despite Kelsea's young age (she's 19), the book isn't YA and definitely feels like it is aimed at a more mature audience. Except for Kelsea, the characters surrounding her are much older and much more experienced. I found the characters had a bit more grit and a little less sugarcoating than in younger novels, and I absolutely loved that. They were  also well written and despite being numerous, I quickly had an easy time differentiating them and imagining what they would be like.
And most importantly, I appreciated Kelsea. It is clear that her education successfully prepared her for her new role. Despite her age and her isolation, she is a strong and decisive queen. She has her doubts and insecurities, yes, but she also owns her place on the throne.
I believe it is quite obvious, by now, how much I loved the books. It had a few small flaws, yes; this world's history isn't always clear, and I think the novel could easily have been done in a pure fantasy setting (though future books of the series might contradict this). But still, I loved it all; the different point-of-views for the narration, the political talks, the danger and action sprinkled here and there, the complex characters, it all kept me reading until late in the night. Ha, how I would love to put my hands on its sequel now!
The Queen of the Tearling will be available for sale on July 8th! Thanks to TLC Book Tour for generously inviting me to participate to this book tour!