Review : Between the Devil and the Deep Blue Sea by April Genevieve Tucholke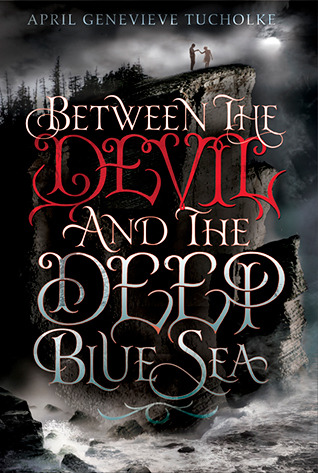 Between the Devil and the Deep Blue Sea by April Genevieve Tucholke
Pages : 360
Genre :  YA, Horror, Paranormal
Series : Between, book 1
My Rating  : 4/5
From the back of the book  :
Nothing much exciting rolls through Violet White's sleepy, seaside town… until River West comes along. River rents the guest house behind Violet's crumbling estate, and as eerie, grim things start to happen, Violet begins to wonder about the boy living in her backyard.
Is River just a crooked-smiling liar with pretty eyes and a mysterious past? Or could he be something more?
Violet's grandmother always warned her about the Devil, but she never said he could be a dark-haired boy who takes naps in the sun, who likes coffee, who kisses you in a cemetery… who makes you want to kiss back.
Violet's already so knee-deep in love, she can't see straight. And that's just how River likes it.
My Thoughts :
I had to take a few days to make my thoughts clear on this book before I could write the review. Then days became weeks, and these weeks became a couple of months, and now it was clear that I would never be able to settle on what I really thought of the book.
Between the Devil and the Deep Blue Sea is just that kind of strange, unsettling book that shakes you off your seat. It's dark, gritty, mysterious and beautifully written. Despite being set in the present, it has a very gothic vibe. It starts slow and raises into a suffocatingly weird atmosphere that had me wondering, more than once, what exactly was going on.
It's pretty clear there is something strange going on with River from the moment he steps in. The clues accumulate against him in an undeniable case, and I kept wondering how everything would be explained. For long, I thought the author was writing a scarier version of Bella and Edward's story. Violet let herself be manipulated by River so easily it angered me a little, which was made even worse by the fact that she was very aware of it.
Fortunately the final twists and revelations gave sense to the story, and made me appreciate what the author had done with their relationship. Parts of it still made me uncomfortable though, but I think it also speaks of the author's ability to manipulate us readers. We go through some of the same deceptions Violet goes through, which makes it all sorts of fascinating.
I also appreciated the town and Violet's house and the whole setting. The story was very intriguing and unsettling (there are very few things creepier than creepy kids, in my opinion!). I have to say I didn't care much for Sunshine and Violet's brother, but I do hope their characters will be more developed in the following book.
If you are looking for a modern day gothic tale, focused more on the prose and atmosphere and less on the action, then Between the Devil and the Deep Blue Sea is a great pick. It's heavy and different, but certainly worth the read.