Review : Parallel by Lauren Miller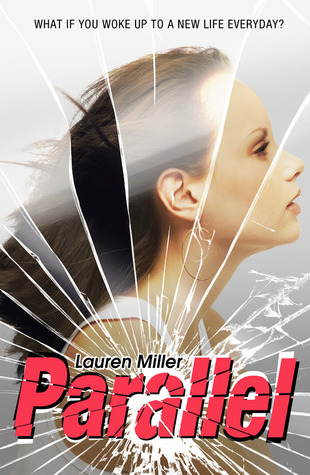 Parallel by Lauren Miller
Pages : 381
Genre :  YA, Speculative fiction
Stand alone
My Rating : 3/5
From the back of the book  :
Abby Barnes had a plan. The Plan. She'd go to Northwestern, major in journalism, and land a job at a national newspaper, all before she turned twenty-two. But one tiny choice—taking a drama class her senior year of high school—changed all that. Now, on the eve of her eighteenth birthday, Abby is stuck on a Hollywood movie set, miles from where she wants to be, wishing she could rewind her life. The next morning, she's in a dorm room at Yale, with no memory of how she got there. Overnight, it's as if her past has been rewritten.
With the help of Caitlin, her science-savvy BFF, Abby discovers that this new reality is the result of a cosmic collision of parallel universes that has Abby living an alternate version of her life. And not only that: Abby's life changes every time her parallel self makes a new choice. Meanwhile, her parallel is living out Abby's senior year of high school and falling for someone Abby's never even met.
As she struggles to navigate her ever-shifting existence, forced to live out the consequences of a path she didn't choose, Abby must let go of the Plan and learn to focus on the present, without losing sight of who she is, the boy who might just be her soul mate, and the destiny that's finally within reach.
My Thoughts :
When I turned 13 years old I was gifted an amazing power by my library; after years of being restricted to the kids section, I was finally allowed to borrow books from the mysterious and bigger adult section. I can't remember the title now (though I wish I did!), but one of the first books I borrowed was the story of a man living two parallel lives, alternating between both every time he went to sleep. Ever since, parallel universes have hold a particular appeal for me; it's interesting to wonder how tiny decisions could change over your life completely! So it is fair to say that I went into Parallel with some excitement. Though I have read my share of speculative fiction in the past few years, parallel worlds isn't a theme I have come across much (though it does seem to be a popular theme in YA fiction right now!)
For most of it, Parallel delivered. Abby is an okay character, not too perfect nor too annoying. She does a good narration, though with a bit too much useless detailing. I also could have done with less focus on the romance, but I also liked that she had her own ambitions and interests.
I thought the author did a great job of pointing out how little details derailed all of Abby's plans. Though I can't speak for the science behind all the parallel worlds (it was a bit confusing to my non-scientific mind, I'll admit), I thought the pace was good and kept me reading, wondering what would change next and how. It was great fun to start a chapter and, through Abby's eyes, try to find if something had changed and why.
As I was nearing the end though, I felt a bit confused. There were less and less pages left, and many questions left to answer, I felt. And suddenly, the ending – and I did not like it at all. It was so easy, so… uh. I felt immensely frustrated and dissatisfied, and it took away from my enjoyment of the book a lot.
All in all, Parallel was a fun novel; despite its flaws, it was a fun enough read. I only wish the author hadn't taken what I felt was the easy way out to conclude the story.