Top Ten Tuesday – Top Ten Series I Would Like to Start but Haven't Yet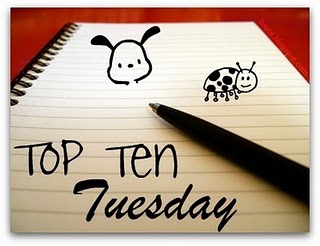 Ten Tuesday is an original feature/weekly meme created by The Broke and the Bookish. Each week is posted a new Top Ten list idea that all bloggers are welcome to discuss.
It's a bit scary how easy it was to think of ten series I want to read and have yet have to start. In fact, the difficult part was to not have more than 10. These are all books I have on my TBR shelves. Yikes! I definitely have some reading to do! This list should probably be one of my reading goals for 2013. What do you guys think? Any hint about where I should start?
1 – The Kingkiller Chronicle by Patrick Rothfuss
2 – A Song of Ice and Fire by George R. R. Martin (Love the tv show, but I'm a bit scared I won't be enjoying the book as much. Plus, I heard some of my least favorite aspects of the show are even more present in the books… still really want to read it though!)
3 – All Souls by Deborah Harkness
4 – The Inheritance Trilogy by N. K. Jemisin
5 – Wheel of Time by Robert Jordan & Brandon Sanderson (One of The Man's favorite series! We have all of the books here and to be honest, I find it a bit intimidating)
6 – Partials Sequence by Dan Wells
7 - Seraphina by Rachel Hartman
8 – The Grisha by Leigh Bardugo
9 – Lunar Chronicles by Marissa Meyer
10 - Unraveling by Elizabeth Norris
What are some series you guys are desperately wanting to read?