A Winter's Respite Read-a-Thon!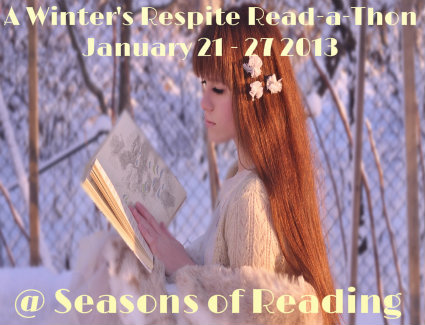 Last summer, I joined Seasons of Reading's summer readathon and thought it was so much fun to officially dedicate a week to reading. It helps to focus on a goal and make it public; this is how I managed to catch up with 2013 a little in December.
I was excited when I saw the winter readathon would be happening this week and just knew I had to join! The Man is away for work so I have all the time needed to go through my infinite TBR shelf.
My 3 goals this week are :
To start and finish 4 books, English or French
To finish the YA French Canadian novel I am actually reading
To finish my current audiobook, Miracle on Regent Street. I have about 40% left so this should be manageable
I am not planning a specific pile of books, I want to "go with the flow", as they say. And since I have a family thing Thursday-Friday, I decided to start early this Saturday and end with everyone else on the 27th.
Are you interested in joining the fun? If so, it is not too late! Click on the banner to get to the sign-up page! The rules are easy : as long as you read in the week, you're good!