Review : Cover of Snow by Jenny Milchman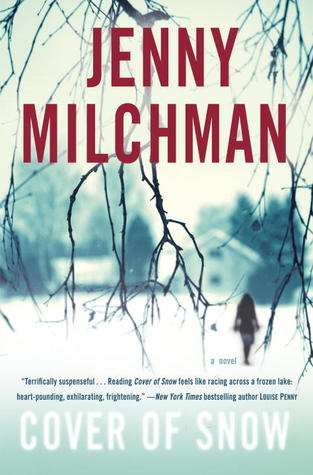 Cover of Snow by Jenny Milchman
Pages : 336
Genre : Mystery
Stand Alone
My Rating : 3,5/5
What it's about :
Nothing lead Nora to believe her husband could possibly want to take his own life – and yet it happened. In the days following his death, Nora is troubled by the usual questions : why did he do it? What pushed him over the edge? How long had he been planning this?
As Nora tries to piece the puzzle back together, she comes to realize there is more about her husband that she didn't know. Despite his unlikable mother and the uncooperative police force, Nora is determined to find the whole truth about her husband's life and death – even though someone else is as determined to keep her from the truth.
My Thoughts :
Interestingly, the first thing I wanted to comment on as I sat to write this review was the cover; for once, I feel the cover is a perfect image for what the book contains. Nora and her husband live in a small town, where winter hits in full force every year. The scenes are filled with cold, snow, wind and ice, characters fighting the elements on a daily basis. Soon enough, Nora also realizes she has very few allies; it's on her alone to find the truth and fight for it to finally come out. I don't think this cover could stick to the story more, and if you pick your books based on covers (like I sometimes do), then this one should give you a good idea of what it's about.
On to the story itself! I am not sure what I was expecting when I started Cover of Snow, but it got more complex than I expected. I thought Nora's husband would be revealed to have maybe one or two tame secrets, but it turned out to be much more than that. I would say that Cover of Snow is as much about the town – if not more – than it is about the characters. This was a pleasant surprise, and made the reading less predictable.
Some readers will probably be annoyed by the chapters jumping between first and third person, but I actually liked it. There's only one first person narration, and it's Nora's; the third person narration jumps between different characters, and this is part of what reinforced my feeling of the town itself being at the center of the story. I loved the different perspectives, although I do think some of the chapters were a bit unnecessary. I also thought the writing was choppy in places, but I was so captivated by the mystery, I didn't mind it too much.
I felt for Nora as a character, though I felt I didn't get to really know her through this story. Maybe it is to be expected as she is so weighted down by her grief, but I would have loved to know her a little bit more : I knew what she did for work, what she had hoped for in her life, but not who she was. It's also unfortunate for the poor woman that she was surrounded by so many unlikable or scared characters!
All in all, I enjoyed Cover of Snow. While it didn't bring something extremely new to the mystery genre, it was effective in quickly getting me caught up in the story. I feel this is a strong debut for author Jenny Milchman, and what little faults I found in the book are things that can only be bettered in any forthcoming novels. Meanwhile, Cover of Snow is the perfect book to read on a cold winter night, snuggled under the duvet with a warm cup of cocoa.
Cover of Snow is hitting the shelves today January 15th! Thanks to Random House for generously providing a digital copy of the book for this review.