Review : The Aviator's Wife by Melanie Benjamin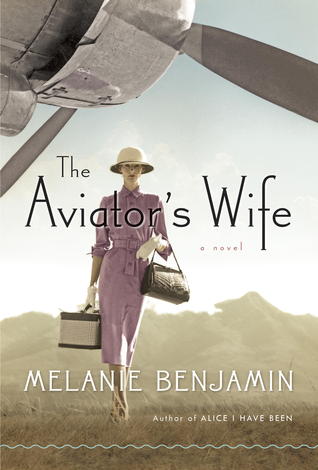 The Aviator's Wife by Melanie Benjamin
Pages : 416
Genre : Historical fiction
Stand Alone
My Rating : 4/5
From the back of the book :
 As the shy, unnoticeable daughter of a U.S. Senator, Anne Morrow never thought she would live anything more than an ordinary life. Then she meets aviator Charles Lindbergh, and is immediately amazed by his strength and his assurance.
From then on, her life will be completely changed. As the couple of adventurers discovers the aerial world while juggling family life, work and fame, Anne is challenged to find who she is other than the obvious – The Aviator's Wife.
My Thoughts :
I went into The Aviator's Wife knowing very little about the Lindberghs. I knew of the name, and that it related to the beginnings of aviation. I was excited to discover an era I didn't know so well, a part of history I normally wouldn't have investigated on my own, and to be reading more from Melanie Benjamin, who's novel Alice I Have Been I had loved.
Anne's life was certainly unique and eventful, and I can see why the author picked her as the object of her new novel. I had no idea the Lindberghs had been such a fascination for the people at the time, with paparazzi and crazies following them everywhere. The kidnapping was a shock for me, and I immediately went to wikipedia to find out if this was truth, or an imagining of the author (I'll let those who know as little as I did discover it by themselves!)
Anne was definitely a character made of strengths and weaknesses (a positive point for me). Benjamin didn't gloss over some of Anne's less glorious traits, to a point where it was frustrating to read at times. From the beginning and almost to the end, Anne stands idly by her husband, nodding along everything he says or does because he's her husband, and of all men, he is Charles Lindbergh. I couldn't help but want to shake some sense into her. Anne does write books and end up living a more independent life towards the end, but it is a much smaller part of the novel.
Still, it would be hard not to feel for Anne, for despite her occasional passivity, she appears as a character with great sensibility. Benjamin's talent shines through Anne's emotional journey. She is such a contrast to her husband's cold attitude! Anne is a wife, yes, but she's also an aviator herself, a mother, a sister, an author. She's a complex woman, and as she struggles to define herself out of her husband's shadow, I was all the more intrigued by her. This had me planning on discovering more of her writing and life.
There were some aspects I enjoyed less of the book; mainly, I felt as if I was going through a list of events which didn't follow each other seamlessly. I understand the author's desire to follow these historical characters through some of the most important historical events; however, I sometimes felt as if these were forced into the story. Chapters jumped years, with Anne offering a little summary of what had happened in between, and it unsettled my reader's mind a little every time.
There is very little negative to be said about Melanie Benjamin's newest historical novel. Anne Lindbergh's life was a fascinating one, a tragic one, a complex one. Discovering these important historical figures through Benjamin's soft and sensitive prose made it an even greater reading experience. For readers who enjoy historical fiction which focuses more on the internal life of the characters than on the historical details, The Aviator's Wife is a perfect pick.
The Aviator's Wife will be hitting the shelves this Januarry 15th! Make sure to get your copy then. Thanks to Random House for generously providing a digital copy of The Aviator's Wife.