Review : Thumped by Megan McCafferty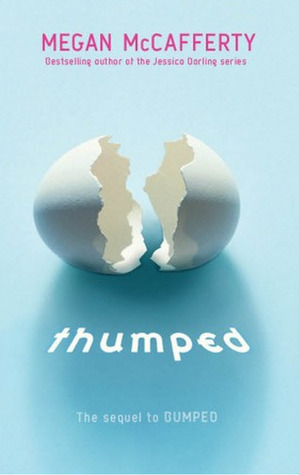 Thumped by Megan McCafferty
Pages : 290
Genre : YA, Speculative fiction
Series : Bumped, Book 2
My Rating : 4/5
What it's about :
More than 8 months have passed since Melody and Harmony have seen each other. Since then, they have both been trying to live with their own secrets, while becoming the favorite topic of gossip of the medias. A set of twins each expecting a set of twins, now that's something to inspire the masses!
But as their due date comes close (or their Double Double Due Date, as it has been nicknamed), both girls start questioning their place and their choices more and more. Constantly watched by the world, the Hotties twins will soon have to face the consequences of their decisions.
My Thoughts :
I am honestly not sure why Bumped and Thumped haven't received more love from the YA community. I wish that they did; they offer something lighter, less romantic and certainly different from other dystopian novels on the market. Where most of these (Wither, Matched, Legend, Divergent, and many more) offer bleak, dramatic visions of the future where romance and hope should prevail through tragedy, Megan McCafferty works on similar ideas by way of the satire. And it (in my opinion) works beautifully, offering a refreshing yet realistic take on a possible future.
Thumped offered a really nice conclusion to Bumped. The story was entertaining enough, there was a bit of humor, and I remembered enough of the previous book's new words to be comfortable with them this time. There's a great cast of secondary characters, some good and some less than good, and I love all the technologies and products appearing through the story.
There is something quite impressive about the future McCafferty has created, which seems to be both too crazy to be true, and entirely realistic. Melody's parents, for instance, were awful people, using their daughter for their own profit. I kept thinking, where do these parents come from? I can't imagine parents could do that to their own child! But then, I thought about it again, and I realized that yes, I could absolutely see it. We see worse all the time on the news, so why not? And that's what satire is a little bit, isn't it? Taking a horrible truth, twisting it a little, and forcing you to think on what it hides, what it means. The book certainly opens many doors for discussions on sexuality, faith, free will, etc.
There were a few things I liked less in the book. I found the girls to be a tad preachy, and not really likable. I also missed Zen as he was in the first book. I would say that Thumped really isn't a book for readers who want to relate to characters and live strong emotions through them; the book was, to me, more about the world it described and the ideas behind it. I also felt that the "mission", the great plot around which the book is built, was a bit weak.
Despite its flaws, Thumped was a fun book. It's short and could easily be read in one session. While it didn't make my heart beat a little faster of make me root for its characters, it certainly entertained me. Is it for everyone? Probably not. But for something just a little different and entertaining, Bumped and Thumped are nice picks.
Series Reading Order :
Thumped