Review : Ready Player One by Ernest Cline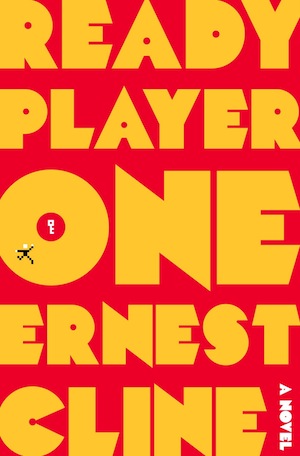 Ready Player One by Ernest Cline
Pages : 372
Genre : Science-Fiction, Adventure
Stand Alone
My Rating : 4,5/5
What it's about :
The year is 2044, and most of humanity is studying, working and escaping in the virtual world of The Oasis. Wade Watts, an unfortunate teenager, is one of them.

When he is not attending his virtual classes in The Oasis, Wade is, along with many others, hunting for the secret fortune of The Oasis' creator. His dream comes true when he finds himself facing the first puzzle – his dream, but his nightmares too. Wade is not the only one with his eyes on the prize, and with more enemies than friends, he'll have to risk everything he has – virtual or real – to reach the end of the game.
My thoughts :
Yup! That's four and a half  fat stars up there, for the pure entertainment that was Ready Player One and the joy it brought me!
I won't dispute the fact that the book has faults, but I had so much fun reading it, I don't even want to talk about its flaws (but you are very welcome to do so in your comments after this review!) So I'll make this a short and very sweet review!
I've mentioned before how I love books with a dystopian/sci-fi/technological approach, so of course the setting of Ready Player One was right up my alley. I loved how Cline thought up this new virtual world and how the whole social medias came together with it. It's definitely something I can imagine coming true, as most of it is already present to some degree in today's world.
But The Oasis is definitely what made the whole book captivating. The Oasis is a virtual world with thousands of planets, with a money system and adventures hidden in any corner. And when the big adventure begins, the book is flooded with many references to 80′s video games, movies, role play, etc. This was as much as a trip down memory lane as a treasure hunt story for me, and I am sure many readers will feel similarly (but even if you aren't familiar with these, I would still urge you to give the book a try! )
I also loved the characters – even the villains. I know some people felt they were very "expected", uni-dimensional. It's something that usually really annoys me, too, but in this specific case, I actually enjoyed it. If Ready Player One was a movie, I wouldn't imagine it taking itself very seriously, and character development felt very secondary to everything else going on. In a book where video games and comics and such took so much place, a stereotypical villain didn't feel out of place.
This is a book I'll be reading again, for sure, and I might come up with a very different review when I do so (I expect it to be maybe a little less enthusiastic, and a little more critical). This being said, I loved it and it will be featured, without a doubt, on my 2012 favorites list!