Reading With My Ears – or How I Discovered that Audiobooks are Kind of Fun, after all!
Note : So I did a little miscalculation – "nothing new!" you'll say if you've been hanging around here for a little while! Some would charmingly call it a "brain fart", where my brain replaced one word for another without ever realizing it. What happened was that I thought the numerous posts about Audiobooks Week 2012 that I was seeing were for the week of July, instead of June. And that everyone was excited because it was happening next month. Woops!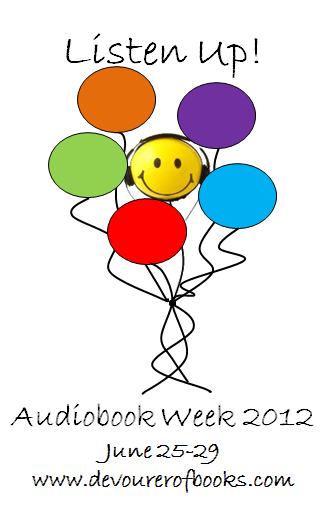 So this is in fact a post I have had in my head for a couple of weeks now – since I have, quite surprisingly, fallen in love with audiobooks.
I've claimed times and times again that I wasn't an audiobook kind of girl. That it was boring me, that I couldn't pay attention long enough to follow a story from beginning to end. The truth was, I had only given little chance to the audiobook, listening to free readings of old classics, read by narrators who sounded like they'd been reading the same text for 200 years.
About a year ago, I had a long bus ride to visit some family, and the worst headache ever. It wasn't a migraine though, so while I wasn't feeling well enough to read, listening to something seemed kind of fun. I downloaded some chicklit novel, listened to 5 minutes of it and then fell asleep, which was good for me but not as good for the audiobook, which was then forgotten until this past April.
And then in April, I was feeling kind of "blah". Not that my reading was bad, just that I needed something different. And after reading some awesome reviews of audiobooks, I decided to give it its ultimate chance. Once again, riding the bus with a headache preventing me from reading. Except that this time, it worked!
The audiobook itself wasn't really great; I'll be posting a review later, but except for the narrator that I really enjoyed, the book itself was close to mediocre. Still, I had fun. And I have been having so much fun since then, reading while doing my chores, exercising, walking, before going to sleep, etc.
Today I feel both sorry that I missed so much before, but also – and mostly – excited that I have finally discovered this way of reading. I'm not sure if the timing wasn't right before, or if I just hadn't discovered the right audiobook for me, but I know it has now become part of my daily schedule.
I'm curious to know who here enjoys audiobooks, and have you been as resistant as I was to their charms? What are some audiobooks that I should absolutely be listening too?