The Retirement Box
Today, I finally started a project I had had on my mind for a short while. That is, a retirement box.
What is a retirement box? you ask. And also; aren't you a little young to think about retirement?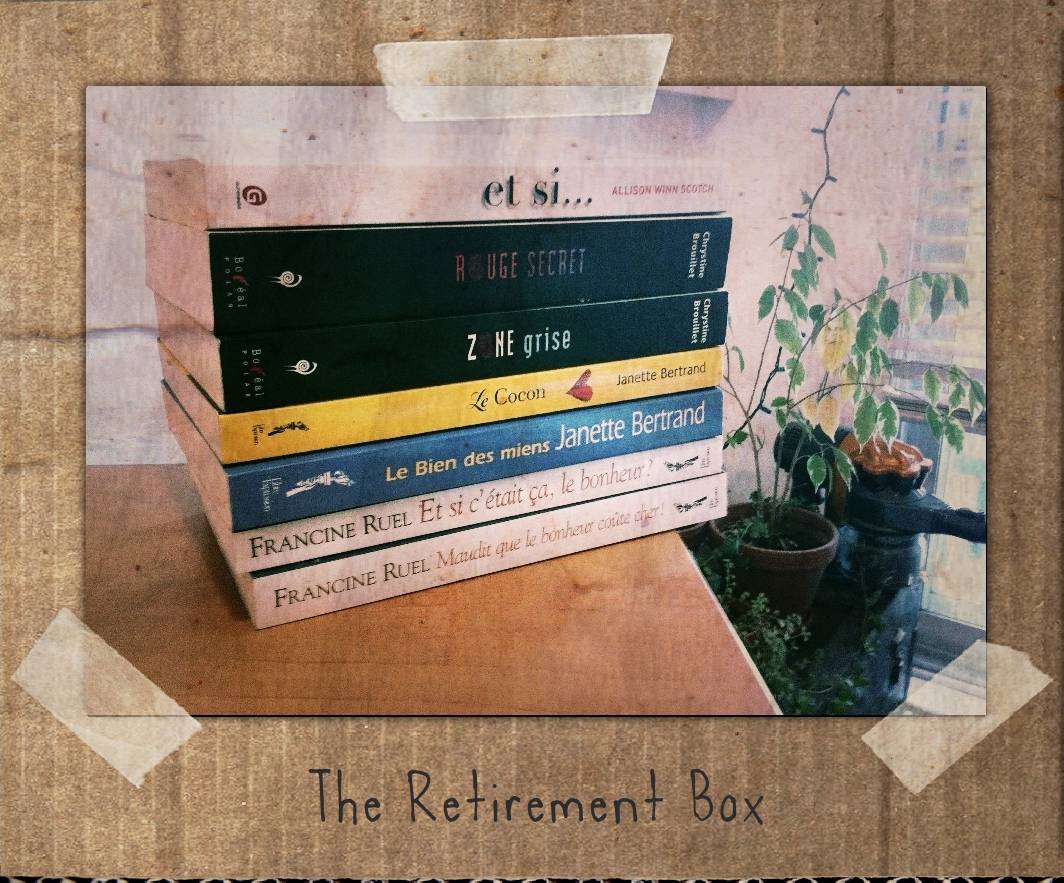 Why, yes, I am a little young to retire. I believe I still have a few good years left in me.
No, that box is for none other than my mom, the awesome lady who first introduced me to books. Hi mom! (I know she lurks around my blog on a daily basis)
One year from now, my mom will finally be retiring. And she deserves it so, so much. My mom does a difficult job, one I know I would never be able to do. I'm not sure what the official title would be in English; the closer translation I found on a government website is "patient service associate". She houses four "beneficiaries", who have heavy mental and physical handicaps (again, I want to stress that I do not know the correct English terms for this; the last thing I want is to offend anyone, so I would be thankful to anyone who can provide correct words!)
These four patients live in her home about 355 days a year. My mom only has a short week vacation in the summer; any other time of the year (even for the holidays), she has at least two of them with her. She cooks the food, bathes them, help them to the toilet, and so on. They have activities on week days, which between grocery shopping and cleaning and doctor appointments barely leaves her any time for herself. She reads a lot less than she used too, barely watches any movies, only some TV and some painting.
As you can imagine, my mom is looking forward to her retirement. After many years of this life, and her health having had a few hiccups, and life in general weighing on her shoulders, she is counting the days until she can finally sit down and do absolutely nothing if she wishes to.
That's where I come in!
And as I am hundreds of kilometers away from her, I thought the best way to help would be to make her a retirement box, filled with books and movies and maybe a few other things for her entertainment. This way, when she doesn't feel like going out, she'll have some entertainment just there in her new apartment by the sea.
For the past few weeks I have been investigating books that I believe she could enjoy, authors I know she has mentioned in the past. French and French Canadian authors, but also translations of English books I have enjoyed (the top book in the picture is a translation of Time of my Life by Allison Winn Scotch, and I am currently looking for copies of Louise Penny's mysteries in French).
Shopping for someone else is hard work. Fun work, but still hard. Getting one book isn't too hard, but filling a box (and it will be a big box), is a whole other challenge! I constantly wonder : "Has she read this? Did she say she liked reading it or would like reading it? Is this her type of book? She enjoyed this ten years ago, does she still do?"
In the end, there were too many uncertainties and I did tell her what I'm working on. She seemed happy about it, but I'm hoping that by then, she'll have forgotten most of what is in the box (you know, so she can have a few surprises!)
I'm hoping she'll have the best retirement she can have – she certainly deserves it!