Review : Zombie Blondes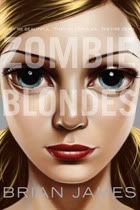 Zombie Blondes by Brian James
Pages : 232
Genre : Fiction
Stand Alone
My Rating :

From Goodreads :
From the moment Hannah Sanders arrived in town, she felt there was something wrong.
A lot of houses were for sale, and the town seemed infected by an unearthly quiet. And then, on Hannah's first day of classes, she ran into a group of cheerleaders — the most popular girls in school.  The odd thing was that they were nearly identical in appearance: blonde, beautiful, and deathly pale.

But Hannah wants desperately to fit in — regardless of what her friend Lukas is telling her: if she doesn't watch her back, she's going to be blonde and popular and dead — just like all the other zombies in this town….
So there it goes, the lowest rating I ever gave to a book on this blog. I wanted to like this book, but it didn't happen, and I had a hard time just to finish reading it.
The writing was good, and I liked the idea of the book. Sadly, the execution was lacking suspense, likability and a touch of horror. Nothing much happens until the very end and it was all so predictable, I was bored turning the pages. Also, there was nothing believable about this story. I don't care that it's about zombies : I should still be able to connect with the characters and see this through their eyes!
Hannah wasn't really likable, which made her "romance" with Lukas highly unromantic. I have no idea why this guy kept coming back to her and helping her, when all she did was kick him away. She used him and he let her use him, and in the end there was no reason these two should really be into each other.
I'm making this very short as negative reviews are no fun to write, but yeah, I didn't get much out of this one.