Review : The Dead and the Gone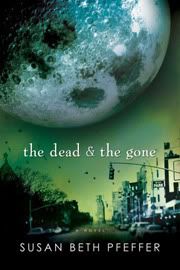 The Dead and The Gone by Susan Beth Pfeffer
Pages : 308
Genre : YA, Apocalypse Fiction
Series : The Moon Trilogy or The Last Survivors, Book 2
My Rating :

What it's about :
When an asteroid hits the moon and brings it closer to Earth, causing a series of catastrophes, Alex's life in New York changes completely. With his father gone to Puerto Rico and no communication with his mother, Alex becomes the head of the family. As food becomes sparse and weather gets colder, Alex must take care of his two younger sisters, fighting one day at a time for their survival.
I was excited to finally read the second novel in Pfeffer's Moon Trilogy, and while I wasn't disappointed, I can't say that I connected with the story and its characters as much as I did with Life as We Knew it. I liked Alex and his sisters, but it's only in the second half of the book that I really got into it.
For me, the most interesting thing about The Dead and the Gone is how the different setting offers different dynamics for the characters. While Miranda, in the previous book, was a great narrator, Alex gives us a different perspective : as the head of the family, he is the one taking the decisions and living with the consequences. Despite the novel being told in a third person voice, the author did an incredible job of letting us into Alex's mind. He was a very complex character, questioning himself over his decisions and constantly trying his best. He was strong, but we also got to see how his new role affected him and was a difficult one to deal with.
Also, the fact that they live through this in New York rather then some smaller town really gives us another perspective on what's going on. For instance, we learn a few more details that weren't mentioned in Life as We knew it on how the government deals with the situation. Also, the characters are less isolated from other people, even closer to the end, which created different situations.
Finally, something that plays a big role through this story is Alex and his sisters' faith. While religion was more criticized in Life as We Knew it, here it is one of the characters main concerns. They go to a catholic school and invest a lot of time in prayer, and mostly faith isn't portrayed as unhealthily as it was in the previous book (except, maybe, for Brianna).
All in all, The Dead and the Gone was a good read. I would recommend it to those who enjoyed the Life as We Knew it, especially since the third book coming out this year, This World we Live in, will reunite characters of the first two novels.
Series Reading Order :
The Dead and the Gone
This World we Live in