Blog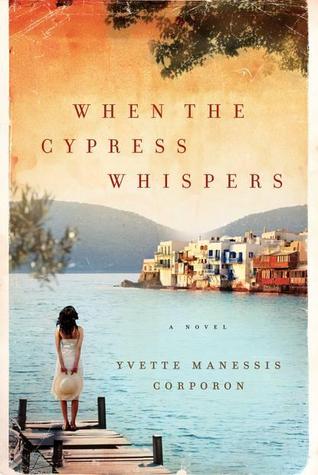 When the Cypress Whispers by Yvette Manessis Corporon
Pages : 368
Genre :  Contemporary fiction
Stand alone
My Rating : 3/5
About the Book  :
The daughter of Greek immigrants, Daphne aspires to the American Dream, yet feels as if she's been sleepwalking through life. Caught between her family's old-world traditions and the demands of a modern career, she cannot seem to find her place.
Only her beloved grandmother on Erikousa, a magical island off the coast of Greece, knows her heart. Daphne's fondest memories are of times spent in the kitchen with Yia-yia, cooking and learning about the ancient myths. It was the thought of Yia-yia that consoled Daphne in the wake of her husband's unexpected death.
After years of struggling to raise her child and pay the bills, Daphne now has a successful restaurant, a growing reputation as a chef, and a wealthy fianc?-everything she's ever wanted. But across the ocean, Yia-yia can see through the storybook perfection of Daphne's new life- and now she is calling her back to Erikousa. She has secrets about the past to share with her granddaughter- stories from the war, of loyalty and bravery in the face of death. She also has one last lesson to teach her: that security is not love, and that her life can be filled with meaning again.
My Thoughts :
If you've got travel on your mind, When the Cypress Whispers is one gorgeous occasion to evade the daily routine for the time of a few pages. From the start, we get transported to beautiful Greece with Daphne and her daughter, and soon with her whole family. The novel is filled with landscapes, food and colorful characters.
One thing I really enjoyed from the story was the inclusion of mythology. The myths definitely inhabit Daphne's mind, as well as her whole family's lives. I loved how they linked it to the story, in their conversations, getting real lessons from them.
There were a lot of characters to love and root for – Yia-yia, Popi, Yianni, Evie. But one of my main gripe with the story was Daphne. I found her hard to relate with, a tad on the verge of judgmental – and while this was part of her journey, it still made it difficult for me to appreciate her. Combine with the author's insistence on Daphne and Popi's weight, or Daphne's rich american husband, there was something that felt superficial about it; a huge contrast to the setting and her family, that's for sure!
Overall though, I quite enjoyed the book. It felt entertaining and quite light considering the secrets and the past events they all kept to themselves. It's definitely a perfect summer book for readers wanting to escape to a beautiful, mystical place with a group of loving characters!
When the Cypress Whispers is available for sale now! Thanks to TLC Book Tour for generously inviting me to participate to this book tour!