Blog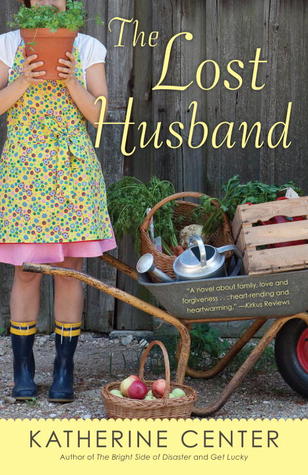 The Lost Husband by Katherine Center
Pages : 304
Genre : Fiction
Stand alone
My Rating : 4,5/5
What it's about :
When her husband died unexpectedly three years ago, Libby found herself stuck living with her kids at her mom's place, unable to move forward.
Then an invitation lands on Libby's doorsteps, an offer she surprises herself to accept : to move in with an eccentric aunt she has barely met, and help her with the work on her farm. It's a complete change of scenery for Libby, but it might be just the thing she needed to finally move on.
My Thoughts :
You know you're reading a great book when you don't want it to end – and it is exactly what happened with The Lost Husband, which has been one of my favorite books to read this year! It's true that I came in with some high expectations : I had read numerous positive reviews about the author's previous work, and friends had recommended her to me many times. I am so glad I finally cave; in a style slightly reminiscent to Sophie Kinsella and Jennifer Weiner, Katherine Center offered here a cute, moving and at times funny story about grief, family and love.
I can't say I've ever been a widow with children, yet I found myself relating to Libby from the start. Her voice is honest and straightforward, and she is certainly complex. Though she is long past the initial grief her husband's death left her in, Libby still lives with the weight of it all, which only accentuates her flaws and her strengths.
But Libby's story, while offering some serious thoughts on grief and moving on, isn't heavy with sadness and regrets. Instead, we get to know her and her kids, as well as the new people in her life on the farm. It's colorful and charming, with a bit of mystery (her aunt hides some secrets of her own, as do her new friends). While I did think she adjusted quite easily to the life on the farm, I'll admit it seemed to suit her.
I loved her kids and her relationship with them. I loved that she sometimes questioned her decisions or her mothering, even though she didn't know how else to do things. I loved that the kids were kids : they talked and acted like them and I completely believed they were their age. Her relationship with her aunt was also perfect; a few quirks and a lot of love is how I would describe it.
And I can't not mention the romance. In some ways, O'Connor is the typical guy you would imagine in a romance novel; a bit secretive yet manly, they have a push-and-pull relationship for most of the novel. Yet it worked beautifully without making me feel like I was reading the biggest cliché ever. Katherine Center can definitely make magic happen!
I don't think I need to insist any more about how much I loved this book! It was such a quick read, too; perfect for the beach, or a nice day under the sun. I was enchanted, and I know, with absolute certainty, that there will be more Katherine Center in my future reading.
I would gladly take suggestions as to which title this should be, if some of you have read the author before!
The Lost Husband is available for sale right now! Thanks to Ballantine Books for generously providing a digital copy of the book for this review.