Blog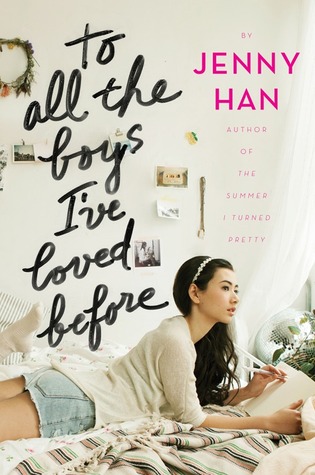 To All the Boys I've Loved Before by Jenny Han
Pages : 355
Genre : YA, contemporary fiction
Series : To All the Boys I've Loved Before, book 1
My Rating : 3.5/5
About the Book  :
What if all the crushes you ever had found out how you felt about them… all at once?
Lara Jean Song keeps her love letters in a hatbox her mother gave her. They aren't love letters that anyone else wrote for her; these are ones she's written. One for every boy she's ever loved—five in all. When she writes, she pours out her heart and soul and says all the things she would never say in real life, because her letters are for her eyes only. Until the day her secret letters are mailed, and suddenly, Lara Jean's love life goes from imaginary to out of control.
My Thoughts :
Well well well. I have so many thoughts about this book!
Let's first say I went in with HUGE expectations. Over the years I have, over and over, declared my love for Jenny Han's Summer series. It was such a strong coming-of-age series (find my reviews on this list) that I immediately added To All the Boys I've Loved Before to my wishlist as soon as I'd heard of it – even though I wasn't so sure about the story.
From the first few pages something felt "off" and I had a hard time getting into the story. We are slowly introduced to all the characters, with Margot, the oldest sister, going abroad for college. And then a few more moments are strung together, but not really cohesively. I felt it was a really weird starting point for the story and I wish the author would have gotten to the point faster. I almost dropped the book, but fortunately I decided to power through it a little more.
Once the letters get sent things get a lot more interesting. Lara Jean had a lot to explain, and of courses she tries to minimize the damage, and of course it only delays the hurt of saying the truth. But while, at time, I felt like the book couldn't decide what it was (a comedy, a romance, a coming-of-age story, something else?), the truth is that it really pulled me in. I was reading pages at a time, completely entertained by Lara Jean's adventures. I loved her family and I really liked the cast of characters surrounding her.
One thing that Jenny Han still does great is write charming boys you can't help falling for. There's Josh the boy next door, who is also her sister's ex-boyfriend (ick), but then there's also Peter, with whom Lara Jean has a fake-not-fake relationship. I am not sure what she saw in Josh, personally, but her chemistry with Peter was really great. So, that was fun too.
In the end, I would say my experience was mostly positive. I think I came in expecting too much, when the book simply is a cute contemporary YA novel. It's light, it's fun; it's a breeze to read under the sun!
Series Reading Order : 
To All the Boys I've Loved Before
P.S. I Still Love You (coming 2015)