Blog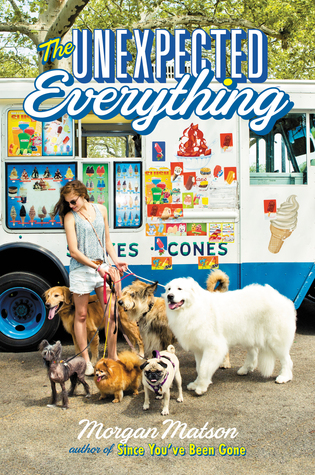 The Unexpected Everything by Morgan Matson
Pages : 517
Genre : Contemporary Fiction, YA
Stand alone
My Rating : 3.5/5
About the Book  :
Andie had it all planned out. When you are a politician's daughter who's pretty much raised yourself, you learn everything can be planned or spun, or both. Especially your future.
Important internship? Check. Amazing friends? Check. Guys? Check (as long as we're talking no more than three weeks).
But that was before the scandal. Before having to be in the same house with her dad. Before walking an insane number of dogs. That was before Clark and those few months that might change her whole life.
Because here's the thing—if everything's planned out, you can never find the unexpected. And where's the fun in that?
My Thoughts :
Without going into details, I have to say that the past week has been a bit tough, the kind of week where you'd just like to step out of your life for a time, you know? I felt a bit drained and disconnected, and so I knew I needed something light and fun to read, that wouldn't require too much brain power. The Unexpected Everything seemed like the perfect choice.
It was my second novel by Morgan Matson after Since You've Been Gone last year, and it was exactly what I needed. So much of what I'd said about Since You've Been Gone applied to this new story too : cute story, a voice easy to relate too, a strong focus on friendship. It's all there, and so much more!
There's romance of course, and it's what you'd expect from a YA summer novel – cute, a bit predictable. For me, what really stood out here was Andie's relationship with her father, as well as the strength of her friendships. The bond she and her friends had felt natural, inspiring, comforting. There's a bit of conflict, of course, and that too felt very natural.
If I were to criticize one aspect of The Unexpected Everything, it would be the length. It felt unnecessarily long for the story it was trying to tell. Many scenes dragged on too long, no matter how engaging Morgan Matson's voice is. In fact, it would probably have improved the pace if the scenes had been shortened where needed.
Overall, The Unexpected Everything was a lot of fun – and it was very real, too. I loved how it ended, with issues resolved but not ignored. The characters do change through the story and while there's a lot of happy, positive aspects to it, there's also a touch of nostalgia as the characters come of age. It's a bit more real than other idealistic YA novels out there, and I loved it for it.