Blog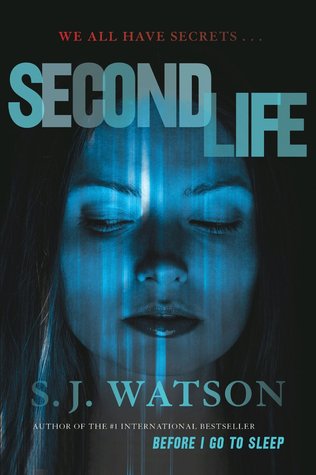 Second Life by S. J. Watson
Pages : 432
Genre : Psychological Thriller
Stand alone
My Rating : 3/5
About the Book  :
Julia's life is comfortable, if unremarkable, until her sister's brutal murder opens old wounds. She finds solace in her sister's best friend, Sophie, but when Sophie reveals the extent of her sister's online life, Julia becomes convinced that the truth about her death lies deep in the dark, sordid world of online chatrooms and internet sex.
What begins as Julia's search for the truth about her sister quickly turns into an exploration of herself and her own desires. After all, the internet is her playground, and why be just one thing when you can be as many as you like? What could possibly go wrong? After all, it's only cybersex, isn't it? No one's going to get hurt.
But then she meets the dark and mysterious Lukas in an online chat room, and things begin to get very dangerous indeed.
My Thoughts :
About five years ago (!!!) I was lucky enough to join a book tour for Before I Go to Sleep. I didn't know at the time how popular the book would become, or how much I would enjoy it. It had its flaws, but it was really entertaining and I ended up recommending it to a lot of people, who also, for the most part, enjoyed it. So I was, of course, really looking forward to reading S. J. Watson's new psychological thriller.
Second Life was certainly a gripping, captivating read. I was hooked from the first few pages and really enjoyed the narration. I liked the author's writing, too, and it reminded me a lot of what I had liked of it in Before I Go to Sleep. It was a quick read that didn't bore me for one moment.
Unfortunately, that wasn't enough for me to fully enjoy the story, and by the time I reached the ending I mostly felt disappointed. I felt the story didn't explore anything new (cheating, online strangers, etc.), nor did the twists surprised me, really. I saw most of them coming miles ahead, and the ending wasn't satisfying. I felt like the book was missing one or two chapters to fully tie everything together.
I can't say that I recommend this book, but I also can't say that I don't recommend it. I would say though, that fans of Before I Go  to Sleep might want to lower their expectations, just in case. I'd give the author another chance, but while it was an easy read, Second Life failed to recreate what I had so enjoyed about the author's previous book.