Blog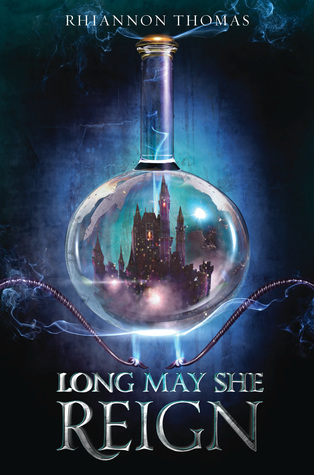 Long May She Reign by Rhiannon Thomas
Pages : 422
Genre : YA, Fantasy
Stand alone
My Rating : 4/5
About the Book  :
Freya was never meant be queen. Twenty third in line to the throne, she never dreamed of a life in the palace, and would much rather research in her laboratory than participate in the intrigues of court. However, when an extravagant banquet turns deadly and the king and those closest to him are poisoned, Freya suddenly finds herself on the throne.
Freya may have escaped the massacre, but she is far from safe. The nobles don't respect her, her councillors want to control her, and with the mystery of who killed the king still unsolved, Freya knows that a single mistake could cost her the kingdom – and her life.
Freya is determined to survive, and that means uncovering the murderers herself. Until then, she can't trust anyone. Not her advisors. Not the king's dashing and enigmatic illegitimate son. Not even her own father, who always wanted the best for her, but also wanted more power for himself.
As Freya's enemies close in and her loyalties are tested, she must decide if she is ready to rule and, if so, how far she is willing to go to keep the crown.
My Thoughts 
I hadn't heard a lot about this YA fantasy novel when I picked it up, but the premise intrigued me. And I was pleasantly surprised! In fact, I read most of it in a day.
To borrow from my own review on Goodreads, here are some of my favorite aspects of Long May She Reign, with added commentary : 
– It's a Standalone YA fantasy : with so many series around, it's refreshing (and maybe even, a relief!) to have a story start and end within the same book, with no cliffhanger.
– There's a great female friendship, from early in the book up to the end
– The romance, while it is there, is only a tiny part of the book : it doesn't overtake the story and isn't instalove/lust either! It's still a bit quick, but it's okay
– Freya is a science-minded main character who uses her brain to solve the mystery. She loves to be in her lab and do experiments. What's not to love about this?
The story is just a lot of fun if you love a good court intrigue! It doesn't reinvent anything, and it's not about shocking twists either, but it has a really good pace and a good plot.
My main problem with the book was the conclusion. The last chapters just felt really underwhelming compared to the buildup! I understand that the book isn't an action one, and loved it for it, but the ending could have used a little more punch. I also strongly disagreed with one of Freya's last decision, and I don't think it was completely in character for her, even though it was in line with some of her previous ones.
Overall, I'd say that Long May She Reign has a lot to offer. While it may lack a little spark to make it stand out from the crowd, it offers a lot of the things I often look for and can rarely find in YA fantasy. If you are looking for a fun court intrigue in a fantasy world very similar to ours, Long May She Reign might appeal to you!