Blog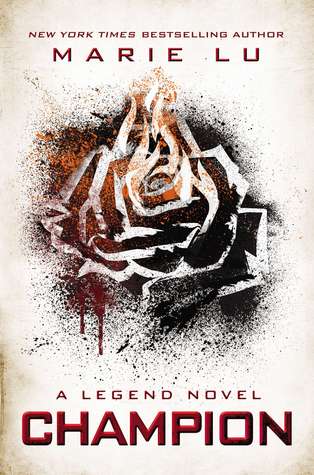 Champion by Marie Lu
Pages : 369
Genre :  YA, Dystopia
Series : Legend, book 3
My Rating : 3/5
About the Book  :
June and Day have sacrificed so much for the people of the Republic—and each other—and now their country is on the brink of a new existence. June is back in the good graces of the Republic, working within the government's elite circles as Princeps-Elect, while Day has been assigned a high-level military position.
But neither could have predicted the circumstances that will reunite them: just when a peace treaty is imminent, a plague outbreak causes panic in the Colonies, and war threatens the Republic's border cities. This new strain of plague is deadlier than ever, and June is the only one who knows the key to her country's defense. But saving the lives of thousands will mean asking the one she loves to give up everything. 
My Thoughts :
I am not so sure what to say about Champion. I read Legend and loved it. I read Prodigy and loved it too. But then I read Champion, and I felt kind of underwhelmed. It's possible I have reached the saturation point for YA dystopian novels in my reading life! I try to think of why Champion left me so indifferent, and it is hard to pinpoint. It makes me feel like a strange animal, too, because most of the bloggers I follow seem to have enjoyed it much more than I did!
I loved the characters, as always, and I felt the moral dilemmas were well done and complex. June and Day both had difficult decisions to take, and I liked how the situation was never black or white. Marie Lu did a great job of portraying situations in a way that even I, as a reader, couldn't say what was an "obvious" choice or not.
As with the previous books, the story had a lot of action, with a few twists. I loved discovering the world outside the Colonies and the Republic, and I loved how technology played into it, too. There's always been an aspect in this series that was a little sci-fi, and it acts like a little bit of magic in a very dark and depressing world. A great touch, though I did feel it went over a bit too quickly.
So I feel like I only have good things to say, yet reading the book I felt very detached and I had to push myself through the story. I guess the universe felt less "novel" by now, and maybe too action packed? I'm not sure…
I am happy with how the series concluded for each character though. It was done with a lot of heart, without unnecessary or exploitive twist. June and Day's voices were different just enough, and as before I enjoyed Marie Lu's compelling writing. I am curious to see what she'll come up with next!
Series Reading Order : 
Champion (coming November 2013)