Blog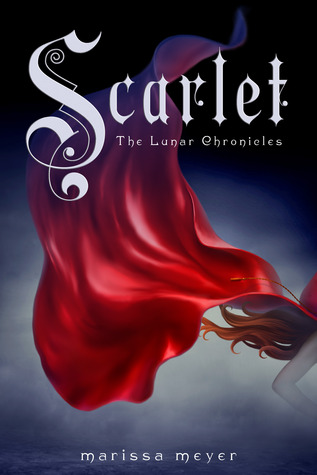 Scarlet by Marissa Meyer
Pages : 452
Genre : YA, fantasy
Series : The Lunar Chronicles, book 2
My Rating : 4/5
About the Book  :
Cinder, the cyborg mechanic, is trying to break out of prison—even though if she succeeds, she'll be the Commonwealth's most wanted fugitive.

Halfway around the world, Scarlet Benoit's grandmother is missing. When Scarlet encounters Wolf, a street fighter who may have information as to her grandmother's whereabouts, she is loath to trust this stranger, but is inexplicably drawn to him, and he to her. As Scarlet and Wolf unravel one mystery, they encounter another when they meet Cinder. Now, all of them must stay one step ahead of the vicious Lunar Queen Levana, who will do anything for the handsome Prince Kai to become her husband, her king, her prisoner.
My Thoughts :
Remember how surprised I was by how much I loved Cinder? Well, Scarlet was even better!
It seems, in fact, that many readers had a similar reaction. No sophomore slump for this one : Scarlet is action packed, fun, and original. It's a retelling that's not afraid to step off the beaten path, with an even more rich and fascinating worldbuilding than what Cinder had introduced us to.
The characters were great. I immediately got attached to Scarlet, and I was glad to discover that she was, in many ways, a different character from Cinder. I loved how she cared for her grand-mother and how her mind worked, questioning things along the way. Cinder also had a new travel companion, which completed her perfectly and added relationship dynamics that I hadn't realized were missing until then.
I can't say that I cared for Kai much though – which is surprising, because my memory of it was that I had enjoyed the romance between Cinder and Kai. Maybe because he's not part of the action, I found Kai's chapters to be a tad boring by comparison, and I could have done without them.
As for the story, again, I loved it. There were just enough twists and revelations, just enough action, just suspenseful moments. The world expanded without me getting lost, and it felt filled with possibilities. I feel that the next books could go many different ways, and that makes the series exciting.
I'm really looking forward to discovering where the series go. I'm certainly glad I already have the next books on my shelves!
Scarlet
Cress
Winter