Blog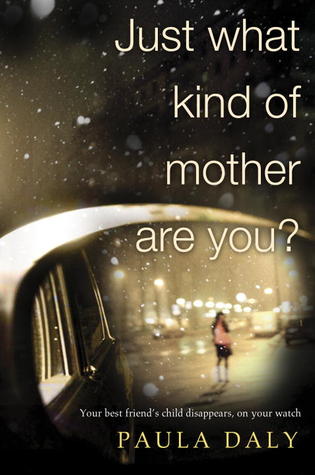 Just What Kind of Mother Are You? by Paula Daly
Pages : 320
Genre : Mystery
Stand alone
My Rating : 4/5
What it's about :
With three children and a full time job, Lisa has little time left to breath. It is not rare for her to feel like she is failing as a wife, a friend, and a mother.
Then her best friend's teen daughter disappears while in her care, and all of her insecurities are confirmed by this one fatal mistake. Despite her friend's forgiveness, Lisa can't forgive herself, and she'll do everything she can to help bring Lucinda back home.
My Thoughts :
I was so very pleasantly surprised by Just What Kind of a Mother Are You? I was expecting a predictable thriller; instead, I got a novel that was somewhere between mystery and women's fiction, exploring modern motherhood by way of a suspenseful story.
First, don't let the publisher's tagline – "… for readers who liked Gone Girl" – pull you in or push you away. I loved Gone Girl, and I loved this book, but I wouldn't necessarily compare the two. For one thing, Paula Daly's first novel does have some likable characters, which gives a very different feel to the book. Sure, the crimes are horrible (some young teen girls are being kidnapped and raped), but here, as readers, we find ourselves at a much safer distance from the wickedness.
The novel is told in three voices : the kidnapper's, the detective's, and Lisa. The kidnapper's chapters are very short, and give you an insight into his motivations. The detective's chapters are told in a very standard detective manner, and give you the opportunity to see a little bit more of what happens around the characters. It was, for me, the least interesting part of the story. Useful, but it wasn't what kept me hooked.
It was Lisa's narration that kept me reading. She was incredibly human; flawed but with a lot of heart, insecure but strong at times, very easy to relate to. I liked her. Even when she did fail her relationships, I still liked her. I surprisingly related to her, even though I have never been a working mother of three – she was just that well written. I also loved that the author took the time to write about Lisa's life outside of her best friend's daughter's disappearance. Knowing about her work, her family and everything else made her a complex and realistic woman.
The story itself did give me a few surprises. Some of them I saw coming, mainly because I felt like the author sometimes placed hints a bit too early in the book. But overall, it was captivating and once I got into it, I kept thinking about the book, wanting to find out what would happen. It was believable, too, and I loved the interactions between all the characters.
I do hope this book gets a lot of good buzz, because I truly enjoyed it. Other reviews have mentioned how it would make for a good suspense movie, and I absolutely agree. There was a lot more meat and depth in this book than I had expected, which only makes the story that much better. I can imagine Paula Daly becoming a great thriller author – and I do hope this happens, because I definitely want to read more from her!
Just What Kind of a Mother Are You? is available for sale right now! Thanks to Doubleday Canada for generously providing a digital copy of the book for this review.