Blog
Filling the Shelf is basically Mailbox Monday or the more recent Stacking the Shelves, but with a title that suits my blog :D If you're interested in joining the fun or seeing what other bloggers added to their shelves, I invite you to visit the current host!
Happy Sunday all!
This week in books was almost exclusively YA, with one exception of middle grade fiction. Next week should be a little more grown up!
Also, I got a second copy of The Stand by Stephen King for the readalong (Standalong!) as my first one got into a wine accident at a dinner with friends. Oops! Good thing this book is not too expensive!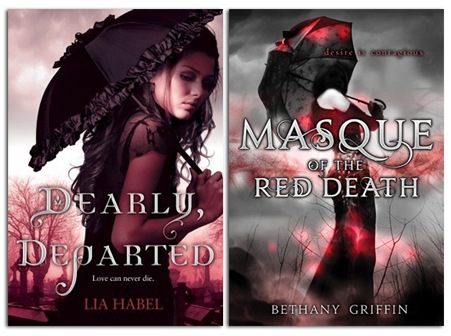 Funny thing about Dearly, Departed and Masque of the Red Death : until I saw them together, I thought these two were the same book, with one in paperback and one in hardcover. Reading reviews, I ended up imagining a story that was a mix of both. I felt a little silly when I realized my mistake and both were intriguing, so here we are!
Dearly, Departed by Lia Habel : 2145, a steampunk society, zombies, etc. Sounds fun.
Masque of the Red Death by Bethany Griffin : Steampunk dystopia, with an inspiration of Poe, I think? You see how I got confused between the two, right?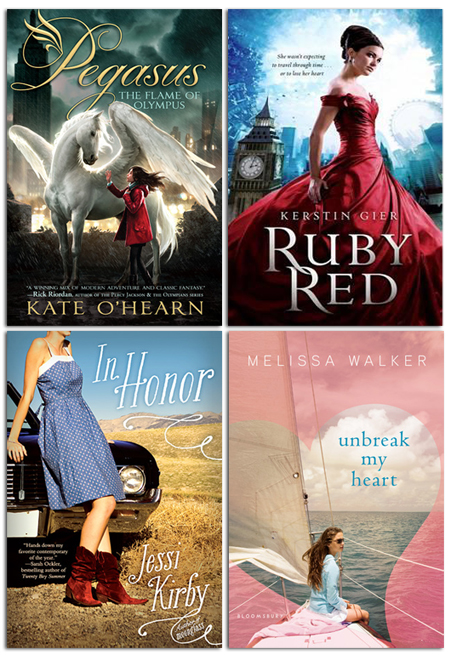 Pegasus – The Lamp of Olympus by Kate O'Hearn : I nearly never read middle grade fiction, but a cover illustrated by Jason Chan will convince be to buy almost anything. So pretty! Also, I like the idea of Pegasus crashing in Manhattan. Two worlds colliding always make for an interesting story!
Ruby Red by Kirstin Gier : Two words : time travel!
In Honor by Jessi Kirby : After reading Moonglass, I knew I would have to read more from Jessi Kirby. Can't wait to discover this new novel of hers, also a contemporary fiction.
Unbreak my Heart by Melissa Walker : Summer on a sailboat, with a touch of romance? I'm in! (also, cute cover!)
What did you add to your shelves recently? Have you read one of these two books?