Blog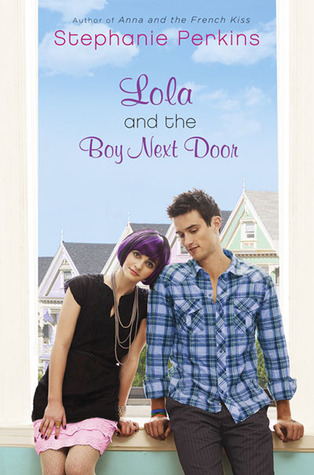 Lola and the Boy Next Door by Stephanie Perkins
Pages : 338
Genre : YA, Fiction, Romance
Stand alone (companion to Anna and the French Kiss)
My Rating : 4,5/5

What it's about :
Lola has a fantastic musician boyfriend, too amazing dads and a great passion for fashion. Her life seems perfect – that is, until the Bell twins come back to the house next door.

Lola has tons of memories of Cricket and Calliope; once upon a time, Cricket was a friend. A really good friend. Until something happened that changed everything. Now faced with the past she would rather forget, Lola must decide whether she wants to reconcile with Cricket – and how.
My Thoughts :
A year ago, on October 26th, I was reading the last pages of the amazing Lola and the Boy Next Door. This book confirmed what my heart already knew from reading Anna and the French Kiss ; I was in love with Stephanie Perkins' writing. Even though I liked this second book a tiny bit less than the first, I still loved everything in it.
Starting with Lola. Not being a fan of novels focusing exclusively on romance, I need my characters to have more in their lives than simply daydreaming about their love interests. Lola has that; her love for unique fashion certainly competes with her boy romance, and colors every page with original outfits – wigs included! It was so refreshing to have a character who has a strong passion for something, and to be confident in it, too.
The romance itself was adorable. Predictable, yes, but I think predictability somewhat defines romance in novels. We know where the characters are going; we just want to know how they will! Lola and Cricket – seriously though, Cricket? That's a name!? I had a doll that was called Cricket when I was a kid and… ok, back on topic! – so, Lola and Cricket really are a cute pair. There is chemistry between them from the start. I don't know how Perkins does it, but she writes cute like few authors can (though many try!)
I did feel it took Lola a bit of time to untangle the relationships in her life, but at the same time, it made sense. As a teen, you don't have much experience with life and love; I've seen adults do similar mistakes, too. I think this will allow readers of all ages to relate with Lola and the questioning she goes through, all the while rooting for Cricket and her.
Also, thumbs up for her two amazing dads. I loved the family they had, how protective they were of her, and how them being a gay couple wasn't such a big issue in the book. It was presented as normal, no fuss was made about it. I think we need a balance in fiction: while there is a need for books that address the LGBT issues directly, I think it is also good to sometimes have a lighter side to it. (I hope I'm making sense here!)
So, there's nothing really negative to say about this book! Stephanie Perkins writes the type of romance I would have loved as a teen, and still love as an adult. If such a thing is possible, I'd say she makes me feel 16 in a good way!
If you've read and liked Anna, then you'll probably enjoy this one. Anna and St-Clair do make a few apparitions, but there really is no need of having read the first book to enjoy Lola. Although, you really should read Anna. Now. Go!
Perkins' new book, Isla and the Happily Ever After will be available in May of 2013. That is way too long to wait if you ask me, so meanwhile, please excuse me if I go rereading my favorite passages of the books.