Blog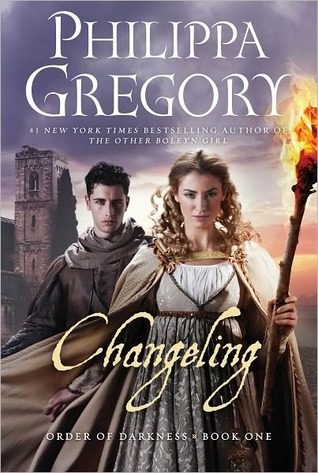 Changeling by Philippa Gregory
Pages : 256
Genre : YA, Historical Fiction
Series : The Order of Darkness, Book 1
My Rating : 4/5
What it's about :
Italy, 1453.

Accused of heresy, young Luca Vero is sent by the Church's secret order to investigate dangers and forms of evil that plague the land of Christendom. His first order : a nunnery where the women have gone mad, walking in their sleep and having strange dreams.

There he meets Isolde. The young Lady used to have it all, until her father passed away and her brother stole everything that should have been hers. When secrets are uncovered by his investigation, Luca can't help but wonder whether Isolde knows more than she says, and whether she is more witch or abbess.
My Thoughts :
To be honest, I went into this book expecting the worst: I had read plenty of not so positive reviews of Changeling, and I feared I would be tremendously disappointed. Maybe because I had such low expectations, I ended up thinking Changeling was quite an entertaining novel. Not without faults, but still a book I enjoyed.
I mentioned faults, and I feel like getting them out of the way right away. The main one, for me, was the lack of depth of the main characters. We get to know enough about their past and what led them each to this particular place at this particular time, but that's pretty much it. We don't learn much about their personalities, and so both Isolde and Luca feel quite bland and predictable. And while each of their best friend/slave seem to have more personality, the villains are very one-dimensional.
There's another flaw I noticed while reading Changeling and it is a fault I see many authors of adult fiction do when they switch to YA : rather than writing with passion an eloquent story about two young characters, I felt like the author mostly "simplified" her usual writing. I've read Gregory only twice before (The Other Boleyn Girl and Wideacre) so my sample for comparison is limited, but that's a feeling I had many times while reading the book. She does mention in her afterword that she wanted to make something more fun, less based on facts, so that may have played into it. I felt the book could have had more depth and detail while retaining it's entertaining quality, but that's just me.
Enough about the bad, let's talk about the good! I love books set in Italy and I love historical fiction, and the experience I had of reading this one was exactly what I was looking for when I cracked it open : something historical and fun, that wouldn't take itself too seriously without being about parties and dresses (even though I do enjoy those from time to time!), with a good mystery and some supernatural elements. Here I should write a warning of some sort; if you read the publisher's summary thinking there'll be witches and werewolves all around, you'll be disappointed. But if you think of Luca as an investigator solving mysteries that appear to be supernatural, then you'll know what you're in for. I'm not saying whether or not there's magic and all, just saying that it's not a central element.
What Gregory excels at, in my opinion, is writing with enough detail that I never forgot it all took place some 500 years ago. Sometimes it's in the little details (a piece of clothing, a certain vocabulary) and sometimes it's little things in the scenes (like Isolde using, gasp! a fork!). The heavy presence of religion is also very indicative of the time and setting. It really felt medieval, and while the author chose to give herself some creative freedom by using fictional characters, her knowledge of history really showed.
I also appreciated that Luca and Isolde didn't immediately fell in love and renounced to their personal quests for each other. Oh, there are definitely signs of a romance, and more of them as the story progresses. But the two keep their heads on their shoulders, and I liked that. I appreciated even more how they confided in and trusted their best friends/acolytes/slaves. I felt that the secondary characters weren't there just to quip some funny lines (although Freize certainly does that a lot!), but to play each their own part in the story.
And I liked Ishraq a lot; I would gladly read a novel all about her!
The book really had two small stories that worked themselves into the bigger adventure; the one that brought Luca and Isolde together, and the one they encounter later on their way to their next destination. Was I able to foresee what happened and who did it? Somewhat. I had a few surprises, which is always pleasant, but it is not written to be a puzzling book, so you can really sit, read it, and enjoy.
In the end, I really liked Changeling. The book itself is gorgeous and it is quick enough to be read in one sitting. The book is supposedly the first in a series, but I have no idea when the sequel will be published; I only know that, had I had said sequel on my shelves, I would have read it right after finishing this one!
Series Reading Order :
Changeling
?