Blog
Filling the Shelf is basically Mailbox Monday or the more recent Stacking the Shelves, but with a title that suits my blog 😀 If you're interested in joining the fun or seeing what other bloggers added to their shelves, I invite you to visit the current host!
Happy Saturday all!
First of all, I'm sorry I haven't been posting and reviewing a lot in the past few weeks. I'm still reading lots (my review pile is bigger than ever!) but two things have been keeping me occupied : some long overdue chores around our home, and working on the new layout for the blog. It has been slow because I have been juggling options and trying different things, but it is getting somewhere!
This week, only two additions to the shelf, but I can't wait to read them :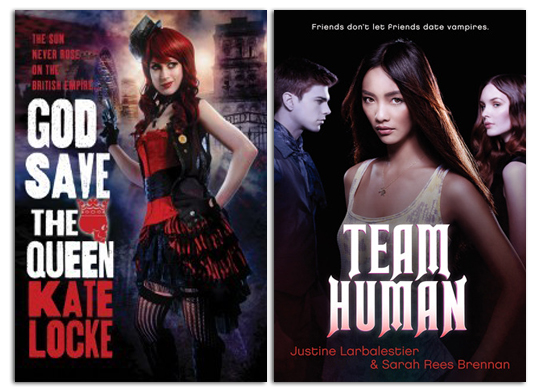 God Save the Queen by Katie Locke : Steampunk, vampire and werewolves, Britain, cool cover; this one had many aspects tempting me! If the inside is as fun as the outside is pretty, I'm in for a treat.
Team Human by Justine Larbalestier & Sarah Rees Brennan : A vampire novel written by two authors I have enjoyed in the past. Looking forward to this one!
What did you add to your shelves recently? Have you read one of these two books?