Blog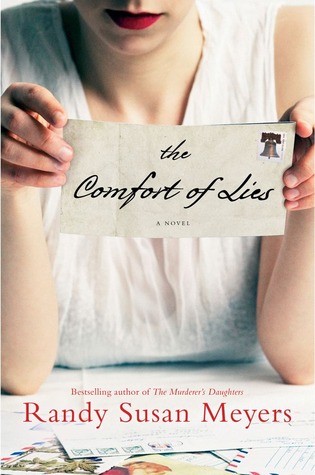 The Comfort of Lies by Randy Susan Meyers
Pages : 336
Genre : Contemporary Fiction
Stand Alone
My Rating : 3/5
From the back of the book :
Three women, three different lives filled with lies.
Years ago, Tia, Caroline and Juliette all had to take some difficult decisions, choices that, unknown to them, would forever link them together.
Now five years have passed, and they have to face what their lives have become : loss, treason, broken hearts and the unexpectedness of motherhood. When a shocking letter alerts Juliette to the existence of her cheating husband's daughter, all of their lives will be forever changed
My Thoughts :
Obviously, other readers are seeing something in this novel that I am not seeing. My Goodreads friends mostly gave this 4 and 5 stars, and while I did like it, I wasn't blown away by it.
Meyers does write very flawed characters : this I have no problem with, on the contrary. The novel is very character driven, too, and it isn't about twists and turns – again, something I usually absolutely enjoy. While far from perfect, these three women were surprisingly human, easy to relate to. I did have some compassion for Caroline and her difficulties with being a mother, or Juliette and her unfaithful husband. However I had very little for Mia, who seemed more concerned about her own sense of loss than about the well-being of her now adopted daughter.
Sadly, I felt these characters lacked complexity and originality. I wanted to read something I hadn't experienced before, but this never really happened. Mia, Juliette and Caroline's reactions to their tribulations went pretty much how I would have expected. I also wish I would have experienced stronger emotions while reading The Comfort of Lies. I don't mind not liking characters (I actually appreciate an author who can write unlikable yet captivating characters), but what I felt was closer to indifference.
Still, I somewhat enjoyed the book. I appreciated how Meyers wrote about women's experience with motherhood from three very different point of views. I can see this book being at the heart of very strong discussions. I was actually very proud of one woman's decisions towards the end (I will keep quiet on who though, otherwise that might spoil the book for you!)
In the end, The Comfort of Lies was a good read; while it had its flaws, it raised some interesting questions and I am sure many readers will enjoy it even more than I did! (also, I really like its cover, which is totally suiting to the story!)
The Comfort of Lies is available for sale right now! Thanks to Atria Books for generously providing a digital copy of the book for this review.