Blog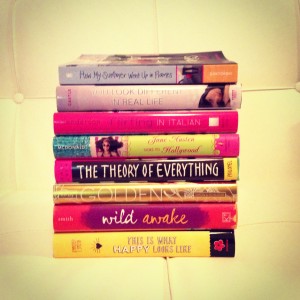 You may or may not remember how, mid-july, I challenged myself to
my own read-o-thon
, where I planned on reading mainly YA contemporary novels from my shelves. Well, it went MUCH better than expected and I did a bunch of reading! Good reading, too, with very little disappointments! So here is the list of what I read for the past two weeks before leaving for Paris, with a few thoughts – no worries, the full reviews are coming soon!
This is What Happy Looks Like by Jennifer E. Smith : Super cute, and lovely! Perfect summer romance read!
Wild Awake by Hilary T. Smith : This one isn't for everyone, but I related to it in a weird way. My favorite of the past few weeks, and a strong contender for my best of 2013 list!
Golden by Jessi Kirby : Hey! I reviewed this one already!
The Theory of Everything by Kari Luna : Super cute. I love giant talking pandas.
Jane Austen Goes to Hollywood by Abby McDonald : My biggest disappointment. I wanted to love it so much, because I have enjoyed Abby McDonald's previous novels. Sigh.
Flirting in Italian by Lauren Henderson : Ha, this was so fun to visit Italy. Magnificent setting, fun story!
You Look Different in Real Life by Jennifer Castle : Much more depth than I expected! Liked this one!
and started but not finished yet :
How my Summer Went Up in Flames by Jennifer Salvato Doktorski : Fun so far!
Also managed to do some audio reading!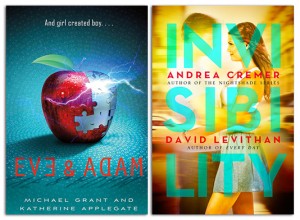 Eve & Adam by Michael Grant and Katherine Applegate : It was fun, but a bit different from what I expected. Ended up kind of "meh" about it, but I liked the narrators.
and started but not finished yet :
Invisibility by Andrea Cremer and David Levithan : fun so far! I'm halfway through, and it took a much more magical turn than I expected though!
Have you read any YA contemporary novels worth recommending recently?