Blog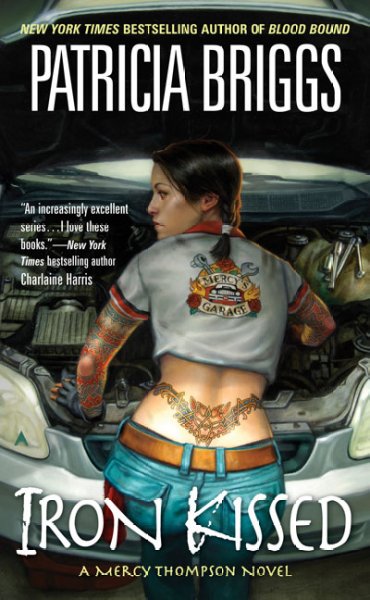 Iron Kissed by Patricia Briggs
Pages : 287
Genre : Urban Fantasy
Series : Mercy Thompson, Book 3
My Rating :

From the Back of the Book :
Mechanic Mercy Thompson can shift her shape – but not her loyalty. When her former boss and mentor is arrested for murder and left to rot behind bars by his own kind, it's up to Mercy to clear his name, whether he wants her to or not.

Mercy's loyalty is under pressure from other directions, too. Werewolves are not known for their patience, and if Mercy can't decide between the two she cares for, Sam and Adam may make the choice for her…
My Thoughts :
Reading Iron Kissed almost two years after reading the first two books of the series, I will admit I had a bit of difficulty getting into it. It was a bit of work – from my memory, but also from internet research – to remember important aspects of the setting or secondary characters. Once I was past that though, I was quickly hooked to the story.
Again, I admired Mercy as a character. She is both strong and generous, ready to make sacrifices to help and save the ones close to her. I always enjoy characters who take a bit more time to think about their actions, which doesn't mean that Mercy isn't sometimes impulsive, or that her thought process slows the narration's pace.
As for the plot, it got my interest really quick and I couldn't predict where it would go. There are so many characters, and so many aspects of Briggs' world left to discover, that the book very often surprised me with a new element. Not exactly twists, but information or details that opened new possibilities.
I had been warned about the ending by other readers. It was said to be strong and emotional and, indeed, it was. There is no "saved by the bell" for Mercy, and I'm kind of scared of what this means for the following books : how can you drag a character through such terrifying events and have her go on with her life? Not because people don't do it in real life, but because Mercy's universe is a romantic, fantastic universe, where the focus has been on romance and danger for 3 novels. She can't be forced into romance mode or adventure mode too fast. It's though to handle, but I am confidant in Briggs' writing.
On a final note, I am really glad (and frankly, surprised that it arrived this fast!) that Mercy finally picked between Samuel and Adam. I won't tell you who she chose, but I will say I was happy with her decision. Not only for who she picked, but for how she came to this decision.
All in all, I liked Iron Kissed and I feel like the series is growing stronger with every new book. I am looking forward to reading Bone Crossed - hopefully, not two years from now!
Series reading order :
Iron Kissed
Bone Crossed
Silver Borne
River Marked
Frost Burned (coming February 2013)