Blog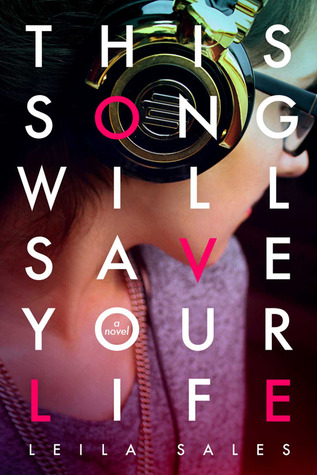 This Song Will Save Your Life by Leila Sales
Pages : 288
Genre :  YA, Contemporary fiction
Stand Alone
My Rating : 4/5
From the back of the book  :
Making friends has never been Elise Dembowski's strong suit. All throughout her life, she's been the butt of every joke and the outsider in every conversation. When a final attempt at popularity fails, Elise nearly gives up. Then she stumbles upon a warehouse party where she meets Vicky, a girl in a band who accepts her; Char, a cute, yet mysterious disc jockey; Pippa, a carefree spirit from England; and most importantly, a love for DJing.
My Thoughts :
This novel wasn't what I had anticipated. I came in expecting music, quirky friends, a few secrets, a crush; and while I did get all that, I also got so much more! With themes such as bullying and suicide, This Song Will Save Your Life turned our to be about much more than music and fun. A surprising depth I truly appreciated.
From the start, it is really easy to relate to Elise. Whether you have been through what she has lived through or not, you can't help but feel for her and feel this urgency to make something happen, to help her. Elise's reactions to her bullying were so realistic, too, which made it all the more easy to connect with her.
Coming in I also expected a romance for Elise, a gorgeous guy who would come in and make her see how wonderful she is and forever change her life. And while that isn't a bad story in itself, I was really glad the author chose not to take this route. Sure enough, Elise does meet a guy on who she crushes hard, and they do form some sort of relationship. Fortunately though, the romance wasn't the focus here. I thought it made the story more original and realistic, but also gave it a stronger message; Elise doesn't rely on him to get better, but shapes her own new life. I do believe we need more independant female characters in YA novels.
I surprisingly don't have much to say about this novel, other than I really liked it! I thought it dealt with its themes with honesty and care, and offered hope and entertainment at the same time. I liked Elise, how she wasn't perfect and how real she was, and I thought the ending was exactly as it should have been. I also liked her family and her new friends, and I thought the writing was good, too.
This Song Will Save Your Life was one of my favorite YA contemporary novels this year, and one I believe many readers will appreciate and relate to. I first loved its cover, but was even more pleasantly surprised with the story hidden under! This was my second Leila Sales novel and I can't wait to read what she comes up with next. Consider me a fan!
This Song Will Save Your Life will be available for sale on September 17! Thanks to Farrar, Straus and Giroux for generously providing a copy of the book for this review!