Blog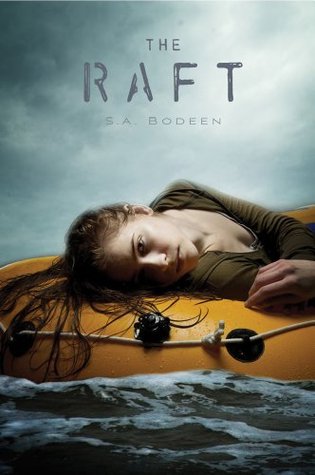 The Raft by S.A. Bodeen
Pages : 231
Genre : Contemporary Fiction, Survival
Stand alone
My Rating : 2,5/5
From the back of the book :
Robie is an experienced traveler. She's taken the flight from Honolulu to the Midway Atoll, a group of Pacific islands where her parents live, many times. When she has to get to Midway in a hurry after a visit with her aunt in Hawaii, she gets on the next cargo flight at the last minute. She knows the pilot, but on this flight, there's a new co-pilot named Max. All systems are go until a storm hits during the flight. The only passenger, Robie doesn't panic until the engine suddenly cuts out and Max shouts at her to put on a life jacket. They are over miles of Pacific Ocean. She sees Max struggle with a raft.
And then . . . she's in the water. Fighting for her life. Max pulls her onto the raft, and that's when the real terror begins. They have no water. Their only food is a bag of Skittles. There are sharks. There is an island. But there's no sign of help on the way.
My Thoughts :
The premise for this book was so exciting – but I found the execution to be extremely lacking.
If I have to spend 200 pages with one single character, I need to relate to her, know her, be captivated by her voice. Unfortunately, Robie felt very bland to me. Plus, I found the events that lead Robie to get in the plane really forced, and the final twist to be unnecessary. It didn't add any depth to the story, really.
Still, it wasn't a bad book. A lot happens on the water and it felt realistic enough. Even though I didn't love the book, I wasn't bored by it. Therefore, my recommendation would be don't buy it, borrow it, but don't necessarily cross it off your list!
* * *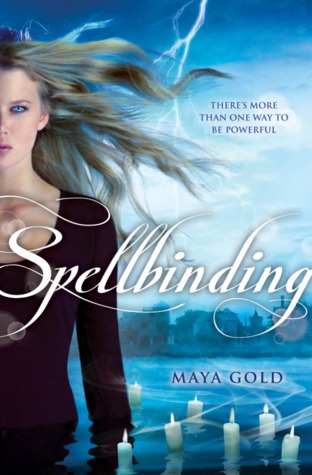 Spellbinding by Maya Gold
Pages : 272
Genre : YA, Paranormal
Stand alone
My Rating : 3/5
From the back of the book :
It is during a routine school project that Abby Silva–sixteen and nearly friendless–makes a startling discovery: She is descended from women who were accused of witchcraft back in 1600s Salem. And when Abby visits nearby Salem, strange, inexplicable events start to unfold. Objects move when she wills them to. Candles burst into sudden flame. And an ancient spellbook somehow winds up in her possession.
Trying to harness her newfound power, Abby concocts a love potion to win over her longtime crush–and exact revenge upon his cruel, bullying girlfriend. But old magic is not to be trifled with. Soon, Abby is thrust headlong into a world of hexes, secrets, and danger. And then there's Rem Anders, the beautiful, mysterious Salem boy who seems to know more about Abby than he first lets on.
A reckoning is coming, and Abby will have to make sense of her history–and her heart–before she can face the powerful truth.
My Thoughts :
Spellbinding was so much fun! It felt like a shorter review would better suit my thoughts, but I really did enjoy it!
It reminded me of movies like The Craft, going back to the basics of witchy stories without completely reinventing the genre. There's been so much reinvention in the YA supernatural genre lately, it was actually refreshing to read something where I didn't feel like the author was trying too hard! On the contrary, Spellbinding was a breeze to read. It has entertainment and a fun narrator. The tone is very light, nothing too dark or broody, with a satisfying ending to top it all. The romance was the thing that kept me from completely loving it though; it was predictable and forced, and I didn't buy it. I think it should have been slower, and more subtle. Other than that, I enjoyed it!
Spellbinding is available for sale right now! Thanks to Scholastic for generously providing a digital copy of the book for this review.
* * *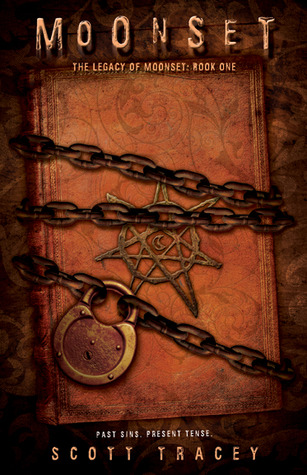 Moonset by Scott Tracey
Pages : 384
Genre : YA, Paranormal
Series : Legacy of Moonset, book 1
My Rating : –
From the back of the book :
After the terrorist witch coven known as Moonset was destroyed fifteen years ago—during a secret war against the witch Congress—five children were left behind, saddled with a legacy of darkness. Sixteen-year-old Justin Daggett, son of a powerful Moonset warlock, has been raised alongside the other orphans by the witch Congress, who fear the children will one day continue the destruction their parents started.
A deadly assault by a wraith, claiming to work for Moonset's most dangerous disciple, Cullen Bridger, forces the five teens to be evacuated to Carrow Mill. But when dark magic wreaks havoc in their new hometown, Justin and his siblings are immediately suspected. Justin sets out to discover if someone is trying to frame the Moonset orphans . . . or if Bridger has finally come out of hiding to reclaim the legacy of Moonset. He learns there are secrets in Carrow Mill connected to Moonset's origins, and keeping the orphans safe isn't the only reason the Congress relocated them . . .
My Thoughts :
Moonset sounds great, doesn't it? And I'm not saying it wasn't. Nothing about it was really bad or horrible; what happened was, I started reading it and nothing really hooked me to the story. It was definitely a different take on witches; different from others like Spellbinding, for instance! The characters were okay, too, but I found myself constantly distracted from the book.
I'm a "mood reader", which means it's possible I would have picked it at another time and devoured it. I rarely talk about the books I don't finish; if Moonset was a book from my shelf, I would simply have put it back there and given it one or more tries at another time. Since it was from netgalley though, I unfortunately ran out of time – but I still wanted to mention it since Flux provided me a copy. And I am sure some of you guys will be curious about this one – who doesn't love witches and witchy things?
It's possible I'll pick up a copy somewhere and give it one more try sometime in the future, though!
Moonset is available for sale right now! Thanks to Flux for generously providing a digital copy of the book for this review.