Thoughts on : Stillhouse Lake by Rachel Caine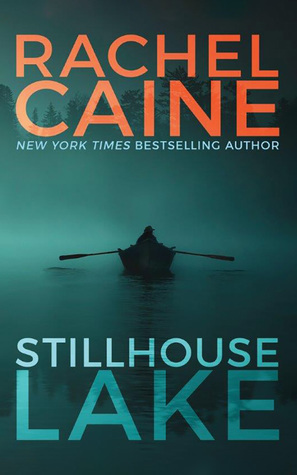 Stillhouse Lake by Rachel Caine
Genre : Thriller
Series : Stillhouse Lake
About the Book  :
Gina Royal is the definition of average—a shy Midwestern housewife with a happy marriage and two adorable children. But when a car accident reveals her husband's secret life as a serial killer, she must remake herself as Gwen Proctor—the ultimate warrior mom.

With her ex now in prison, Gwen has finally found refuge in a new home on remote Stillhouse Lake. Though still the target of stalkers and Internet trolls who think she had something to do with her husband's crimes, Gwen dares to think her kids can finally grow up in peace.

But just when she's starting to feel at ease in her new identity, a body turns up in the lake—and threatening letters start arriving from an all-too-familiar address. Gwen Proctor must keep friends close and enemies at bay to avoid being exposed—or watch her kids fall victim to a killer who takes pleasure in tormenting her. One thing is certain: she's learned how to fight evil. And she'll never stop.
My Thoughts :
Last week I compiled a list of my favorite reads of 2017, and Stillhouse Lake stood out as as my favorite thriller of the year. It came out as a total surprise, too. I read and enjoyed many thrillers last year (I Let You Go, Six Wakes and Behind Her Eyes, to name a few!), and Stillhouse Lake was one I hadn't heard much about when I jumped in.
What I discovered was a fast paced, exciting and slightly scary thriller with strong characters and a well crafted plot!
Gwen is exactly the type of main character I love : she's clever, determined and resourceful, realistically flawed yet admirable. She's fiercely protective of her children and uses everything she can to better their life, despite the circumstances.
One thing I loved was that her relationship with her kids felt incredibly realistic, considering the trauma they went through. The kids reacted in complicated ways, good and bad, and it was easy to relate to all of them.
I also found the internet aspect of it incredibly interesting – although very scary, because of course there are people like this in real life, too. People who hide behind the internet's anonymat to say vile and cruel things, people who hunt for the "truth" and feel the need to bring "justice" for the victims, people who are interested by the drama of it all and completely lack compassion. It was very realistically portrayed, and added a fascinating dimension to the story.
But mostly, I greatly appreciated how the tension build up bit by bit as we discover more about Gwen's past and present. Like her, we have a hard time deciding who to believe, who to trust, what should be done. Her ex-husband was perfectly creepy and scary. The story is addictive and had me completely hooked. Anytime I had to stop reading, I kept wondering what would happen next!
I don't want to reveal too much, but I really liked how things ended. It answered important questions, yet opened new ones for the next book, Killman Creek. (Of course, I already have it on my shelf, and I can't wait to jump in!) If you're looking for a fast-paced thriller with a perfectly creepy atmosphere, look no further!