Best Books of 2017
Hello again, dear readers!
Happy 2018! (yes, I'm aware it's February already!)
I always like to wait until the year has ended to make my best of list. Sometimes, a favorite might slip in at the last minute! Being that we're now in February… I think I've had enough time to think it over! 🙂
I've done very little with the blog this year, sadly, but when available I've added links to reviews(marked with *). Others are Goodreads links. Here we go!
BEST OF THE BEST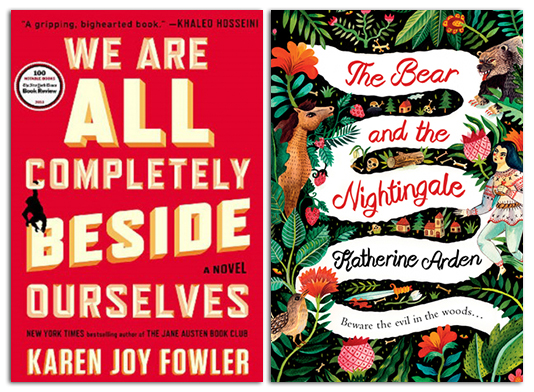 We Are All Completely Beside Ourselves by Karen Joy Fowler : This book came as a total surprise to me. Quiet, slightly strange and unexpected, this is a book I would hesitantly recommend – but for me, it totally worked. I loved the author's writing and some of her words will forever stay with me :
"Language does this to our memories—simplifies, solidifies, codifies, mummifies. An oft-told story is like a photograph in a family album; eventually, it replaces the moment it was meant to capture." – Karen Joy Fowler
The Bear and the Nightingale by Katherine Arden : A fantasy novel like no other set in a speculative version of medieval Russia. I read it on a snowy day and its delightfully atmospheric setting was a perfect fit for the winter weather. I'm also in love with the UK cover (though the US is very nice too!)
BEST AUDIOBOOKS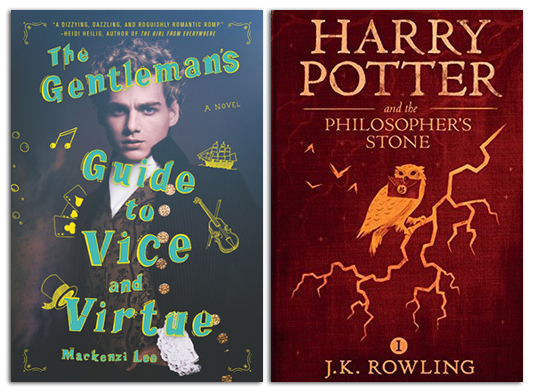 The Gentleman's Guide to Vice and Virtue* by Mackenzi Lee & read by Christian Coulson & Lannon Killea : The story was a lot of fun, sure; but Christian Couldson's narration made this book a stellar adventure! Loved, loved, loved it.
Harry Potter by J. K. Rowling & read by Jim Dale : Despite my love for Harry Potter, and despite rereading most of the  books several times, I had never done a complete reread from book 1 to book 7. Jim Dale's narration made the story feel fresh and exciting again, I absolutely adored it.
BEST YA SCI-FI / FANTASY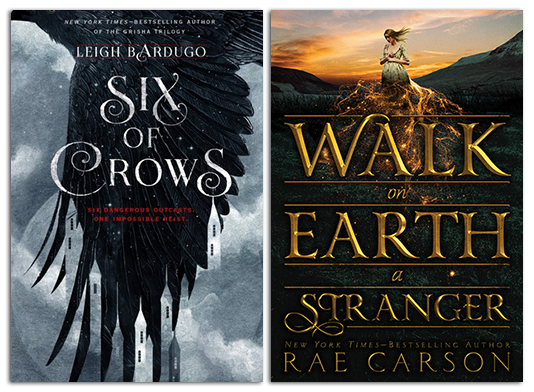 Six of Crows by Leigh Bardugo : So much fun! This has been described as a YA fantasy Ocean's 11, and it is exactly right. I loved the story and the action, but most of all I really enjoyed the characters and their interactions. Can't wait to read the sequel in 2018, it's been sitting on my shelves for so long!
Walk on Earth a Stranger by Rae Carson : I completed the trilogy just at the start of 2018. While I had a good time through it all, Walk on Earth a Stranger, the first volume, was my favorite. It was slow in just the right way and I loved exploring America at the time of the Gold Rush, with just a hint of magic.
BEST YA CONTEMPORARY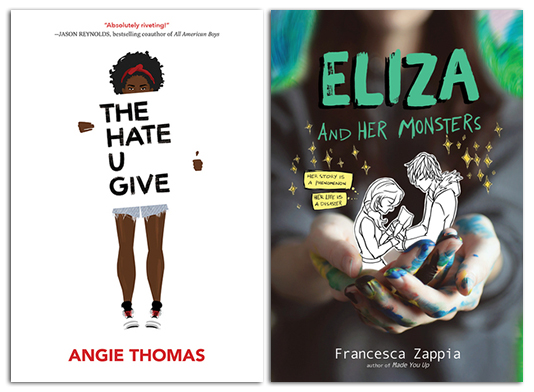 The Hate You Give by Angie Thomas : I don't think anyone will be surprised to see this one here, right? This one felt important, but it was also well paced and well written. I'm planning on rereading it on audio this year, I've been told the narration is also excellent!
Eliza and Her Monsters* by Francesca Zappia : While I loved The Hate You Give, this one was a book I related to on a more personal level. Eliza's anxiety was well written and the fandom/internet aspect was super fun. So. Good.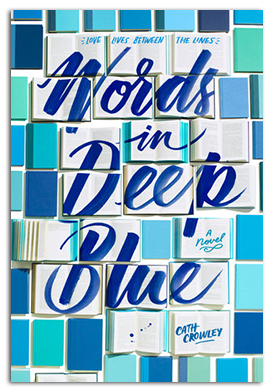 Words in Deep Blue* by Cath Crowley : This book gave me all the feels! It's a story about love, grief, friendship & life, and I loved every single page of it.
BEST SPECULATIVE FICTION

Kindred by Octavia E. Butler (audio) : What a book! Intriguing and unsettling, it is a perfect mix of historical fiction, sci-fi and literary fiction. It gave me so much to think about and played with my emotions constantly in a genuine way. I highly recommend.
The Handmaid's Tale by Margaret Atwood : This book needs no introduction, but I'm glad I finally read it. It wasn't a perfect match for me – hence why it's not at the top – but it was quite close! I also believe this is the type of book I'll get to appreciate even more the second time.
BEST FICTION/MYSTERY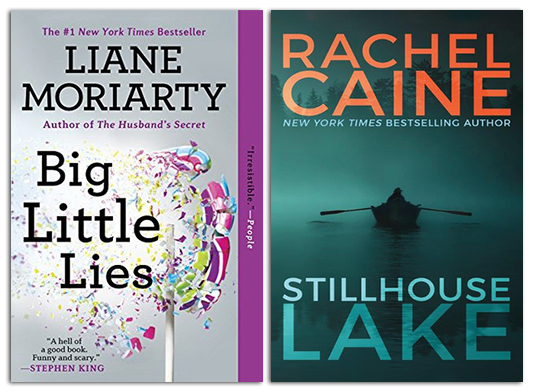 Big Little Lies* by Liane Moriarty : I never thought Big Little Lies would be a contender for my "best of 2017" list, yet here we are. This book grew on me as time passed and I thought about it more and more. Despite its flaws, it had a big impact on me and it fully deserves its spot here.
Stillhouse Lake by Rachel Caine : I've read a lot of thrillers this year, many of them gripping and surprising, but Stillhouse Lake was my favorite. I appreciated it for its fast pace and strong main character, as well as a very engaging story.
BEST NON-FICTION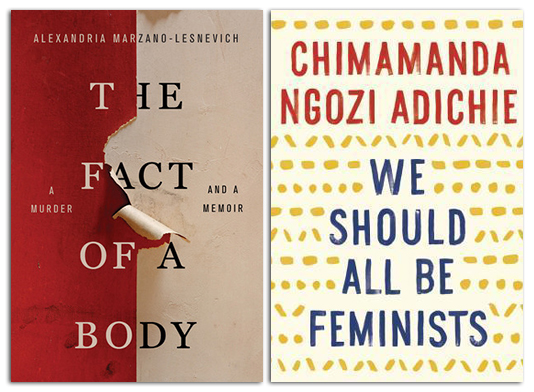 The Fact of a Body*by Alexandria Marzano-Lesnevich : Somewhere between memoir and true crime, this book had me on a roller coaster of emotions. It's a difficult read but incredibly honest in its execution.
We Should All Be Feminists* by Chimamanda Ngozi Adichie : If you haven't read it, do! This is a short and essential read, for anyone. Read it!
HONORABLE MENTION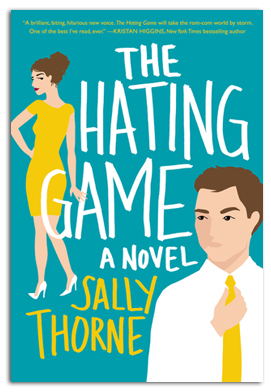 The Hating Game* by Sally Thorne : This romance novel had a few problematic elements that keep me from considering it an official favorite, but I had so much fun reading it, it deserves a bit of the spotlight too!
Moving from 2017 to 2018 
2017 went different than I expected. A year ago I mentioned how I thought 2016 hadn't been such a great reading year; yet, looking back, 2016 looks so good to me compared to 2017. Despite enjoying most of what I read in the past 12 months, very few books stood out to me and nothing comes close to, for instance, The Fifth Season or The First Fifteen Lives of Harry August.
Part of the reason was that, with everything happening in real life, my head wasn't into reading or blogging much. I read a lot yet little "stuck". But it wasn't bad; just different.
2018, I hope, will go better. Other than a small reading project (I'll post about this soon, hopefully!) I have no solid plan except enjoying what I read! I also want to bring the blog back to life. Hopefully review more books – one review a week shouldn't be unattainable, right?
2018, here I come!
 You can see more about my reading year on Goodreads!
Though a bit late, I wish you all an amazing year of reading – please feel free to share your favorite book(s) of 2017, maybe it will inspire my 2018 reading! 🙂