Thoughts on : My Siter Rosa by Justine Larbalestier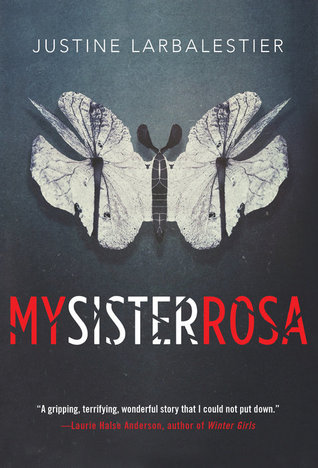 My Siter Rosa by Justine Larbalestier
Audio narration : David Linski
Genre : YA, contemporary
Stand alone
About the Book  :
What if the most terrifying person you know is your ten-year-old sister?
Seventeen-year-old Aussie Che Taylor loves his younger sister, Rosa. But he's also certain that she's a psychopath—clinically, threateningly, dangerously. Recently Rosa has been making trouble, hurting things. Che is the only one who knows; he's the only one his sister trusts. Rosa is smart, talented, pretty, and very good at hiding what she is and the manipulation she's capable of.
Their parents, whose business takes the family from place to place, brush off the warning signs as Rosa's "acting out." Now that they have moved again—from Bangkok to New York City—their new hometown provides far too many opportunities for Rosa to play her increasingly complex and disturbing games. Che's always been Rosa's rock, protecting her from the world. Now, the world might need protection from her. 
My Thoughts :
Once more, I find myself labeling a book with the dreadful "great idea, disappointing execution" tag. It's been a trend lately in my reading life, but I'm not sure if I'm unlucky or if my tastes and expectations have, unknown to me, changed?
My Sister Rosa isn't a bad book. I enjoyed a lot about it, in fact. It's slow (in a good way), dramatic, unsettling, with a good suspense.
Rosa was absolutely fascinating and, most importantly, realistic. The author wrote her in subtleties, enough that we would doubt what was going on and question everything – even Che. She was complex rather than comic-book evil, which in turn made the relationships people built with her equally fascinating.
Other than Rosa, I was captivated by their parents and how differently they reacted and acted along the story. Their decisions explained so much about Rosa and Che, and this had me wondering about the choices I would make in their place. I'm always thankful for books that help me observe the world in different ways.
But Rosa wasn't the narrator : Che, her big brother, was. And so much of the story was spent on Che's romantic life and his boxing. I simply couldn't connect to him; I thought he was uninteresting, and he only really shined when standing besides his sister. I found myself bored through long stretches of the audiobook, even though I absolutely enjoyed David Linski's narration.
It's too bad I couldn't appreciate Che as a main character, because I found the ending to be very fitting. If My Sister Rosa intrigues you, I'd say go ahead and give it a try; despite its flaws, it did raise interesting questions and offered a unique, unnerving story. I know I'll still think about this one for a while. It wasn't a favorite, but it's okay : not all books need to be!