Thoughts on : This Savage Song and Our Dark Duet by Victoria Schwab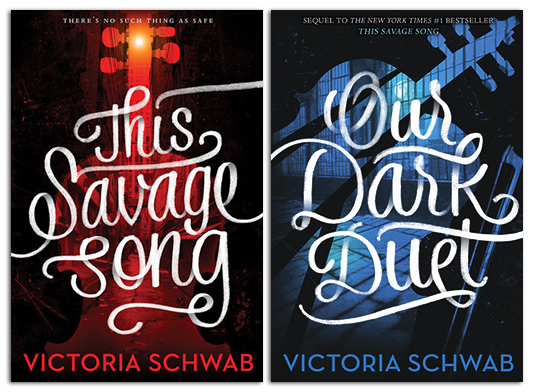 This Savage Song and Our Dark Duet by Victoria Schwab
Genre : Fantasy, YA
Completed Duology : Monsters of Verity, books 1 and 2 
About the Books  :
There's no such thing as safe in a city at war, a city overrun with monsters.
Kate Harker and August Flynn are the heirs to a divided city—a city where the violence has begun to breed actual monsters. All Kate wants is to be as ruthless as her father, who lets the monsters roam free and makes the humans pay for his protection.
All August wants is to be human, as good-hearted as his own father, to play a bigger role in protecting the innocent—but he's one of the monsters. One who can steal a soul with a simple strain of music.
When the chance arises to keep an eye on Kate, who's just been kicked out of her sixth boarding school and returned home, August jumps at it. But Kate discovers August's secret, and after a failed assassination attempt the pair must flee for their lives. 
My Thoughts :
As soon as I finished reading This Savage Song, I went to the store and bought Our Dark Duet.  These books were so much fun! 
Let's start with This Savage Song, the first book of the duology and, I think, my favorite between the two. From the start, I adored the dark atmosphere Victoria Schwab created. If I were to categorize this duology, I would say it's somewhere between urban fantasy and horror. Her monsters are merciless, and while some might remind you of vampires and zombies, they are their own brand of evil, created in a unique, unsettling way.
The pace was good, the writing was engaging and, most of all, I loved the characters of Kate and August. I was pleasantry surprised by the absolute lack of romance, and yet, I found their relationship so fascinating! Their transition from enemies to allies is expected, but the pleasant surprise is how naturally it evolves, without ever feeling forced. On top of that, I also loved Kate and August for who they were.
I would have loved to have a worldbuilding that dives deeper into the monsters' world. I wanted to know more about the "why" and "how" of their existence, but I found this aspect of the book lacking. We know about the "surface" of the world, which left me with so many questions. Fortunately, the story moves so fast, the twists and turns keep coming every chapter, so I never had time to think about the worldbuilding too much : I needed to know what came next!
Which is why I couldn't wait to read the second part of the story! Our Dark Duet starts six months after the previous book, and again, Victoria Schwab offers a story filled with action, suspense, twists and horror. Here she delves deeper into the worldbuilding, explaining more about what we knew while also adding to it. The pace is fast, and the story keeps surprising page after page.
I loved where the story went, and I think the conclusion suits it very well, too. Difficult, heartbreaking decisions were made, but they made sense with the characters and the story. I also appreciated how Kate and August grew as characters. This being said, for me, this book was too focused on the action and I felt it went a little too long.
All in all, I found Monsters of Verity to be a really entertaining fantasy series, and it would definitely make me want to read more from the author. I appreciated how the author talked of identity, pointing out that what you are isn't who you are. You can chose to be or not to be a monster, or a good person. That was one beautiful aspect of the books. While I wouldn't consider it one of my favorite series, I'd say it's a solid read which combines cinematic horror scenes and fascinating characters. It's definitely worth a try if you are into YA fantasy, monsters and books with little to no romance!