Review : Carry On by Rainbow Rowell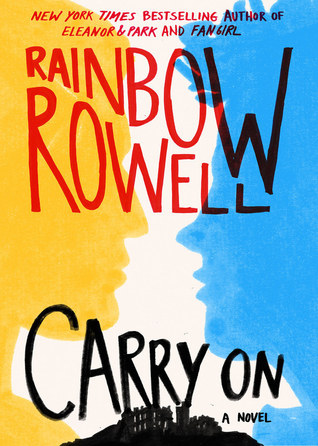 Carry On by Rainbow Rowell
Pages : 522
Genre : YA, Fantasy
Stand alone
My Rating : 3.5/5
About the Book  :
Simon Snow is the worst chosen one who's ever been chosen.
That's what his roommate, Baz, says. And Baz might be evil and a vampire and a complete git, but he's probably right.
Half the time, Simon can't even make his wand work, and the other half, he sets something on fire. His mentor's avoiding him, his girlfriend broke up with him, and there's a magic-eating monster running around wearing Simon's face. Baz would be having a field day with all this, if he were here—it's their last year at the Watford School of Magicks, and Simon's infuriating nemesis didn't even bother to show up.
Carry On is a ghost story, a love story, a mystery and a melodrama. It has just as much kissing and talking as you'd expect from a Rainbow Rowell story—but far, far more monsters.
My Thoughts :
Fangirl was my first read from Rainbow Rowell and I absolutely enjoyed it. I've read all of her books since, and was hanging on to Carry On until I found just the right moment for it. After a few weeks of reading slump, this felt like the perfect moment for something I knew would be fun, relatable and heartwarming.
Carry On definitely was all of these things, but it didn't work as well as Rainbow Rowell's previous books for me. If you read my review of Fangirl, you'll see I wasn't of the fanfiction in that book – so maybe it's no surprise that I found Carry On a bit lacking?
There's a lot of good in the book, and I don't want to give the impression that I didn't enjoy it. I absolutely adored Simon and Baz together and they had great chemistry. I loved how their relationship sparked. More than that, I loved how it evolved, avoiding some of the most typical tropes of romance. It was comforting.
I also really appreciated the Harry Potter inspiration. I don't think someone who hasn't read or enjoyed Harry Potter would have as much fun with Carry On. It has a world of its own, but the characters, their decisions, the school, all are clear (but distorted) mirrors to the Harry Potter world.
As for what didn't work, there were three things, mainly, that I can think of. First, the length : it takes about 150 pages before the story really takes off. The first part of the book is introducing characters and concepts, but it's a bit aimless. Which brings me to point two : so much telling. As the book starts, the characters have seven previous years of adventures under their belts, and so a lot of the book is explaining past events. I found it kind of boring. And finally, point of views : I really think the book should have been limited to Simon and Baz. I didn't feel like chapters narrated by the Mage, Lucy, etc., were necessary.
So, that's it. Carry On was a lot of fun, but it's definitely not an instant favorite for me, like it has been for so many other people. I've seen a rumour of a possible sequel, and I'm honestly not sure I need to read it. If it ever exists I'll definitely want to read a new Rainbow Rowell contemporary novel though, because her writing is just so pleasant and fun!