Review : Big Little Lies by Liane Moriarty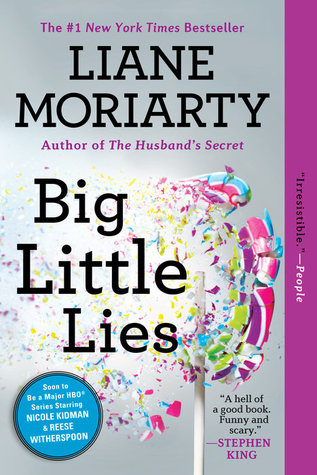 Big Little Lies by Liane Moriarty
Pages : 492
Genre : Fiction, Mystery
Stand alone
My Rating : 4/5
About the Book  :
A murder… . . . a tragic accident… . . . or just parents behaving badly? What's indisputable is that someone is dead.
But who did what?
Three women, each at a crossroads:
Madeline is a force to be reckoned with. She's funny and biting, passionate, she remembers everything and forgives no one. Celeste is the kind of beautiful woman who makes the world stop and stare. New to town, single mom Jane is so young that another mother mistakes her for the nanny.
Big Little Lies is a brilliant take on ex-husbands and second wives, mothers and daughters, schoolyard scandal, and the dangerous little lies we tell ourselves just to survive.
My Thoughts :
Who hasn't heard of Big Little Lies by now? The world probably doesn't need another review of this book, but I figured I would put down some of my thoughts now since I plan on watching the series this week!
Big Little Lies was my first novel by Liane Moriarty and I really enjoyed it. Her style is simple in a way that immediately draws you in, her characters are lively and the plot she weaves is neither too far-fetched nor too predictable.
After all the praise I'd heard, I went it with high expectations, so maybe it's no surprise that I wasn't as in love with this book as other readers seem to be. The pages flew by and I was never bored, yet I did feel like the book could have used a slightly shorter format.
I was also confused by the "genre", at first; Big Little Lies feels, in the beginning, like a typical chicklit novel or a romcom, yet it packs so much more – and I do believe that, indeed, what first confused me is exactly what makes the success of the novel. It makes heavy topics more approachable, and it also mirrors what life is, too. Sometimes comedic, sometimes tragic, sometimes both. In the end, I quite enjoyed that aspect of it. I wasn't expecting the book to get this serious, but it was very welcome.
But more than anything, I loved the characters. They had depth and complexity, they felt real. Jane, Celeste and Madeline felt extremely distinct from each other in their personalities, and at the same time, I could easily believe in their friendship.
Now that I have read Big Little Lies, I can't wait to read more from Liane Moriarty, and I am even more excited to watch the series later this week! I can't wait to see Jane, Celeste and Madeline come to life, to see what changed from the book and what didn't. If you've watched it, I'd love to hear your thoughts on it!