Review : The Hating Game by Sally Thorne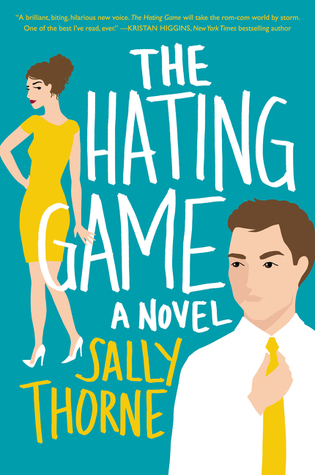 The Hating Game by Sally Thorne
Pages : 384
Genre : Contemporary Fiction
Stand alone
My Rating : 4.5/5
About the Book  :
Nemesis (n.) 1) An opponent or rival whom a person cannot best or overcome; 2) A person's undoing; 3) Joshua Templeman.
Lucy Hutton and Joshua Templeman hate each other. Not dislike. Not begrudgingly tolerate. Hate. And they have no problem displaying their feelings through a series of ritualistic passive aggressive maneuvers as they sit across from each other, executive assistants to co-CEOs of a publishing company. Lucy can't understand Joshua's joyless, uptight, meticulous approach to his job. Joshua is clearly baffled by Lucy's overly bright clothes, quirkiness, and Pollyanna attitude.
Now up for the same promotion, their battle of wills has come to a head and Lucy refuses to back down when their latest game could cost her her dream job…But the tension between Lucy and Joshua has also reached its boiling point, and Lucy is discovering that maybe she doesn't hate Joshua. And maybe, he doesn't hate her either. Or maybe this is just another game.
My Thoughts :
To think I was so hesitant about reading The Hating Game – and I ended up loving it so much!
It's not often that I read romance novels, but I love a good hate-to-love story, whether it's about foes becoming friends or enemies becoming lovers. When done well, the tension can create a thrilling atmosphere that makes the predictable new again – and Sally Thorne did really, really well here!
I would venture to say that The Hating Game wasn't exactly a romance – not as I perceive romance, anyway. I thought it was funny, sexy, swoon-worthy, yes, but not exactly romantic. While Lucy and Joshua's chemistry is off the charts, the hate part of their story was oftentimes uncomfortable to read.
Which brings me to my next point. A big criticism I've read of this book was how problematic the relationship was, how Joshua was a bully and made Lucy cry repetitively. That's all true and very fair criticism (and probably why I don't see the novel as very romantic, actually), and because we're seeing the story from Lucy's perspective, it's really easy to empathize with her. But I felt that she wasn't any better. She reacts so strongly to Joshua, and a lot of it came from her assumptions and prejudices. She gets really mean, too! And in that way, while I wouldn't put their couple on any kind of pedestal, I felt that they deserve each other. They were both flawed and perfectly suited for each other.
On top of that, the writing was just a lot of fun and the pages flew by. The balance between work, romance, sexiness and drama was just right. I loved Lucy's relationship with her parents. It wasn't a very present part of the story but still very important.
Overall, I absolutely adored this book. It was fun, and a tad silly, and a tad over the top at times, but all in a good way. I can't wait to see what Sally Thorne comes up with next!