Review : Caraval by Stephanie Garber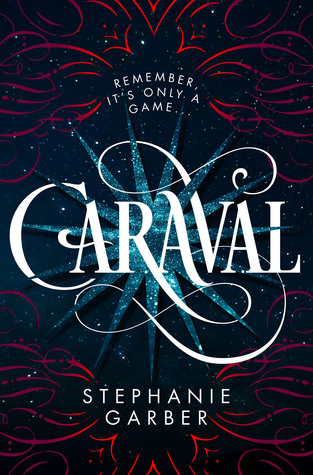 Caraval by Stephanie Garber
Pages : 407
Genre : YA, Fantasy
Series : Caraval, book 1
My Rating : 2.5/5
About the Book  :
Scarlett has never left the tiny island where she and her beloved sister, Tella, live with their powerful, and cruel, father. Now Scarlett's father has arranged a marriage for her, and Scarlett thinks her dreams of seeing Caraval, the far-away, once-a-year performance where the audience participates in the show, are over.
But this year, Scarlett's long-dreamt of invitation finally arrives. With the help of a mysterious sailor, Tella whisks Scarlett away to the show. Only, as soon as they arrive, Tella is kidnapped by Caraval's mastermind organizer, Legend. It turns out that this season's Caraval revolves around Tella, and whoever finds her first is the winner.
Scarlett has been told that everything that happens during Caraval is only an elaborate performance. But she nevertheless becomes enmeshed in a game of love, heartbreak, and magic with the other players in the game. And whether Caraval is real or not, she must find Tella before the five nights of the game are over, a dangerous domino effect of consequences is set off, and her sister disappears forever.
My Thoughts 
I started Caraval with what I believe to be reasonable expectations, especially since there had been a bit of hype around it, and I still managed to be mostly disappointed.
Caraval comes with a sparkling cover and the promise of a fascinating adventure through a larger-than-life magical game. I really liked how quickly the story started and the beginning of the story. I loved the two sisters and their relationship, and their difference in personality.
But almost as soon as they left their native island, I started to lose interest. The world felt undefined and lacked depth : Caraval exists in a fantasy land rather than an alternative history (I think?) but some places and names are in Spanish, for some reason? That's never clearly defined, like many other aspects of the book. And it's not that I believe that every fantasy novel should have the equivalent of ASoIaF's politics defining its world, but I really didn't have any sense of space and context.
I also had a problem with Scarlett herself (too naive), and the insta-lust romance she gets into(predictable). But mostly, I got a bit irritated  by the author's writing. She constantly describes Scarlett's emotions as colors, and colors as flavors, and for a while I thought Scarlett might have some form of (possibly magical) synesthesia… but it never results in anything. I guess the author was trying for an evocative writing style, but it constantly pulled me out of the story.
I realize I'm mostly writing about the negative aspects of Caraval, but I did enjoy some of it. Ignoring her colorful metaphors, Stephanie Garber's writing flows nicely and is really easy to get into. The story has lots of twists and surprises, and the uncertainty between what's real and what isn't keeps you guessing continuously.
If you ignore the very last page, Caraval can pretty much be considered a standalone. Which works for me, as I don't plan on continuing with the series. Not everything works for everyone, right?But Caraval has a colorful world to offer and I am sure it will find its lot of readers along the way! 🙂