Filling the Shelf – 244
Welcome to Filling the Shelf, or as many of you know it, Mailbox Monday! If you're interested in joining the fun or seeing what other bloggers added to their shelves, click away! (but beware, visiting other mailboxes will probably add to your neverending wishlist!)
Hello everyone!
Another Monday, another mailbox post!
My health has been acting up again this week and I've been real lazy about blogging. Not answering comments, not visiting blogs, nothing. I'm hoping to do better this week. I did read a lot though while I rested (mostly I started a lot of books, but didn't finish many), and managed to finally post a review yesterday for Six Wakes. It was such a fun sci-fi thriller, I'd happily recommend it!
I also got some new books this week, and I am so excited for them! I am completely in love with the UK covers for The Bear and the Nightingale and Homegoing. Bonus points for also being cheaper than the copies I could find here. And The Devourers had been on my wishlist since it came out, I'm glad to finally have my own copy.  Shapeshifters in India? That sounds so different, I can't wait to read it!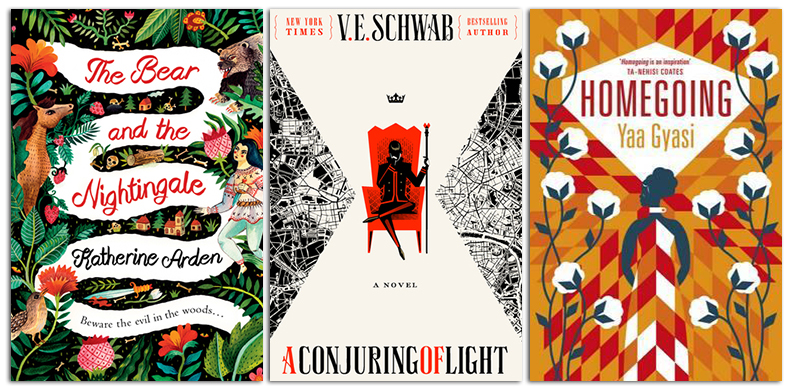 The Bear and the Nightingale by Katherine Arden – A Conjuring of Light by V.E. Schwab – Homegoing by Yaa Gyasi
The Devourers by Indra Das – Harry Potter and the Order of the Phoenix by J.K. Rowling (audio) – 5 to 1 by Holly Bodger
What books did you recently add to your shelves?