Review : Simon vs. the Homo Sapiens Agenda by Becky Albertalli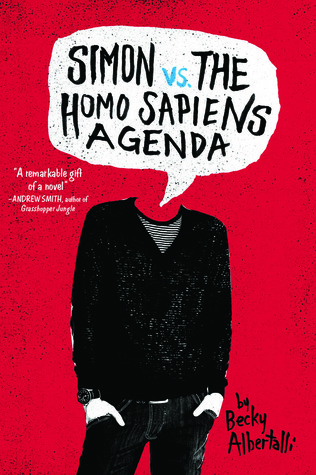 Simon vs. the Homo Sapiens Agenda by Becky Albertalli
Pages : 320
Genre : YA
Stand alone
My Rating : 4.5/5
About the Book  :
Sixteen-year-old and not-so-openly gay Simon Spier prefers to save his drama for the school musical. But when an email falls into the wrong hands, his secret is at risk of being thrust into the spotlight. Now Simon is actually being blackmailed: if he doesn't play wingman for class clown Martin, his sexual identity will become everyone's business. Worse, the privacy of Blue, the pen name of the boy he's been emailing, will be compromised.
With some messy dynamics emerging in his once tight-knit group of friends, and his email correspondence with Blue growing more flirtatious every day, Simon's junior year has suddenly gotten all kinds of complicated. Now, change-averse Simon has to find a way to step out of his comfort zone before he's pushed out—without alienating his friends, compromising himself, or fumbling a shot at happiness with the most confusing, adorable guy he's never met.
My Thoughts :
Simon vs. the Homo Sapiens Agenda received quite a bit of good buzz last year, and my expectations for it were, let's be honest, really high. So much, that I was prepared to be disappointed.
But I wasn't!
Simon is a fun, heartwarming and cute novel. So much humor! It put a smile on my face all the way through. Becky Albertalli's writing is so good, too, I immediately felt I could relate to Simon and all he thought and felt. I loved his group of friends, which was diverse and very likable. Good friends are always a plus in YA fiction!
The book is a bit about coming out, yes, but it's about a lot more than that too : friendship, love, growing up. It fells good to have a book where coming out isn't the focus, yet it isn't ignored or mentioned as a negligible detail. Simon felt real and complex, and it was clear that his identity wasn't all about his sexual identity, though it was an important of him, as it should be. I believe such characters are important, and consequently Simon felt real and his story, very heartfelt.
I can't think of anything bad to say about this book. It was extremely fun and filled with humor, without it eclipsing the more serious aspects of Simon's life. And I know that deep, serious books are important in the YA world (I had two of these on my best of 2016 list, after all!), but I think "happy books" are equally as important. Simon vs. the Homo Sapiens is definitely a happy, hopeful book, and I just can't wait to read Becky Albertalli's next novel, The Upside of Unrequited. Only a couple months to wait now!