Review : Behind Her Eyes by Sarah Pinborough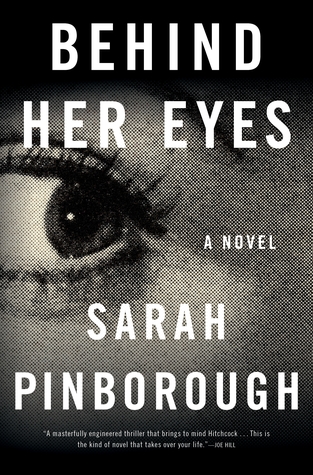 Behind Her Eyes by Sarah Pinborough
Pages : 320
Genre : Psychological Thriller
Stand alone
My Rating : 3/5
About the Book  :
Louise is a single mom, a secretary, stuck in a modern-day rut. On a rare night out, she meets a man in a bar and sparks fly. Though he leaves after they kiss, she's thrilled she finally connected with someone. When Louise arrives at work on Monday, she meets her new boss, David. The man from the bar. The very married man from the bar…
And then Louise bumps into Adele, who's new to town and in need of a friend, but she also just happens to be married to David. David and Adele look like the picture-perfect husband and wife, but then why is David so controlling, and why is Adele so scared of him?
As Louise is drawn into David and Adele's orbit, she uncovers more puzzling questions than answers. The only thing that is crystal clear is that something in this marriage is very, very wrong, but Louise can't guess how wrong―and how far a person might go to protect their marriage's secrets.
My Thoughts :
This was one strange reading experience for me, extremely readable yet somewhat unsatisfactory.
For the most part, Behind Her Eyes reads like any other psychological thriller. There's a bunch of flawed characters, a story told through two point of views (Adele, the wife, and mostly Louise, the mistress), and an uneasy atmosphere slowly seeping through the pages. Through both points of view we get to piece together the truths and the lies, but we also get a glance at Adele's past.
Overall, I would say the novel is hard to put down and a gripping read. The writing is fine, the plot is very intriguing and while Louise is a bit too naive/idiotic in her decisions, it didn't bother me too much. I've known people who seem to always take the wrong decisions and create drama around themselves, and I feel that Louise was a bit like that, so rather than being bothered by it, I let it entertain me.
Much of the marketing for Behind Her Eyes mentioned the "shocking ending", and I can see why. It's surprising, unpredictable, and requires you to suspend your disbelief. It's a conclusion that readers expecting a more, hum, regular reading experience might not like. I personally didn't like it. I'm usually quite open minded about weird twists and surprising endings, but here, I felt that the book hadn't prepared me, as a reader, for this type of ending. It's not something you can foresee coming, except maybe if, like me, you let your imagination run really wild after having heard about said "shocking ending" (and I still didn't figure it out).
While I had a lot of fun with this book, I would recommend it with caution. With its divisive ending, Behind Her Eyes will amaze some readers but it will also frustrate some.
If you've read it, let me know what your thoughts were about the ending!