Review : I Let You Go by Clare Mackintosh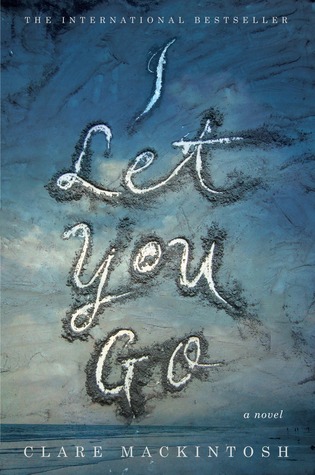 I Let You Go by Clare Mackintosh
Pages : 384
Genre : Mystery
Stand alone
My Rating : 4/5
About the Book  :
On a rainy afternoon, a mother's life is shattered as her son slips from her grip and runs into the street . . .
I Let You Go
follows Jenna Gray as she moves to a ramshackle cottage on the remote Welsh coast, trying to escape the memory of the car accident that plays again and again in her mind and desperate to heal from the loss of her child and the rest of her painful past.
At the same time, a pair of Bristol police investigators try to get to the bottom of this hit-and-run. As they chase down one hopeless lead after another, they find themselves as drawn to each other as they are to the frustrating, twist-filled case before them.
My Thoughts :
I'm so glad I finally took the time to read this one!
The story starts slow, introducing the characters on both sides of the case (the police and the mother), slowly building up the tension. While Jenna is trying to heal from the shock of it all, the investigators are facing a complete lack of answers. The investigative side of the story reads like any police/procedural novel, while Jenna's is more introspective and human. It's an interesting contrast I had seen before, but here it was particularly well done.
And then, halfway through the book, answers are found, and this is when the story really begins.
I had heard that this book had great twists/revelations, and I have to agree! I did have a good idea of what was coming (I'm not that clever, but I have read a lot of thrillers and mysteries after all!), but the way it all unfolded really surprised me. It turned out to be quite the page turner. Clare Mackintosh's writing was on point and the way she voiced one character in particular was excellently gripping, reminding me of one of my favorite books from the past couple years. (Unfortunately, I can't really say which without spoiling it, but I'll tell you in the comments if you are curious!)
There were a few aspects I enjoyed less : the "romance" between the investigators, which felt completely unnecessary. It didn't add anything to the story, didn't affect the investigation, nothing. I suppose maybe the author wanted to add depth to the characters, but it really didn't work for me. I also felt slightly let down by the ending. It was sort of dramatic, poetic in a way, and I would have liked something a bit different.
However, these flaws were small really, and I greatly enjoyed I Let You Go. I can see why it was such a popular thriller in 2016! It's not often that books in the genre have me so emotionally invested, and I was really surprised by how much I related to Jenna and her story. It struck a more personal chord in me, perhaps.  Fans of the genre should definitely give this one a try!