Review : The Female of the Species by Mindy McGinnis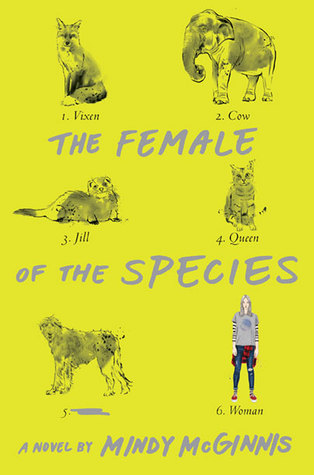 The Female of the Species by Mindy McGinnis
Pages : 352
Genre : YA, Thriller, Contemporary
Stand alone
My Rating : 4.5/5
About the Book  :
Alex Craft knows how to kill someone. And she doesn't feel bad about it. When her older sister, Anna, was murdered three years ago and the killer walked free, Alex uncaged the language she knows best. The language of violence.
While her crime goes unpunished, Alex knows she can't be trusted among other people, even in her small hometown. She relegates herself to the shadows, a girl who goes unseen in plain sight, unremarkable in the high school hallways.
But Jack Fisher sees her. He's the guy all other guys want to be: the star athlete gunning for valedictorian with the prom queen on his arm. He doesn't want to only see Alex Craft; he wants to know her. So does Peekay, the preacher's kid, a girl whose identity is entangled with her dad's job.
Circumstances bring Alex, Jack, and Peekay together as their senior year unfolds. While partying one night, Alex's darker nature breaks out, setting the teens on a collision course that will change their lives forever.
My Thoughts :
We need to talk about this book's cover.
The first time I saw The Female of the Species on the bookstores' shelves and on the blogs, I had about zero interest for it. It looked like any of the other generic YA covers we often see these days, usually for romances and teens with diseases & mental health issues – and I say this as someone who quite enjoys the genre. Plus, the horrible, horrible flashy yellow-green color. Yikes!
And so, a great reading opportunity was almost missed.
Luckily, I ended up reading a few reviews and watching vlogs about it, and realized it was exactly my type of book. This isn't a cute book, or a romantic one (despite the romance featured), or a fluffy/funny one, as the cover almost seems to suggest. Instead, this is a violent story like few I have read in the YA category. It's not often you get to read about a vengeful teenage girl with a knack  for killing, à la Dexter, but that's exactly what Mindy McGinnis' latest novel offers – that, and a lot more.
Emotionally speaking, The Female of the Species was a surprisingly difficult read. There's a lot of emotional and complex topics in there : grief, murder, teenage sexuality, shame and rape are not only mentioned, but discussed with honesty and care. The prose is effective, direct, in a way that both confronts and comforts the reader. It was gripping as much as it was horrifying and heartbreaking.
Most importantly, the author writes Alex Craft with great sensibility. I cared for her, understood her, was taken by her intensity. And while Peekay and Jack offer different perspectives, it all comes back to Alex. Her rage poured through the pages and while I didn't necessarily think all of it was realistic, it worked well within the constraints of the book.
There's little more I have to say about The Female of the Species,  except that it positively surprised me. It's certainly worth the read and would be an excellent pick for book clubs and group discussions.
But, it also deserves a much, MUCH better cover. Fingers crossed for the paperback.