Filling the Shelf – 224
Welcome to Filling the Shelf, or as many of you know it, Mailbox Monday! If you're interested in joining the fun or seeing what other bloggers added to their shelves, click away! (but beware, visiting other mailboxes will probably add to your neverending wishlist!)
Hello all!
No, no, your eyes do not deceive you : that's a small mailbox this week, and it's not even color-coordinated! *Gasp!*
I already knew I would be getting Empire of Storms as soon as it came out, even though I have one book left in the series before getting to this one. This is book 5 of the series but these books are popcorn and so easy to get into! And then, after reading and completely falling in love with The Fifth Season, I had to get my hands on the sequel, The Obelisk Gate. I'm reading it right now and it's quite good; I'm not sure what I'll do once I'm done with it!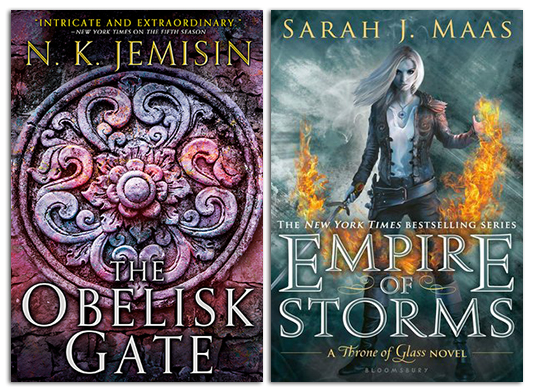 The Obelisk Gate by N. K. Jemisin – Empire of Storms by Sarah J. Maas
What books did you recently add to your shelves?