Review : The Fifth Season by N. K. Jemisin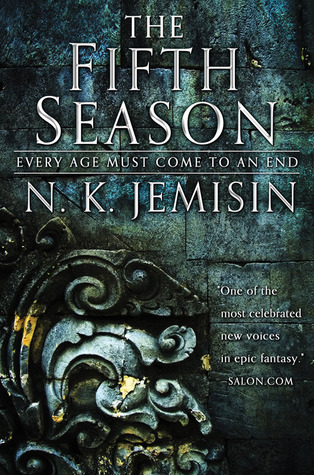 The Fifth Season by N. K. Jemisin
Pages : 468
Genre : Fantasy
Series : The Broken Earth, book 1
My Rating : 5/5
About the Book  :
THIS IS THE WAY THE WORLD ENDS… FOR THE LAST TIME.
A season of endings has begun.
It starts with the great red rift across the heart of the world's sole continent, spewing ash that blots out the sun.
It starts with death, with a murdered son and a missing daughter.
It starts with betrayal, and long dormant wounds rising up to fester.
This is the Stillness, a land long familiar with catastrophe, where the power of the earth is wielded as a weapon. And where there is no mercy.
My Thoughts :
WOW.
This book. This book!
This isn't the book I was planning on reviewing this week. But the truth is, I haven't been able to think about something else ever since I started reading it last week, and then finished it yesterday. I ran to the store to get the sequel before I even finished it, even though I was planning on waiting before reading it (because it just came out, and who knows when the third installment will hit the shelves?) But as I said, the book has been on my mind constantly. And so, as I write this I am currently reading The Obelisk Gate. 
First, I need to say N. K. Jemisin writes beautifully. It's certainly more on the side of literary fantasy, with each word and turn of phrase carefully selected. The narration is rich, evocative, intriguing, and above all, it feels unique. I read slowly, reread passages constantly, I loved every word of it. I loved the vagueness of certain parts, I loved that some chapters were written using the second person point of view, and I loved how it built on itself constantly.
I loved the world and its story, the characters and their stories, too. Everything felt complex and real. Some parts were heartbreaking and violent, and yet I was surprised by the hints of humor that surfaced here and there, giving me pause to breath.
I don't have the words to accurately describe what I felt when reading this story. I was amazed by everything that was in there : questions of identity in its many aspects (race, sexuality, and so on), a deep concern for Earth and nature and, of course, a breathtaking magic which is literally earth-shattering. It felt immense, it felt beautiful.
The world is extremely rich, too : the science is surprisingly advanced and constantly present, the terminology (which takes a moment to grasp) feels natural, there are intriguing creatures and different people, the past is a constant presence from which arise many, many more questions.
I could continue on for a while, but I don't want to spoil anything or build up expectations. There is so much to discover by reading it. I LOVED it! I thought I had been spoiled by discovering a new favorite book earlier this year when I read The First Fifteen Lives of Harry August; I basically feel like I won the reader's lottery right now, since The Fifth Season is clearly a new favorite too! 🙂
Series reading order :
The Fifth Season
The Obelisk Gate