Review : In Real Life by Cory Doctorow & Jen Wang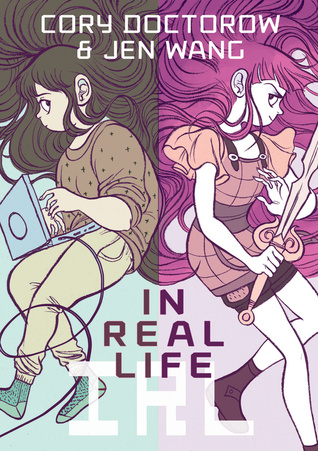 In Real Life by Cory Doctorow & Jen Wang
Pages : 175
Genre : Graphic Novel
Stand Alone
My Rating : 4/5
About the Book  :
Anda loves Coarsegold Online, the massively-multiplayer role-playing game where she spends most of her free time. It's a place where she can be a leader, a fighter, a hero. It's a place where she can meet people from all over the world, and make friends.
But things become a lot more complicated when Anda befriends a gold farmer–a poor Chinese kid whose avatar in the game illegally collects valuable objects and then sells them to players from developed countries with money to burn. This behavior is strictly against the rules in Coarsegold, but Anda soon comes to realize that questions of right and wrong are a lot less straightforward when a real person's real livelihood is at stake. 
My Thoughts :
In Real Life is a short and really sweet graphic novel combining the talents of Cory Doctorow and Jen Wang. The premise is a fun one, and will be instantly familiar to fans of online gaming (which I am! Oh, the time I spent on Azeroth!). But it's also super simple and fantastically illustrated, which will make it easy and fun even for readers who haven't spent much time running around virtual universes.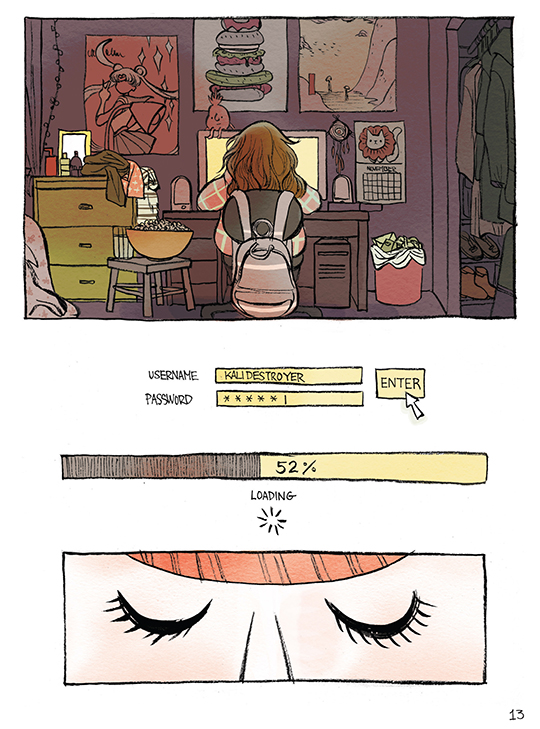 I appreciated so many little things of this graphic novel. I love how cleverly the panels were arranged on certain pages, how easy to read the pages were. The muted tones were charming and still managed to create a colorful and lively universe. I loved that Anda was noticeably a bit on the curvy side, without any of the story being about it. In fact, all of the characters in Anda's "real life" looked realistic, illustrated in different shapes and colors (and online, well, there was simply no limits!)
The story was fun too. The world of Coarsegold Online looked amazing and I definitely wanted to see more of it. It's filled with different creatures and places, and I wished the story could have been twice as long so that we could discover it both in words and images.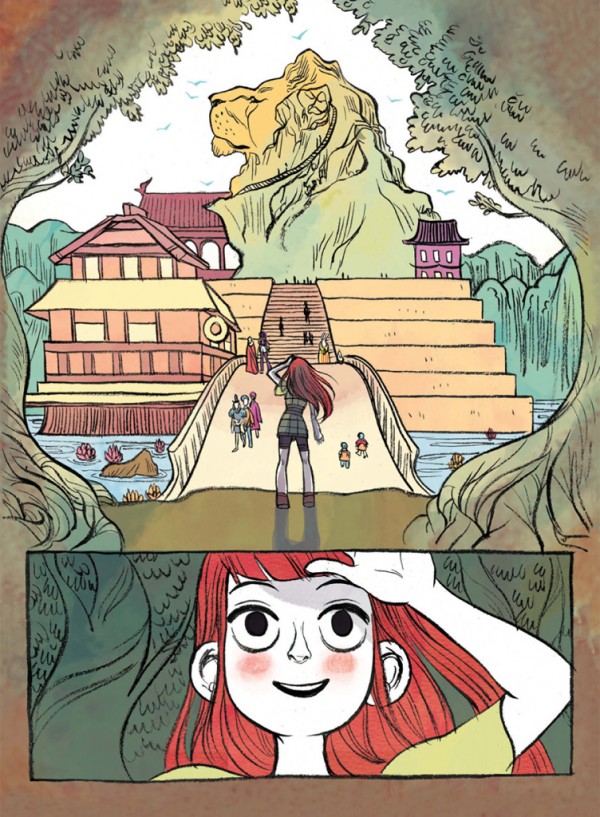 And maybe that's where I felt the book lacking a little. I loved so much of it, story included. Raymond (Anda's Chinese friend) has a story to tell, one we don't really hear about very often. Gold farmers don't have a good reputation in online games, so it was interesting to see them more on the "human" side. But in the end, the story's conclusion felt a bit rushed, and a little too neat, too. Idealistic and easy, which isn't necessarily a bad things in itself; but I would have loved a more intelligent, more compassionate approach. For Anda to look a little past Raymond and understand more completely the situation.
In any case, I really enjoyed this little book. I'm sure I'll be reading it again, if only to look at the beautiful illustrations. I loved it, despite its ending, and I hope many other readers will give it a try!