Review : Dear Daughter by Elizabeth Little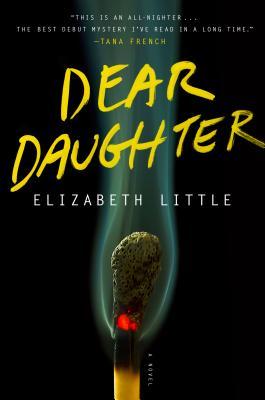 Dear Daughter by Elizabeth Little
Pages : 364
Genre : Mystery
Stand alone
My Rating : 4/5
About the Book  :
LA IT girl Janie Jenkins has it all. The looks, the brains, the connections. The criminal record.
Ten years ago, in a trial that transfixed America, Janie was convicted of murdering her mother. Now she's been released on a technicality she's determined to unravel the mystery of her mother's last words, words that send her to a tiny town in the very back of beyond. But with the whole of America's media on her tail, convinced she's literally got away with murder, she has to do everything she can to throw her pursuers off the scent.
She knows she really didn't like her mother. Could she have killed her?
My Thoughts :
Going into this thriller, I wasn't expecting what my first thoughts would be once I would be done with it, which were : this book was so much fun!
Compared to many of the thrillers I recently read, Dear Daughter felt extremely refreshing, not as much for its intrigue as for its narration. I think it is fair to say you will either like Janie Jenkins' voice, or you won't. From start to finish, she is extremely sarcastic and narcissistic and aware, and I don't think you're supposed to like her as a person; still she entertained me, which was all I cared for, really.
The story itself has a bit of a slow pace, which I didn't really noticed thanks to Janie's honest and oftentimes humoristic delivery. We slowly get introduced to the setting and the characters, while snippets of gossip magazines and blogs keep us on our toes in-between chapters; will they find Janie before she gets to the truth?
Along the story, I felt slightly stressed for Janie's life as for a long while, we get very little clues to who's the guilty party. There's no obvious Bad Villain here, and I really liked that; it's nice to read a thriller carefully crafted to keep you guessing!
I also think, with the current trends, that comparisons to Gone Girl will be unavoidable. Interestingly, though they have different writing styles and stories, this is the first of these where I read it and felt like the comparison was at least a little warranted. Maybe because it deals with a privileged girl and a twisted background; maybe it was the mostly unlikable and quirky characters; or maybe because it doesn't end until it ends, and not so nicely wrapped up, either. I'm not sure what it was, really, that made me feel it related well to Gone Girl; but what I know for sure is that I truly enjoyed this novel.
Whatever else Elizabeth Little writes in the future, I'll be curious to read too. Hopefully this is a feat she can repeat, because Dear Daughter hooked me right in!

Dear Daughter is available now! Thanks to Penguin for generously providing a digital copy of this book for review!