Review : Complicit by Stephanie Kuehn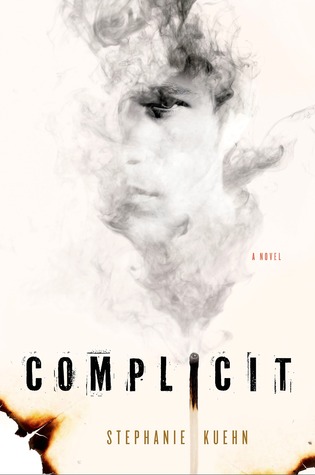 Complicit by Stephanie Kuehn
Pages : 256
Genre : YA, contemporary, thriller
Stand alone
My Rating : 4.5/5
About the Book  :
Two years ago, sixteen-year-old Jamie Henry breathed a sigh of relief when a judge sentenced his older sister to juvenile detention for burning down their neighbor's fancy horse barn. The whole town did. Because Crazy Cate Henry used to be a nice girl. Until she did a lot of bad things. Like drinking. And stealing. And lying. Like playing weird mind games in the woods with other children. Like making sure she always got her way. Or else.
But today Cate got out. And now she's coming back for Jamie.
Because more than anything, Cate Henry needs her little brother to know the truth about their past. A truth she's kept hidden for years. A truth she's not supposed to tell. 
My Thoughts :
First, this book's packaging is awesome. Just look at that captivating cover, with the face appearing in the smoke, the burnt corners… Love it.
What's even more awesome is what is under the cover. I truly didn't know what to expect when I cracked this one open, and I was immediately fascinated by the story.
Complicit isn't an action novel; instead, it's a slow burn to the truth which you might or might not guess. But whether or not you untangle the truth from the lies before reaching the ending, it really doesn't matter that much. For me, the strength of the book was much more in its construction. I loved seeing how the author put things together, what she revealed and what she kept secret, how the narration alternated between present and past. I guess you could say I appreciated Stephanie Kuehn's craft as much from a reader point-of-view as from a wannabe-author's one .
Most of all, I loved how so easily the author guides us through the scared and troubled confines of Jamie's mind. It's unsettling, really, because everything seems distorted by his fear and his memory losses. His interactions with his sister therefore feel very unsatisfying because we want answers as much as he does. And Cate is one intriguing girl, too. What we get to know from her past indicates a very troubled girl, but Cate from the present constantly eludes us, slowly pulling us toward a gripping conclusion. All of this wrapped into great writing.
I am guessing not every reader will love the ending – but I did. It was different, and I can't help but applaud the fact that the story continues until the very last page.
I don't want to say too much. It really is a mystery better appreciated if you go in not expecting too much. But for me, Complicit was a match made in book-heaven. It intrigued me, caught me into its great writing, and had me thinking about the ending for days after. Consider me a new fan of Stephanie Kuehn – and now I need to get my hands on her first novel!