Review : Warbreaker by Brandon Sanderson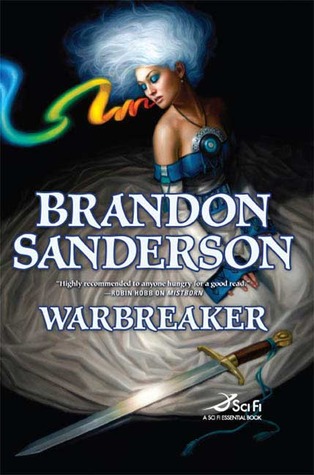 Warbreaker by Brandon Sanderson
Pages : 592
Genre :  Fantasy
Stand alone
My Rating : 4/5
About the Book  :
Warbreaker is the story of two sisters, who happen to be princesses, the God King one of them has to marry, the lesser god who doesn't like his job, and the immortal who's still trying to undo the mistakes he made hundreds of years ago.
Their world is one in which those who die in glory return as gods to live confined to a pantheon in Hallandren's capital city and where a power known as BioChromatic magic is based on an essence known as breaththat can only be collected one unit at a time from individual people.
By using breath and drawing upon the color in everyday objects, all manner of miracles and mischief can be accomplished. It will take considerable quantities of each to resolve all the challenges facing Vivenna and Siri, princesses of Idris; Susebron the God King; Lightsong, reluctant god of  bravery, and mysterious Vasher, the Warbreaker.
My Thoughts :
I've come to expect certain things when reading Brandon Sanderson – creative magic, complex politics, original cast of characters – and I am glad to report Warbreaker didn't let me down. And while it was my least favorite book of Sanderson so far, I still loved it tons – which says a lot about the man's talent!
The best way to describe how I felt reading Warbreaker is : it was like reading the adult fantasy equivalent of a Disney princess movie. There were princesses, an arranged marriage, adventure, funny sidekicks, a colorful kingdom, fancy dresses, a castle, and so on. There was something new and exciting at every turn, and the author's words did a magnificent job of transporting us to this unique world.
I liked Vivenna and Siri both. It doesn't happen often that I can't pick a favorite character, but here I truly enjoyed both of their stories. They were two very different girls, and they changed and grew through the story in ways that felt very likable and realistic. I wish we could have read a bit more about their father though; through the pages, I so badly wanted to hear what he thought of Vivenna's sudden departure, and everything that ensued!
The politics twisted with the religions created a very intricate story in a complex worldbuilding. It's a lot of information to absorb but Sanderson did a great job of sharing it through the story rather than dumping it all at once. There was enough material there to create one or two books more, but I loved that he kept it to one epic volume.
There was one aspect of the story I didn't enjoy as much and it was how passive I felt Siri and Vivenna were at times. It's not their fault; they both get thrown into a new world where rules are completely different from the ones they are used to, and they need people to guide them through. However, this creates many scenes where the girls are reacting rather than acting.
Overall though, this was a great adventure. The magic was colorful and inventive, and created unique scenes that were extremely cinematographic – which is something Sanderson simply excels at. And I am so excited that I still have a few more books of his to discover!