The Shelves! – part 1 (or : Tetris with books)
You guys might have noticed, for the couple few weeks, that my "Filling the Shelves" posts have been getting lighter, filled mostly with ebooks, galleys and audiobooks. Things got even lighter this week as nothing, absolutely nothing new arrived. I'm not complaining! This is actually giving me time to go through the books I already have, sitting on my shelves waiting for me to read them.
I have been asked more than a few times, since I started the blog, if I would share pictures of my shelves, and though I always heartily said yes, I never got to the task before now. But since this Monday is a bit quiet, why not give it a start?
Dear people of the internets, I present to you today the first of my bookcases (and sorry for the crappy phone picture) :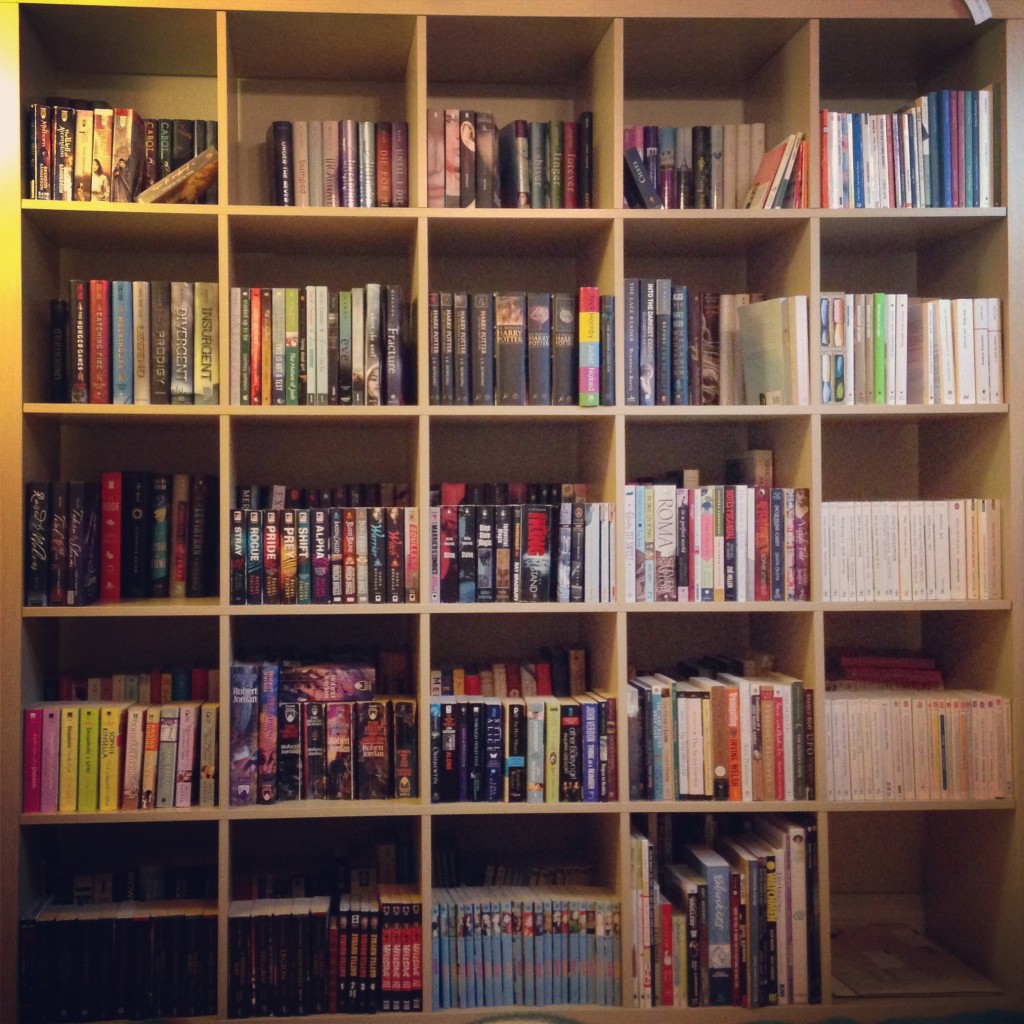 This is one of four bookcases we have (not all as big, fortunately or unfortunately!) and it contains most of the fiction books (and a few non-fiction) that were actually read. It used to be that all the squares were filled back and front, but I gave a lot of books both times we moved in the past year. Now, I'm working on filling it again!
Of course, there is a system to how the books are organized. The system will change depending on new additions and stress level (reorganizing books does wonders for my anxious days!), but this picture was taken in June and the books have been pretty much in the same place since, only more numerous. It goes pretty much like this Tetris game, where books of similar themes are together, with the hardcovers together and the paperbacks together, etc :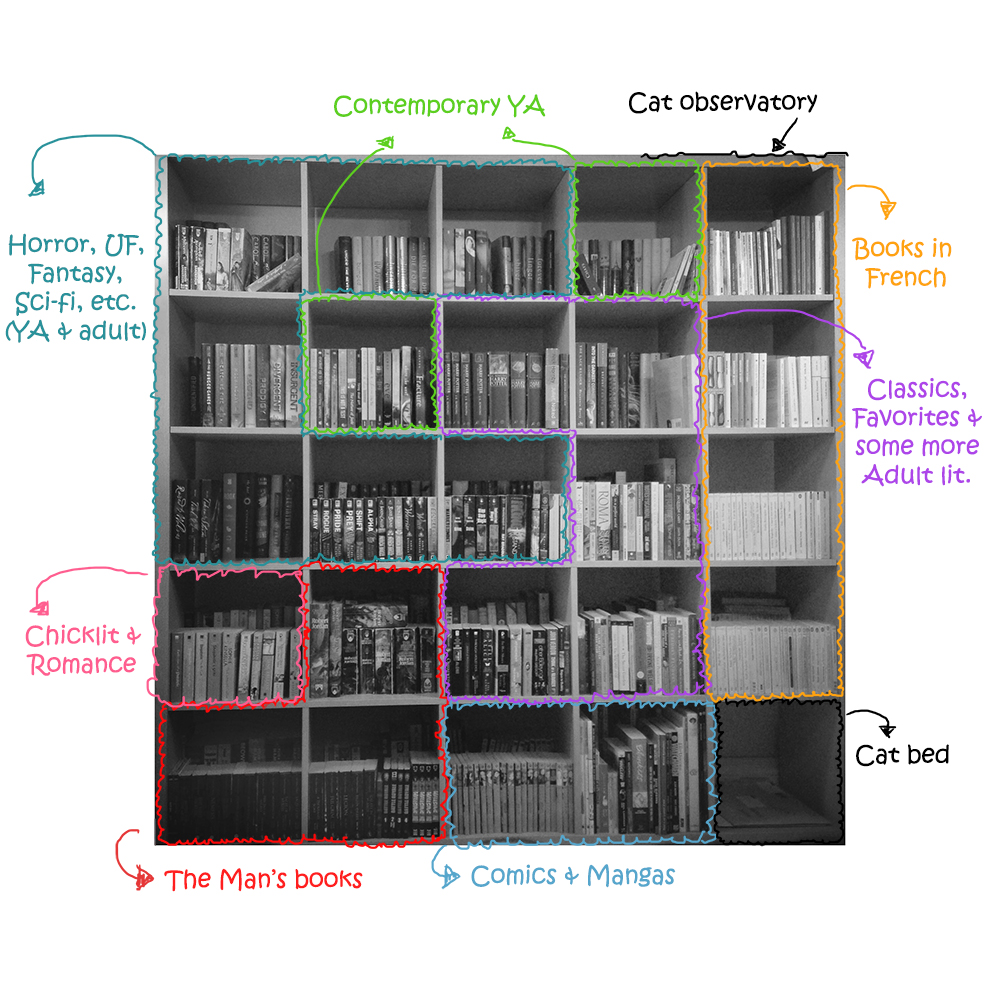 Why yes, it does annoy me to an uncomfortable extent that the contemporary YA novels aren't hanging out side by side together! For the sake of my mental state, I'm currently working on that.
Here is a more complete breakdown of what's in what for the curious bookworms! :
Horror, UF, Fantasy, Sci-fi, etc. (YA and adult) : Let's be honest, this is basically a catchall category since a lot of my books end up there! I try to group similar books together though. On these shelves, you'll find such things as : The Hunger Games, Insurgent, books by Stephen King, urban fantasy series by Rachel Vincent, Kelley Armstrong and Patricia Briggs, the Sevenwaters books (which belong with favorites, really!),  Uglies, books by Brandon Sanderson (also a favorite!). Hiding behind are also a few books for which I didn't have a dedicated shelf, such as YA historical fiction.
Chicklit & Romance : This is a one single small block, but it's filled with happiness and love! A lot of Sophie Kinsella, as well as Kristan Higgins, Molly Harper and a few others.
The Man's Books : The Man of the House has quite his share of books, a lot of which do not appear here since I have placed them in my own TBR pile. Here are his Warhammer books, The Wheel of Time series (which I'll probably read… one day…), books by Tolkien, Lovecraft and more. We clearly share a love for fantasy and the like!
Comics & Manga : Most of these are in French (Nana, Chobits, l'Ostie de Chat, Oz) but it also includes graphic novels like Watchmen and Blankets, comics like Simon's Cat, and a few picture books with cats!
Classics, Favorites, & Some more Adult lit. : Includes a lot of favorites like Harry Potter, The Bell Jar, Notes on a Scandal, Jane Eyre, Little Women, Still Alice, Atonement, The Virgin Suicides, books by Maggie O'Farrell. Also some mysteries (Before I Go To Sleep, Gone Girl, books by Louise Penny) and a few strays from historical and speculative fiction (The Virgin's Tale, Aftertime, Santa Olivia).
Books in French : This includes a lot of different things, from literature to mysteries. A few escaped to the Fantasy or Manga categories, but most of my books in French are sitting there. There's a lot of Zola, Amélie Nothomb, Anne Hébert, Anna Gavalda and Marie Laberge.
Cat Bed & Cat Observatory : Spots the cat has claimed as its own. I don't think we're ever getting them back.
So that's pretty much it for this bookcase! Since we've moved it's been part of our bedroom and I absolutely love it. We also have a bookshelf dedicated to non-fiction books about knitting, cooking, art, etc. in the livingroom, and another for the books to be read in the hallway. I promise to post about these too soon enough!
How do you organize your books? How different or similar of a system do you have – if you do have a system of course!