Review : The Alley of Love and Yellow Jasmines by Shohreh Aghdashloo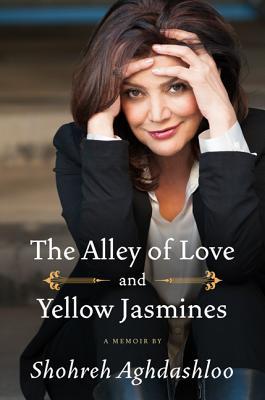 The Alley of Love and Yellow Jasmines by Shohreh Aghdashloo
Pages : 288
Genre : Non-fiction, Memoir
Stand Alone
My Rating : 3,5/5
From the back of the book :
Oscar nominee and Emmy Award–winning actress Shohreh Aghdashloo shares her remarkable personal journey—from a childhood in the Shah's Iran to the red carpets of Hollywood—in this dazzling memoir of family, faith, revolution, and hope.
Enchanted by the movies she watched while growing up in affluent Tehran in the 1950s and '60s, Shohreh Aghdashloo dreamed of becoming an actress despite her parents' more practical plans. When she fell in love and married her husband, Aydin, a painter twelve years her senior, she made him promise he'd allow her to follow her passion.
The first years of her marriage were magical. As Shohreh began to build a promising career, Aydin worked at the royal offices as an art director while exhibiting his paintings in Tehran. But in 1979 revolution swept Iran, toppling the Shah and installing an Islamic republic under the Ayatollah Khomeini. Alarmed by the stifling new restrictions on women and art, Shohreh made the bold and dangerous decision to escape the new regime and her home country. Leaving her family and the man she loved behind, she fled in a covert journey to Europe and eventually to Los Angeles.
My Thoughts :
I've always liked Shohreh Aghdashloo; I like her voice and her acting, and she's also a gorgeous woman. I was intrigued when I was invited to read her new memoir, and I was pleased since I had been looking for something a little bit different to read.
Shohreh's life was, for sure, filled with adventure! Moving around the world, meeting tons of different people, building a career in theater and then in cinema; we get to explore the actress' life from many points of view through time. For me, the most interesting part was, without a doubt, her life in Iran. Not to say that anything happening after was uninteresting, but it was a life so different from everything I have known that I flew through the pages that took place in this far-away place. I can't say I understood everything that happened there (it's something I'm still learning about), but seeing it through her eyes helped make it more personal, more human.
Even once she moved away, Iran was still never far from Shohreh's heart. Her friends and her family were left there, as well as her memories and all her hopes for her country. It is heartbreaking to read about, yet I was amazed by how strong Shohreh was and how dedicated she was to her ideals of democracy as well as her career.
I also enjoyed seeing how she built her career in Hollywood! Her enthusiasm for actors and movie directors was charming, and though I'm not one to be super intrigued by celebs gossips, I found it entertaining to read her point of view on the Hollywood scene.
Sometimes memoirs read like rich pieces of fiction; I didn't feel it was the case here. This can be good or bad depending on your preferences, but I do know that I felt a bit of a distance from the author. I really felt like she opened her heart to the readers though, so I think the distance I felt had more to do with the writing, which at times felt a bit clinical.
Overall, a very nice experience. I believe readers who are not familiar with Iran's history or Shohreh Aghdashloo will still appreciate the memoir. I'll admit I googled a few things along the way, but I never felt lost in this strange country. The Alley of Love and Yellow Jasmines is an inspiring memoir that offers a pleasant and easy reading, despite its sometimes difficult themes.
The Alley of Love and Yellow Jasmines is available for sale today! Thanks to Harper  for generously providing a copy of the book for this review, and to TLC Book Tour for inviting me to join!