Review : Mercy by Rebecca Lim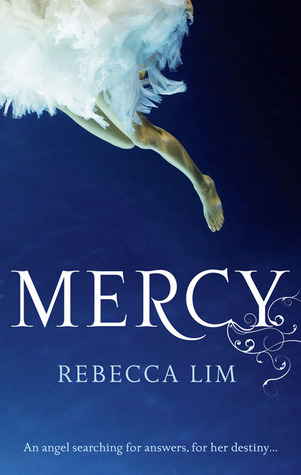 Mercy by Rebecca Lim
Pages : 281
Genre : YA, Supernatural
Series : Mercy, book 1
My Rating : 4/5
What it's about :
A fallen angel, Mercy has been waking up in other people's bodies for as long as she can remember.
When she wakes up in the body of choir girl Carmen, Mercy quickly finds herself mixed into the mystery of another young girl's disappearance. Teaming with Ryan, the victim's brother, and using her unique instinct, Mercy will work on finding the girl, but also on discovering who she really is.
My Thoughts :
Angel books are either hit or miss with me; unlike their blood-sucker and hairy-at-night counterparts, angels don't initiate in me this need to read a book. And most of the ones I have read did nothing to change my mind. It's no surprise then that, a long time ago, Mercy arrived in my mailbox almost by mistake. It was on sale (5$, I remember), I had read a positive review of it, and I needed additional books for my order. It landed on my shelf with its sequel, and I proceeded to ignore both of them for a while.
In between reading galleys, I have made a lot of efforts so far in 2013 to be reading more of the books that I have had for over 3 months. The forgotten ones, the ones I never feel like reading. I selected Mercy and I was so, so sure I wouldn't like it – imagine my surprise when I ended up liking it so much, I jumped on the computer to order the following books!
Mercy is a wonderful combination of the light supernatural and the mystery. The story is mostly an investigation, with clues and questions and a handful of potential suspects. On the love front, I wouldn't say there is romance yet; while Mercy is certainly attracted to Ryan, nothing really happens between them, and we have yet to get a complete understanding of Mercy's feelings for Luc.
This brings me to Mercy herself : I found her to be extremely intriguing and captivating. Even though there's no real struggle with the soul of Carmen, the young woman she inhabits, Mercy often feels… something, like Carmen is trying to signify something to her. It isn't clear what it is (instinct? a remnant of Carmen's soul? a memory? something else?), but it brings Mercy to question herself and her motives constantly. I always love books that question identity, and Rebecca Lim did it with just enough subtlety. Adding to that, Mercy really felt different; her point of view, the way she thought and acted, it was refreshing and really had me believe that she wasn't just a regular teenage girl. This, combined with the author's prose, made the novel a different experience from other YA novels.
Was Mercy perfect? No, not really; the plot lacked a bit of oomph, some of the characters lacked depth. But as I read, I found so many other positive aspects that these little things didn't bother me at all. It's with confidence that I would recommend this one to readers looking for something a little different in the genre. I enjoyed the book and can't wait to see what waits for Mercy in the next books (I know I'll be reading Exile before long!)
Series Reading Order :
Mercy
Exile
Muse
Fury