Review : The Gypsy King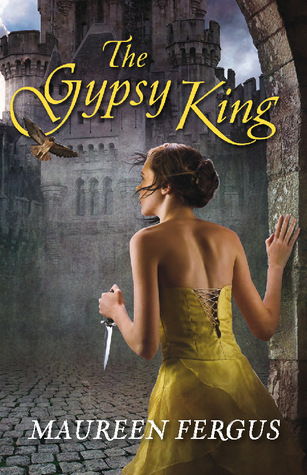 The Gypsy King by Maureen Fergus
Pages : 400
Genre : Fantasy, YA
Series : The Gypsy King, Book 1
My Rating : 4/5
What it's about :
There is one thing slave Persephone desires over everything else : her freedom.
When she is surprisingly rescued by a thief in a fancy disguise, Persephone knows this is her chance. She has no desire to follow Azriel around,and no intention to trust him, no matter how tall and handsome he can be.
My Thoughts :
Sometimes you take a chance on a book you know little about, and you quickly live to regret it. Other times, you thank your luck star you took the risk. With The Gypsy King, it is without a doubt a case of the latter, as I had tremendous fun reading and discovering the first in this new series!
First, I have to say that I found Maureen Fergus' writing to be wonderfully engaging! Her words followed each other so naturally, and even the conversations felt natural. It also felt balanced; without trying too hard to use a language inspired of medieval times and fantasy, it is also not too modern. I really felt I was transposed in another world, in another time, both by the setting and the writing.
Persephone clearly is the star of her story. She is strong but flawed, and her relationship with Azriel was incredibly fun to follow. Their banter had me smiling for a good part of the book, and I loved how her feelings were a bit unclear. She doesn't like him at the beginning (so no love at first sight here!), but she also doesn't hate him. Mainly, it is not that she doesn't appreciate him, but more that she desires her freedom more than anything else.
There were many more characters in the story, and I was amazed to see how rich the cast was. Diversified, complex, mysterious. Azriel, Rachel, Meeta, and many more; they all are worth the time, which isn't something I can always say about secondary characters!
If there is one thing I enjoyed less, it was how the chapters alternated between Persephone's view and the court intrigue. It's sort of weird, because while I absolutely loved the mysterious plot with the king, the throne, the villain and all that, for a long time I didn't like how the story kept changing – even though it was all written in the third person, and even though it all fit well together. Maybe a clearer explanation will come to me later?
All in all though, The Gypsy King took me by surprise and was a great read. I was a bit disappointed, in fact, that I didn't have a nice paper copy to put on my shelf! For sure I'll have to add it to my wishlist!
The Gypsy King hit the shelves on January 22! Thanks to RazOrbill Canada for generously providing a digital copy of the book for this review.