The 2012 recap : the best of the best!
HAPPY NEW YEAR READERS! 
♥ ♥ ♥ ♥
2012 has come to a close, and of course this means it's time for another of those "Best of" lists!
2012 was a great reading year for me. Not in terms of quantity (although yes, I did read a lot more than expected), but in terms of quality. There were still a few rotten apples in the mix, but overall I have become better in dropping a book when I'm not into it.
This means it also was extremely difficult to put together a "best of 2012" list! There were so many good books I would have wanted to feature, which is why I added an extra category at the end.
Titles link either to review or to Goodreads when the reviews still has to be written. Here we go!
Best of 2012 :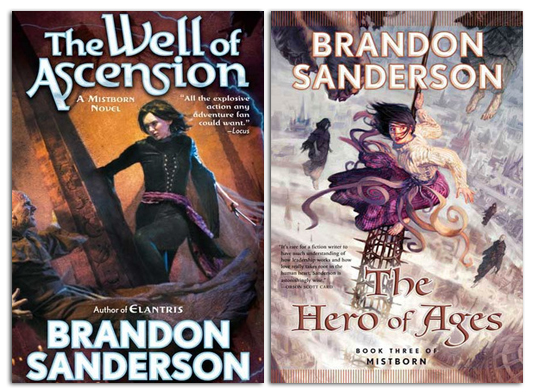 The Well of Ascension and The Hero of Ages by Brandon Sanderson : If I had to remember only one reading experience for 2012, Brandon Sanderson's Mistborn series would probably be it. He excelled in every aspect : complex characters, complex worldbuilding, complex plot. Can you tell I love complexity? All of this was written as an enthralling story I absolutely adored. Thinking about the ending still gives me the chills. I just know these will be reread in a not so distant future!
Best Women's Fiction :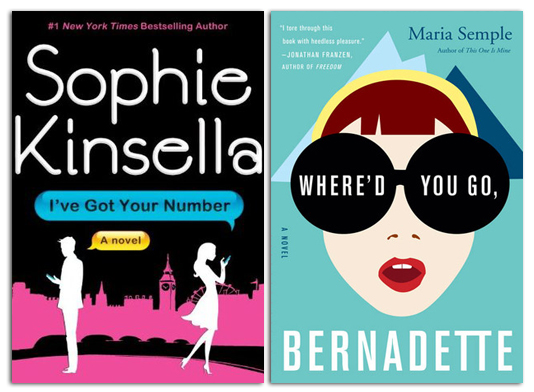 I've Got Your Number by Sophie Kinsella : Sophie Kinsella always excels in stand alone novels, in my opinion, and her 2012 publication was no different. Sweet, light and entertaining, it's a novel I would recommend for any reader looking for a good and heartwarming reading time!
Where'd You Go, Bernadette by Maria Semple : This was fresh, fun, but also heartwarming. There's the mystery of Bernadette's disappearance, of course, but it's much more about her character and her story. Loved it!
Best Apocalypses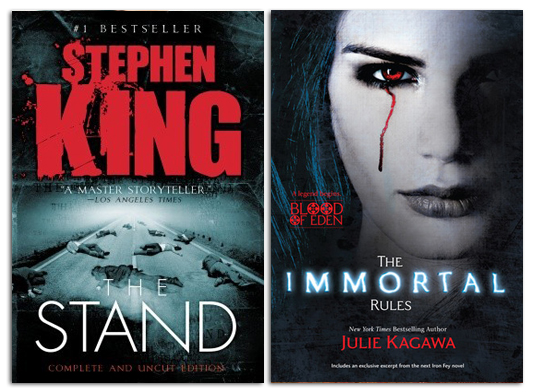 The Stand by Stephen King : Epic. Complex. Scary. This is Stephen King's masterpiece, I believe, and his talent really shows in this phenomenal novel. The uncut edition was well worth the read!
The Immortal Rules by Julie Kagawa : This vampire YA novel has been met with some very different opinions; I, for one, firmly stand in the "loved it" category. It's not yet the return of the really mean vampires YA fictions has been needing, but it's close enough. Action packed, interesting world building, it was definitely a page turner! (review to come, hopefully soon!)
Best Mysteries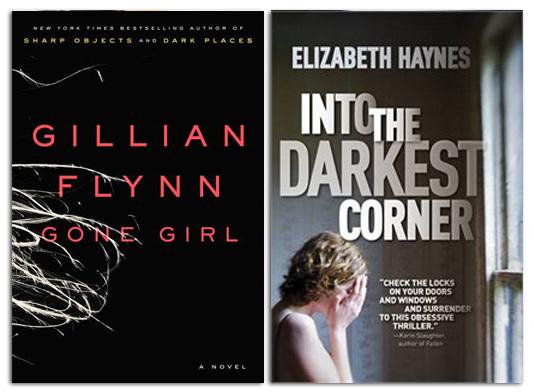 Gone Girl by Gillian Flynn : I'm pretty sure this one isn't featuring on only one list this year! This captivating mystery is sure
Into the Darkest Corner by Elizabeth Haynes : Less complex than Gone Girl, Into the Darkest Corner still offers some
Best Graphic Novel :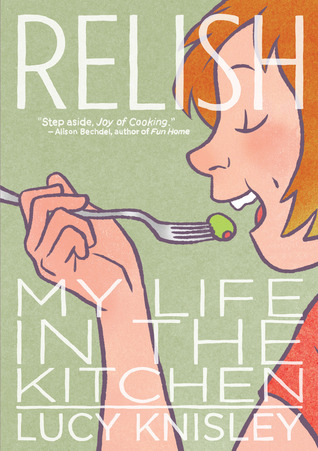 Relish : My Life in the Kitchen by Lucy Knisley : It has been really painful for me to keep my review for a day closer to publication date, because I absolutely loved this book! I found some of my childhood memories through Knisley's own; I laughed; I made note of the recipes. Come April 2nd, I hope I'll be getting my own paper copy of this fabulous book!
Best YA Heartbreaks :
The Fault in Our Stars by John Green : This one was such a weird experience for me that I had a hard time deciding whether I loved it or only thought it was okay – which is why my review is still unwritten. But in the end, thinking back on it, I realized I really liked it. Sometimes, the greatest reading experiences aren't ones of immediate love; this was one of these.
Hallowed by Cynthia Hand : Cynthia Hand not only wrote one of the few YA angels books I have loved, she also wrote a surprisingly emotional reading experience. YA paranormal stories are usually more about action, plot twists and love triangles; while Hallowed still had some of these elements, it was definitely different. It's also one of the very few times where an author got me to change my mind about a love triangle. Ha! Good thing the conclusion is coming soon!
Best Audiobooks :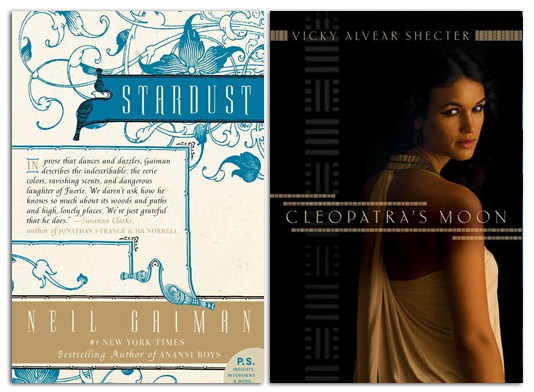 Stardust by Neil Gaiman : Written and read by Neil Gaiman. Really, it couldn't get any better!
Cleopatra's Moon by Vivky Alvear Shecter : A beautiful YA historical fiction novel. The romance is a much smaller element than the book's summary might lead you to believe; it is much more about the history and the characters' tragic story.
Best Speculative Fiction :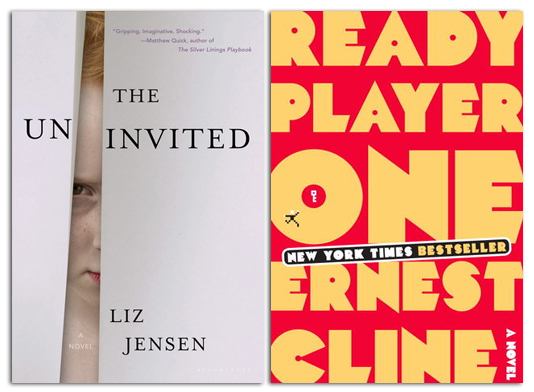 The Uninvited by Liz Jensen : I consider myself very lucky that I got to read a galley of this mind-blowing novel! It was a unique experience that still haunts me, even a few weeks after reading it. Sadly I can't express why I enjoyed it so much yet, as I have yet to write the review for it. The book will be available on the shelves on January 8th; keep an eye out for my review around publication date!
Ready Player One by Ernest Cline : This was some of the most fun I have had this year. Reading Ready Player One was like watching a good and entertaining action movie!
Honorable YA Dystopian mentions :
These YA Dystopias didn't quite make it to the top of the "best of 2012" list, but they provided tons of entertainment per page! I would happily recommend every one of them to readers looking for an engrossing page-turner!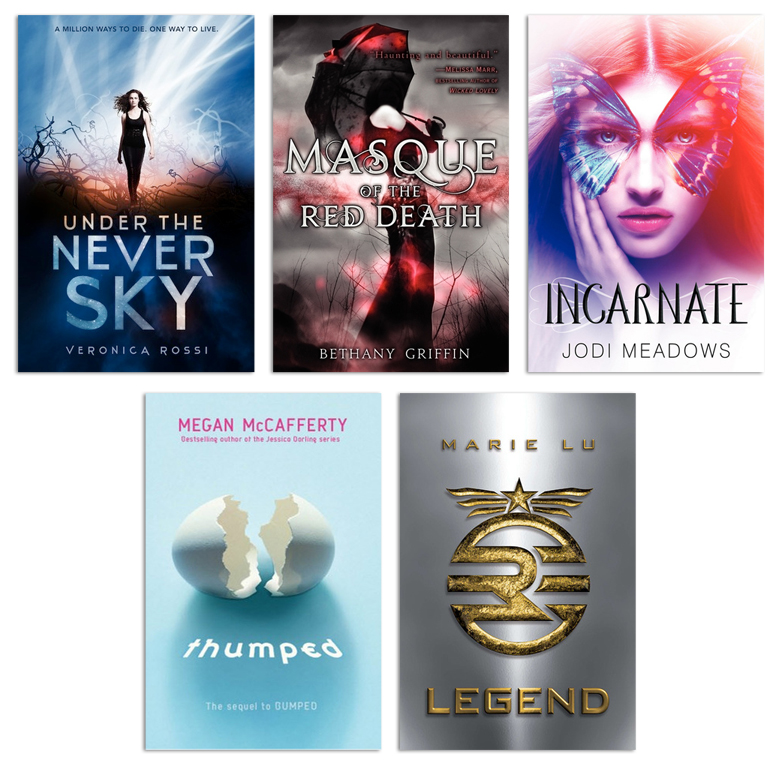 Under the Never Sky by Veronica Rossi : This one started a bit off for me, but turned out in a captivating, dystopian adventure!
Masque of the Red Death by Bethany Griffin : A bit different from the other dystopias featured here as it takes place in Victorian era – without trying too hard to create a steampunkesque atmosphere. It was excellent!
Incarnate by Jodi Meadows : Not only did I enjoy the story (despite the forced romance), I also loved how it raised questions of gender and identity.
Thumped by Megan McCafferty : Even though the second book wasn't as great as the first one, this satire definitely deserves more recognition.
Legend by Marie Lu :  While it wasn't out-of-this-world original, it had a nice dual narration, romance without a love triangle and an exciting adventure.
* * *
Reading Goals for 2013 :
Read 100 books : This was my goal this year, and I really surpassed it with 150! Sure, this included many children books, audiobook and graphic novels, but still, it was a great number. 100 is a good average of what I have been reading for years though, so this sounds like a reasonable enough goal. I'd rather read less, but better books!
Read more in French : Every year I plan to read more in my first language, and 2012 was the first year I actually did good on this promise. I have great hopes I can do so in 2013, too!
Make time for audiobooks : I discovered audiobooks this year and absolutely loved it; it's important for me to make time for them in 2013, too.
Get that TBR pile smaller : Heh!  A little bit of delusional goals couldn't hurt, right?
What were some of your favorite books in 2012? Do you have any reading goals for 2013?