Review : Tokyo Heist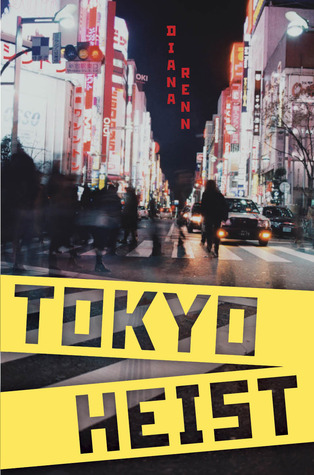 Tokyo Heist by Diana Renn
Pages : 364
Genre : YA, Mystery
Stand Alone
My rating : 4/5
From Seattle to Tokyo, Tokyo Heist takes you to beautiful Japan to solve the case of a missing Van Gogh. Art, squid chips, kimonos and a touch of romance are on the menu for this colorful adventure, in this novel by debut author Diana Renn.
What it's about :
Between pining for her best friend and working at the comic-books store, Violet's life is pretty much ordinary. Forced to spend the summer with her dad, an artist with whom she doesn't have much in common anymore, she escapes her life through the world of manga, reading them but also creating her own, Kimono Girl.

When she hears about a missing Van Gogh, Violet can't resist the temptation to lead her own investigation. Before long, her summer plans are turned upside down as she lands in Japan with her father, trying with her other best friend to solve an impossible art mystery, all the while fearing for their lives.
A missing painting in Tokyo? If that doesn't sound like the makings of a fun YA mystery, I don't know what does! And sure enough, Tokyo Heist took me on a journey that entertained me from beginning to end.
I'll get the bad out of the way right away and say that the one thing I enjoyed less about the book was its predictability. I know, I'm repeating myself this week, but what can I say, I like being surprised! I can only half blame the author though; I'm not the target audience here, and my age certainly plays a big part in the fact that almost every twist in the book was guessed early on. What can I say; I read a lot, and the more you read, the easier it becomes to guess where the author wants to take you. So you can take my "negative observation" with a grain of salt here!
Apart from that, I loved the book. It was pleasant and fun, with just enough intrigue. I really enjoyed Violet's descriptions of Kimono Girl and I am hanging on to the hopes that this manga will one day exist. The concept was fun, but I also liked how the author used it as a parallel for Violet's investigation.
The mystery unveiled itself bit by bit instead of in a huge final revelation, which I enjoyed. Sure, Violet stumbled on information and clues a bit conveniently, but the plot still flew at a great pace and I was never bored. I liked discovering Tokyo and Kyoto with Violet, and I liked how the author mixed traditional elements of Japan into the mix. The characters surrounding Violet were varied and interesting, and the hints of romance were minimal (which was refreshing, to say the least!)
I also learned about squid chips, which I didn't know was a thing, but apparently, yes! So now you know what is at the top of my list the next time we go to the Asian specialty shop. I promise a full report!
In the end, I really enjoyed this one. It was cute, and fun, and colorful. If you feel like reading a feel-good mystery and exiting your daily life for a foreign one, Tokyo Heist might the book you are looking for!