Review : Paris, My Sweet : A year in the City of Light (and Dark Chocolate)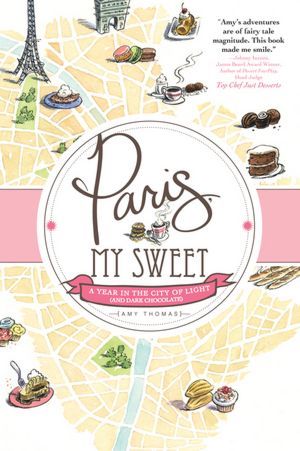 Paris, My Sweet  : A year in the City of Light (and Dark Chocolate) by Amy Thomas
Pages : 280
Genre : Memoir, Cultural
Stand Alone
Rating : 

What it's about :
For Amy Thomas, a woman obsessed with France, working on the Champs-Élysées and walking daily the streets of Paris sounds like a dream; even more if you get a taste of its delicious pastries and chocolates. When she gets the opportunity to work in the City of Light, she jumps on the chance. Leaving her life in New York for a life filled with the unexpected in Paris, Amy discovers her dream life might not be exactly what she expected it to be.
My Thoughts :
Pulling together two of my passions (Paris and sweets), this memoir sure was one I did not want to miss. I was looking forward to step back on the streets of Paris and dream of all the fabulous treats that I could maybe enjoy on our next trip over there.
Paris, My Sweet was, yes, sweet – and not much more. Most of it comes from the fact that I found Thomas not to be a very engaging writer. Maybe it came from the desire to keep a personal distance from her readers, but I just couldn't connect with her or understand who she really was. Her real, emotional reactions are often quickly brushed over for more descriptions of food and Paris. There is little depth, but a lot of sugar in her writing!
If there is a book that will make you gain a few pounds just by reading it, this is certainly it. Thomas had me salivating from start to finish over all the glorious chocolates and pastries she was describing. If dessert description is not your thing, you'll want to pass this one; however, if it is your thing, you'll want to make sure to read it. And if you are planning a trip to the City of Light in a close future, you'll be pleased to discover many of the best addresses to fill your sweet tooth (or teeth!)
In the end, Paris, My Sweet was not a bad read; I just prefer books, especially memoirs, with a little more depth. But for those who love to hear about melting chocolate and buttery pastries, this book will be a treat!