Review : Supernaturally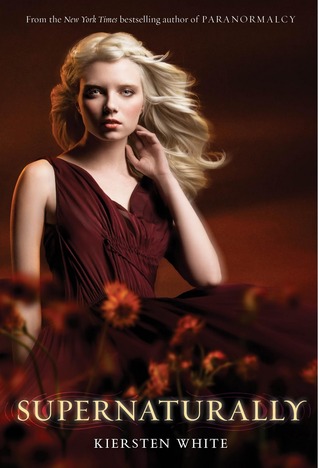 Supernaturally by Kiersten White
Pages : 336
Genre : YA, Paranormal, Urban Fantasy
Series : Paranormalcy, Book 2
Rating : 

What it's about :
It didn't take long for Evie to realize that the ordinary life she had wished for was, in fact, mostly boring; so when Raquel offers her to work once more at the International Paranormal Containment Agency, she can hardly say no.

But leading a double life – regular teen in the day, paranormal expert at night – isn't as easy as she would have thought. Her missions keep going wrong, her friends feel ignored and her boyfriend isn't sure he wants to deal with her new job. Evie will have to make difficult choices if she wants to keep the balance – and her life.
My Thoughts :
I remember that I enjoyed Paranormalcy so very much that I could hardly wait for the sequel to be on the shelves. I wrote a nice review about it, put Supernaturally  on my wishlist and started the unavoidable patience game. So you would think that, once Supernaturally landed on my doorstep, I immediately cracked it open and made a day of reading it. Having it in my hands though, I realized I could wait a little longer to read it, so that the wait between book 2 and 3 wouldn't be as much of a suffering.
All of this to say, I shouldn't have worried that much; I found Supernaturally to be mostly a boring read, and my enthusiasm for Endlessly has mostly disappeared. I'll probably read it, but sadly I won't be counting the days.
It started well enough; Evie was being Evie, still having a sweet sense of humor. I think most of us can relate to her not finding high school life as entertaining as television made it out to be! I was happy to see that this life wasn't about her being the weird outcast : Evie has friends, one best friend in particular, and seems to have adjusted well enough to her new life. The action starts early, too, and the novel really isn't about Evie's high school life.
Then Jack arrived, and that's pretty much when I started to enjoy the book a lot less. Though I am sure many readers will find him hilarious, Jack is easily one of the most annoying characters I have read, and any scene he was part of made me want to drop the book. Jack and I clearly wouldn't make a great pairing in real life, and I couldn't understand why Evie kept dealing with his antics. She whines about everything he does, yet she never really puts her foot down. Which is only one of the things that annoyed me about Evie this time around; I found her to be whiny, self-centered and a bit clueless. This was not the Evie I was looking forward to being reunited with.
For me, Supernaturally was just a lot of disappointing ingredients thrown randomly into a bowl to look yummy, without providing any real sustenance. I still found the plot intriguing, liked the characters and the dreams Evie had with her sister, but if this was the first book in the series, I'm not sure I would go on to read more.
However, many readers did enjoy Supernaturally, some even liking it more than the first book. Here are some of their reviews : Small Review, Librarian Mouse, Good Books and Good Wine, Tynga's Reviews.
Series Reading Order :
Supernaturally
Endlessly