Welcome to the Shelf's New Home!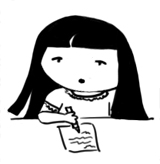 Hello dear readers!
I am so very happy to welcome you to my new home! This is something I had been wanting to do for so, so long. When the shelf turned 3 this past January, I decided the coming year would be the year I would get my own domain name. This has been a lot of work in the past couple of weeks; making sure everything was being transferred correctly from the old place to the new one, choosing a layout I liked and personalizing it, adding the widgets, etc. There are still a few more things to tweak, but mostly, this is home!

By now you guys know that I like change; at least once a year, I have been playing with the Shelf's look in different ways. I really love the actual look, but switching to my own domain will allow me even more freedom with both the look and the functionality of the blog. I'm really excited about this aspect, and I already spent countless hours making sure everything looked and worked right. I hope you guys enjoy it.

You will notice my new domain has a slightly different name than the blog. Infinite Curio is a name I had been keeping in my pocket for a while and was dying to use. Curio for the strange, unusual object, but most importantly for the Curio Cabinet. Other than being a piece of furniture, the Curio Cabinet is, in some way, the museum's ancestor. Before the first museums were created, scientists, artists, adventurers and other collectors kept their various artifacts and other precious objects in rooms called Curio Cabinet. In one such room, you could find anything from fossils to art to ancient tools.
I really liked that the name Infinite Curio created two images for me. One that depicted the blog as a curious and strange object, and another that underlined the eclectic aspect of the blog, where books, photography, knitting and comics cohabit. Here is a good definition of the curio cabinet that, I think, relates well to the blog, too:
Collectors typically arranged their objects in such a way that would convey their understanding or interpretation of the world. In other words, a person's display offered a glimpse of their personality. (CurioCabinets.com)
You will notice the header still says The Infinite Shelf, but it will probably change in the coming days. It's a bit emotional since The Infinite Shelf has been my web identity for the past 3 years, but I am really excited about the future's curiosities!

On a last note, I will be trying to redirect the old place to the new one later this week. I just need to figure out how…